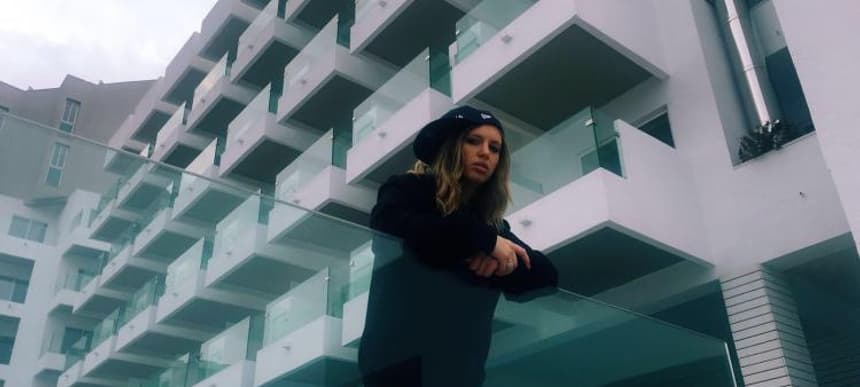 16.08.2018, Words by dummymag
Dummy Mix 513 // Anna Wall
London's Anna Wall delivers a deep techno mix that is both current and classic
Fast rising DJ Anna Wall has lived in Newcastle, Ibiza and Berlin but she is happiest back in her home town of London. She runs her own label called The Bricks and also runs a monthly club night in Hackney Wick of the same name. She's also best mates with Maya Jane Coles, did a Boiler Room with Jamie Jones and is playing one of the final Warehouse Project events at Store Street in Manchester alongside Paul Woolford, KiNK and Alan Fitzpatrick. Oh and she's just remixed a track from her friend Wax Wings' new EP.
Thankfully despite being so busy she found time to deliver an incredible deep techno mix that is firmly roted in the present day but also contains some nods to the genre's past.
How did the Wax Wings remix come about?
Anna Wall: Joey and I had a spark from the moment we met; we bonded creatively and in friendship. I love his energy and admire his work ethic, his music is developing constantly and I'm so proud of the achievements he's making right now. We both support each other and when he asked me to be part of this release I was over the moon.
Wax Wings: Well Anna is an incredibly talented friend and one of the nicest humans to grace my life for many years. We have both been waiting for the right moment to connect our styles. 'Rain' caught her attention and I was so happy to hear this because I knew she could take it in the direction it needed for the remix EP. Thanks baby.
What have you got coming up on The Bricks label and club night?
AW: It's been a long time in the works but I'll finally be releasing The Bricks 004 in September. I wanted to wait to get it pressed to vinyl as that's always been a dream of mine, so I'm buzzing to finally get this out on wax. It's by a French artist called Sunrom, with remixes from Paxton Fettel and DJ Normal 4. It's been such a fun project for me to work on with plenty of highlights – Sunrom is from Saint-Germain-en-Laye but we met on my trip to Paris. He showed me around the city, we talked about life and took film photos for the cover art. We've had some great feedback on the EP so far and I can't wait for this one to hit the shelves.
The next The Bricks Presents at Number 90 is in fact going to be me all night long. I usually invite a guest but I love playing extended sets so took the opportunity this month to get fully stuck in. I've got way too many records that I don't play enough so I'll be exploring some of those b-sides that I forget to play and test out a load of new music too. After that I have J'Shez from City Fly Records joining me in September, and I've got plans to branch out into other clubs eventually too so watch this space.
You both play at Spin Cycle in Dalston – what makes the night so special?
AW: It was the perfect concept to play what we wanted, when and how we wanted. We made no rules when it came to genre and it's so fun to switch things up the way we did with upstairs and downstairs – it kept everything fast-paced and fun. It often felt like straight up house party vibes, the ones where everyone was welcome. We essentially brought a house party to Dalston Superstore.
WW: Spin Cycle was this clubland experiment, a marathon of DJ sets jarring styles, energies and tastes for an entire evening over two floors. We would book DJs who could cater for both floors, showcasing party and professionalism all under one roof. Taking it as serious or trashy as need be, Spin Cycle had no boundaries.
Any thoughts on the changes to Hackney's night time licensing policy?
AW: I grew up in Hackney and have pretty much lived here all my life, so what's happening right now is a very pressing topic for me. My youth was spent experiencing the incredible nightlife and culture here; I can't imagine a future where this has been eradicated. I met most of my best friends on the dancefloor and there's still such a strong clubbing community here in London. I'm devastated about the new policies in place, and I believe we should continue to stand together and stay committed to fighting them until our voices get heard.
WW: Taking myself down to the protest at Hackney Town Hall that Friday and seeing so many faces whom I had met during clubland, party and nightlife occasions was quite heartbreaking to be honest. Knowing how much creativity, love and connection is to be stifled by licensing policies is the worst, especially unanimously voted in without consoling the people who this actually affects. I hope as a community we can take all our strengths to work to overcome ignorance like this.
What else have you both got coming up for the rest of 2018?
AW: This has been such an amazing year so far, and I'm feeling very blessed for the opportunities that are coming my way. I'll be playing Warehouse Project twice this season – it's my first time playing there and also their last ever year at Store Street so it will be special. I'm currently plotting The Bricks 005 by a talented artist called Module One, so I'm excited to get the wheels in motion for that too.
WW: 2018 will see a couple more remixes from myself, continuation of my residency at forward thinking inclusive party He. She. They. Most of my time will be spent focusing on my debut album 'Umbilical' – oh and my Halloween outfit of course, the most important time of the year is approaching.
Tell us about the mix…
AW: The mix is based on the deeper side of techno and dub techno that I love; there's plenty of atmospherics and it definitely inspired my remix of Wax Wings. I've included selections from the 90s and early 00s like Basic Channel and Maurizio, some of my more recent favourites by STL and Deepchord, plus new artists such as Path, Bioroot and Blackhall & Bookless that are producing some really original work right now. I usually listen and play these kind of selections in the winter but I feel like they take on a bit of a different story in the summertime. I hope you enjoy it.
Listen below:

Listen to the mix on Soundcloud.
Tracklisting:
Deepchord – Roca 9 (Soma)
STL – Disconnected (Something Records)
Warmth – Refracted (AvantRoots)
Audub – Negative Space (Romance Records)
Path – 001 (Unreleased)
Wax Wings – Rain (Anna Wall Made It Wet Remix) (The Weird & The Wonderful x Skint)
Parallel 9 – Dominus (Music Man)
Skudge – Quasi (Skudge Records)
Stenny – Curve (RFR)
Blackhall & Bookless – Voyager (Jaunt)
Bioroot – 124DTKB (Unreleased)
Maurizio – Mø4b (Maurizio)
Basic Channel – Radiance II (Basic Channel)
Idealist – Time Lapse (Sven's Perpetual Night Mix) (Berg Audio)
Rhythm & Sound – No Partial (PK Records)
Quantec – Metamorphosed (Styrax)
Listen to and buy Wax Wings – Remixes EP here.