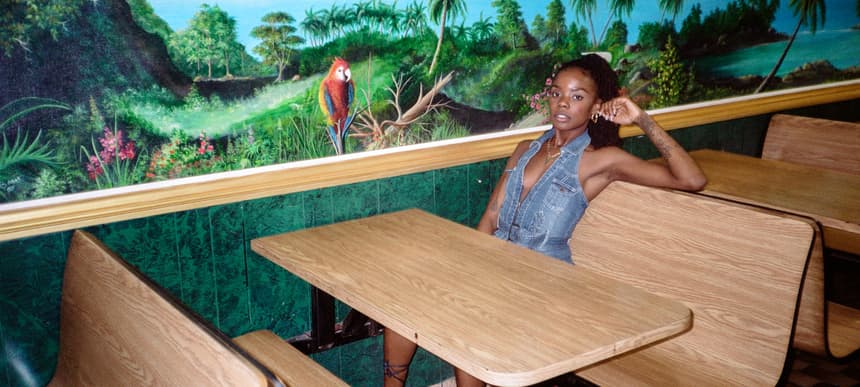 25.04.2019, Words by Felicity Martin
Dummy Mix 550 // Bambii
Ahead of her North American JERK tour, Toronto's Bambii mixes up a wild blend of dreamy club bangers
Tired of not finding the sort of space she wanted to go out and dance in, Toronto-based DJ/producer Bambii decided to create her own. Six years ago, she started her JERK party in her native city – in order to offer a more inclusive array of genres as well as a space where people of colour and of the LGBTQ+ community are welcome.
"It started out in a tiny DIY venue with me giving away free chicken wings. I spent the whole day cooking for attendees and now it has grown into a giant rave," Bambii says. Having hosted DJs including Mike Q, Full Crate, Venus X and Manara, JERK's sounds are very much of the no-borders global club scene, as well as embodying Bambii's own Caribbean heritage and the diversity she was exposed to growing up in Toronto.
"I realised through my own touring that the problems Toronto nightlife has is not unlike the problems that many other cities face, so touring JERK across North America seems so necessary right now," she explains. "JERK sounds like the Caribbean underbelly of Toronto but extends out to the global club music that has an infinite amount of cultural connections. This year JERK will be hitting Halifax, Los Angeles, New York, Montreal and of course Toronto. We have DJ/producers like Asmara, TygaPaw, Foreignerrr and many more that will be featured on the tour."
Mykki Blanco described her as "one of the most talented DJs I know period," and Bambii's Dummy Mix is a wild, no-holds-barred array of club sounds, from old skool jungle to Omarion remixes to early 2000s UK garage. "This mix captures the sounds of JERK and all the communities that support it," Bambii says – and you can press play below.
Tracklist:
Legendary Angel X – Pussy work
Ice Box Xus Lord (KA WAI Omarion x TSVI Edit)
SHAQI – Damelo Papi (Extended Mix)
Kaval – Alto Riddim
Uki – Brighter Days (Uki x Alamaki Remix)
Gafacci – Gypsy Woman (Gafacci Remix)
Radical One – Mais Jevito DJ Tool
Gafacci – Gafacci vs Everybody Remix
LSDXOXO – BURN ft Uniique
Gulway Cartel – Choose You
Hungry T – Turn Me On
Goldie – Inner City Life
Upson – What a Day
Total Freedom – FROM TIME TF CHOP
chivengi – WITHOUT ME
Klein – Lover (Lafawndah Remix)
Bambii – Black Girls
t q d – Day & Night
Listen to the mix on Soundcloud.
Jerk kicks off in Halifax on April 27th 2019 and comes to L.A. on May 25th. The other dates are TBA.