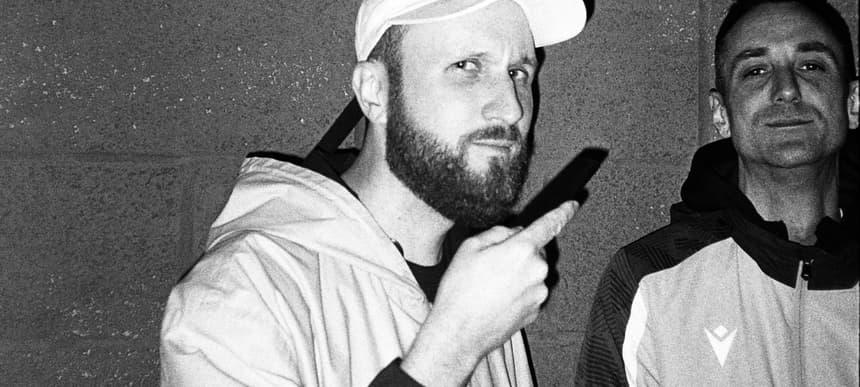 02.11.2022, Words by Billy Ward
Dummy Mix 645 | 4am Kru
"4am Kru bring the sounds of live jungle to Hidden Warehouse in Nottingham, recorded live summer 2022"
London duo 4am Kru are one of the pivotal underground acts in a scene of producers and DJs reshaping dance culture for a new generation. Their presence in the capital has been growing rapidly this side of lockdown, becoming a mainstay on the London rave and events circuit with their energetic shows and modern jungle sound. 
Choosing to perform their music live as opposed to a DJ set, their craft and love for the genre provides a fresh take on a pivotal time in UK electronic music's history: "There's this positive energy and raw creativity in the music from '88 – '96 especially," says the duo. "We both love it, particularly the hardcore and jungle sound that's found its way to us through older siblings, raves, DJs and Discogs and Youtube digging. The deeper we dug the more we discovered". Currently on the road as part of their UK tour, bringing their high-octane, sweaty raves from Birmingham and Manchester right the way down to London and Brighton, the pair's live Dummy Mix shows what their nights are all about. Recorded in Nottingham's Hidden Warehouse back in summer 2022, the hour-long set offers a whirlwind tour through 4am Kru's visceral jungle formula.
Tracklist:
4am Kru – 4AMK3 (Golden Boy)
4am Kru – 4AMK2 (Smoke Something)
SHANTÉH & 4am Kru – Sunrise Remix
4am Kru – What Is Jungle? feat. Phoebe White
4am Kru – Just Saw Johnny
4am Kru – Callin' Your Name feat. Zaetrell
4am Kru, McDonald & Jannetta – Pianos Raining Down
4am Kru & Sir Hiss – Earshots
4am Kru – Fire Is Our Friend
4am Kru – 4AMK4 (Mask Off)
4am Kru – I Don't Wanna Stop