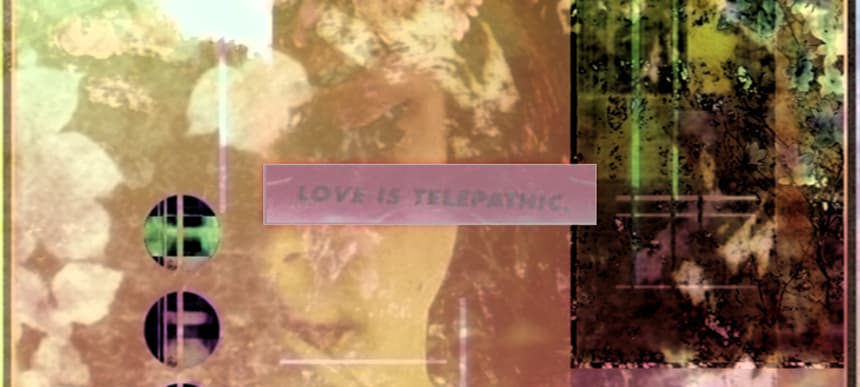 15.08.2013, Words by Aimee Cliff
Dummy Picks 009 // August 2013
All abstracted synth-play and wistful lovelorn refrains, the latest in our staff-curated Dummy Picks series is an hour of moody atmospherics to sink into. As the heatwave ebbs away and your mood hits a lull, indulge yourself in GEMS' and FTSE's self-pitying pop music, Tirzah and E.m.m.a's slipshod approach to dance, post-apocalyptic soundscapes from Fuck Buttons and glimmering techno from the master James Holden. Hear the mix in the player above, and read our thoughts on each track below.
Fuck Buttons – Year Of The Dog
Karen Ka Ying Chan: The dog days of summer do a funny thing to us. The relentless heat and sunshine feels drawn out and tired, the cities empty out as summer holidays reign supreme, and we begin to see autumn looming in the distance as the days start getting slightly shorter. All of these things seem to have affected most of the Dummy staff because this month's mix is the moodiest we've sounded since the beginning of spring. I chose a track from Fuck Buttons' brilliant new album, which is also one of the bleakest things they've done in some time. There's something deeply gratifying in the undulating frozen tundra that the Moroder-esque arpeggios knead and mold for us on Year Of The Dog. It's the perfect antidote to these seemingly never-ending August dog days.
Helena Hauff – Micro Manifesto
Karen Ka Ying Chan: This is an outstanding piece from Hamburg's producer-of-the-moment Helena Hauff's latest three-track suite via Werkdiscs. It sounds like summer in Hong Kong, that's why I love it. I used to hide in my room as it's too hot and humid outside; I'd sit on my bed, turn the air-con on max and listen to its fan blow. This gritty, undulated track, which is similar to the white noise generated by my old air-con, is not exactly the typical "summer jam", but it brings back some interesting memories from my childhood.
GEMS – Sinking Stone
Robert Darnell: Being the weather-obsessed nation that we are it's been unavoidable listening to music lately without hearing it through the lens of sun worship, and I'm going to be pretty unoriginal and pick Sinking Stone for pretty much those reasons. There's something enticing about how all Sinking Stone's elements melt into one another here that made it all the more perfect while gently sizzling out in the London heat. A duo first introduced to us by Adam Harper for our Washington D.C feature, GEMS keep bettering themselves, and listening to them flourish has been a joy so far.
No Age – An Impression
Anthony Walker: I'm obviously very excited about No Age's new album 'An Object' and I fully trust the band to build on the distinctive dynamic they perfected on 2010's 'Everything in Between' without losing what makes them them. An Impression is a confirmation of that – a lovely guitar-led meditation on an Impressionist painting with added cello that, whilst not totally typical of their latest music, shows far they've expanded the most elemental of templates.
James Holden – Seven Stars
Selim Bulut: Holden's new album is one of my favourites this year, and Seven Stars is probably my favourite track from it. It's really beautiful, and genuinely emotional rather than schmaltzy or predictable – it's sad without using "sad" signifiers, and when the drums kick in it doesn't feel like an "epic" "breakout" moment that it's been building towards. The noises that fizz and pop and crackle in the background across the song add an extra dimension to the whole thing. More than anything, this reminds me of Metronomy's astounding and underrated first album.
MØ – Waste Of Time (FTSE Fucked It Mix)
Aimee Cliff: Midlands-based producer FTSE deserves recognition at the very least for his work ethic; going above and beyond the call of remix duty, his rework of Danish singer-songwriter MØ's track Waste Of Time is practically an entirely different pop song, with her vocal spliced into a nostalgic echo and his own voice taking the lead with newly written verses. The way this has been pieced together is thoughtful and precise – there's something immensely satisfying about the way FTSE ends his own verse on the line "nothing physical, nothing to grab", leading into the rhyming croon of MØ, "ooh, the love we had." More than a rework, this feels like a duet divided by time and space.
E.m.m.a – Marina
Adam Harper: London dance underground stalwart Keysound has hardly been more vital than it has this year, injecting all kinds of freshness into the scene. E.m.m.a.'s recent album 'Blue Gardens' is a joy with its affecting synth harmonisations and flowing beats, a collection with an unusually rich control of mood. 'Marina's' alternating textures – high and low, major and minor, straight and syncopated – show this aspect its best. (Read our recent interview with E.m.m.a here.)
Sampha – Without
Aimee Cliff: Sampha's recent solo EP 'Dual' was, despite its name, a defining moment of indepence for the frequent collaborator and producer. Without is perhaps the EP's strongest moment, with its warm, clattering chaos illustrating the appeal of Sampha's intricate yet loose production values and his distinct voice piercing through the middle. Read Dummy's review of the EP here.
Jackson & His Computer Band – Vista
Selim Bulut: Vista is the first single from Jackson's new album and I love everything about it – the vocals, the emotive chords, the way those chords mix with the cutting bassline, the arpeggios, the complexity of the sound design, the little 303 line at the end. The whole album is brilliant though – it fills me with the same sort of giddy excitement that I felt hearing Rustie's 'Glass Swords' for the first time – and well worth the eight year(!) wait for its release.
Brenmar – Moog Beat
Steph Kretowicz: I'm just impressed Brenmar managed to make an analogue synth sound so huge. 'Moog Beats' features an anxious, choppy aesthetic, heavy rhythm and the same grown-man-giggle sample used in the equally scattered and pounding production on Mykki Blanco's Kingpining. Fan for life.
Tirzah – I'm Not Dancing
Aimee Cliff: This is the song that's uniting the Dummy office right now in pure adoration: it's those recorders, that voice, those gasps for air, that playful sarcastic chorus. Put simply, we've never heard a song about not dancing that's made us want to dance quite so much. Tirzah will perform at our party next month (more information on that here) with production partner Micachu on DJ duty, and we can't wait.
Hysterics – Pleasuredrome
Selim Bulut: I still get excited by new Night Slugs. Each release seems like a natural evolution of what's come before, and the way that all of their artists seem to gravitate, organically, toward a similar, shared aesthetic is really interesting. Currently their stuff is hard as nails but not in an obvious way – there's little else that sounds like it. This one is by Hysterics, which is an alias of Girl Unit, and it sits somewhere alongside the conveyor belt rhythms heard on Jam City's LP and Helix's top notch entry into the Club Constructions series.
dBridge & Skeptical – Move Way
Karen Ka Ying Chan: Out on R&S this week is a three-track EP by drum & bass legend dBridge, featuring Skepitkal on a track called Move Way. Rude, rowdy and relentless, it's a goosebump-inducing, spine-tingling piece of production that raises both tempo and heartbeat. If there was a definition for "massive", I believe this is it.
These Hidden Hands – Ivy (Vatican Shadow remix)
Karen Ka Ying Chan: Here's a propulsive, industrial and techno-leaning reinterpretation of These Hidden Hands' (collaborative project between Tommy Four Seven and Alain) new track by the elusive American noise luminary Dominic Fernow under his Vatican Shadow guise. It's a visceral, futuristic and undeniably addictive six-and-a-half minutes of tantalising electronic layers both haunting and beautiful.
Listen to July's Dummy Picks – a compilation of our favourite tracks of the year so far – here.