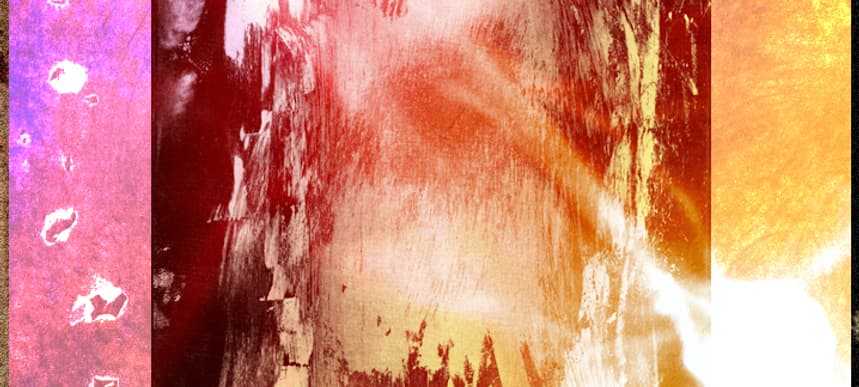 02.12.2013, Words by Aimee Cliff
Dummy Picks 012 // December 2013
This month's Dummy Picks is one packed with familiar sounds rendered in unfamiliar ways, from the watery, tantalising vocal of internet-dwelling duo 18+ to the curious sampling technique of MssingNo to the grime-inflected brashness of one of Nguzunguzu's latest missives. Get a peek inside the Dummy hive mind by hitting play and sinking into our favourite sounds of the moment, and if you want a little bit more context, read on for our track-by-track breakdown of what you're listening to.
Click here to listen to October's gloomy edition of Dummy Picks.
18+ – Horn
Adam Harper: "A track of beguiling contrasts and dualities from the latest mixtape by the anonymous experimental hip hop duo 18+, pairing whale song with the deep growl of a jet-black synth. The duo's voices, known only as 'Boy' and 'Sis,' bait, flirt and threaten each other in mesmerizing slow-motion. Get the whole thing if you haven't already."
Mssingno – XE2
Anthony Walker: "Such is Mssingno's talent for treating R&B vocals for his ambient grime music that, on the emotional peak of his new and highly recommended Goon Club Allstars EP, he gets away with sampling R Kelly's outrageous single I'm a Flirt. Resting on a bed of undulating synths and padded drums, the words 'A dog on the prowl when I'm walking through the mall' have never sounded so heartbreaking."
James Ferraro – Close Ups
Adam Harper: "Deep flow from the same Ferraro everyone said deals in the superficial. That thick, downward-panning organ in "Close Ups" eventually props itself up on a glimmer of positivity after seven long bars, and is one of the album's best compliments for Ferraro's uncomfortably prone voice. "
Kwabs – Last Stand (prod. by SOHN)
Aimee Cliff: "Kwabs has one of those stop-you-in-your-tracks voices, one of those what-was-I-doing-before-I-heard-this voices. We've been hearing the rumblings of it approaching for a while now, through his James Blake Youtube covers and the muted gospel of his track Spirit Fade, but this wilting soul song produced by SOHN is his most spectacular offering to date. I hope 2014 brings massive things for him."
Blank Banshee – LSD Polyphony
Adam: "The second album from Blank Banshee confirms her/his status as a dolphin of note in the crystal-clear shallows of the online underground, really hitting the spot with its RGB array of kaleidoscope post-vape beats. LSD Polyphony is one of the sweeter moments, a lolloping chill-out with R&B balloons"
18+ – Oixu
Steph Kretowicz: "Being partial to a bit of filth, this would have to be my favourite track from one of my favourite mixtapes of the year by a duo from the shadows. Not so subtle sexual innuendo rules as LA's 18+ bawdily serenade each other about getting x'd up, 'fucked dry' and such over an off-tune, moaning ambience, shallow snare and pounding kick drum. All puns intended."
Heatsick – Speculative
Steph Kretowicz: "Everyone loves a clever lyric and you don't get more so than Heatsick's part satire, part-tribute to contemporary art discourse in 'RE-ENGINEERING'. His funny, kind of depressing and pretty terrifying world view is crystallised in the drunken cavort of SPECULATIVE, as references to trending philosophies roll around spectral images of world clocks singing acapella, escalators taking you somewhere (see: nowhere), while the music clicks, claps and farts towards oblivion, leaving you torn between wanting to laugh and wanting to die."
Aurora Halal – SNCF
Zara Wladawsky: "I'm really psyched that one of Brooklyn's finest video artists & events curators is branching out into making her own productions. SNCF is a broody track that unfurls with tensile energy and muddied meaning. I can imagine it being played at one of Aurora's famous Mutual Dreaming parties, complete with tons of fog machine, lasers, dancers, and a parachute ceiling."
NGUZUNGUZU – Skycell
Steph Kretowicz: "A glassy, repeated melody, a cut-up, repeated vocal and clacking, cleaving rhythm that slices right through the ears at every beat, of which there are many. Everything about this track from Nguzunguzu is hollow and anxious, while being deeply affecting. The very symbol of movement, Skycell is a track that wants to escape its own cycle. Music to go mad to."
Kerridge – Scare Tactics
Zara Wladawsky: "Samuel Kerridge's Unsound performance was one of this year's highlights for me, and I've had his debut LP on repeat ever since. Scare Tactics sums up just how awesomely horrifying sound can be when layered so thick that it collapses under its own weight. Much like the similarly constructed black hole, it consists only of negative matter. Very dark, negative matter."
Logos – Wut It Do (feat. Mumdance)
Robert Darnell: "The pair responsible for In Reverse team up again for a moment of chest-beating liberation on Logos' ominous debut album on Keysound. Much of 'Cold Mission' is focused on dystopian devil mixes and archaeological digs through pirate radio's past. But with Wut It Do there was light at the end of the tunnel: an adrenal shot of splurging breakbeat, tailor-made for dancefloors to lose their shit to."
Will & Ink – Third Wilson
Karen Ka Ying Chan: "A track from the second instalment provided by Dutch duo and label Will & Ink (AKA Pieter "Presk" Willems and Felix Lenferink) that only launched in May this year, providing an uncompromisingly filthy piece of rave-y sound design. It's no straight-forward techno though; drawing some kind of Drexciya influenced aqua-electro landscape with hyper-punchy percussion, their convergence of techno, dubstep, rave, garage conventions programme exciting routes that sound hardly like anyone out there. Obviously, it's an pivoting, explosive cut tailored for the 5am heads-down dancefloor lovers."
Dario Zenker – Karlim
Zara Wladawsky: "Both Ilian Tape and Dario Zenker have smashed it this year, but the latest four track EP by Zenker on the label truly takes the cake. It may not reinvent the wheel, but it's damn good deep techno that I'd love to hear on a dancefloor 'round about sunrise time surrounded by friends. Fin."