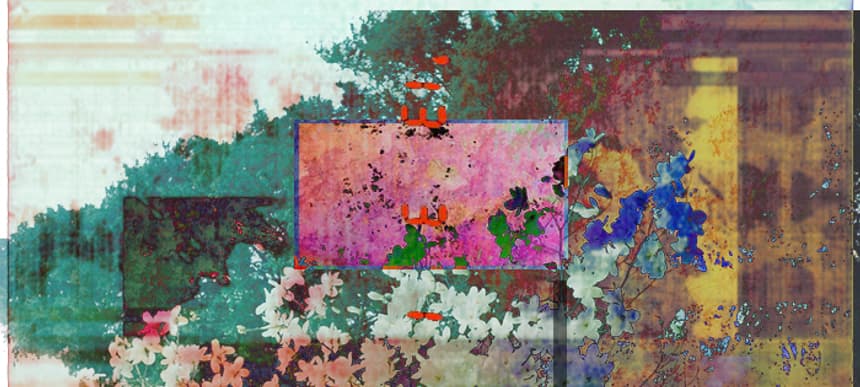 10.07.2013, Words by Aimee Cliff
Dummy Picks 008 // Best of 2013 so far
For the latest instalment in our Dummy Picks staff mix series, and to mark the launch of our brand new site, we decided to bring you a bumper mix of all our favourite tracks from the first six months of this year. Brace yourself for Koreless's clinical bleeps and Shlohmo and Jeremih's Bo Peep; skewed pop jams from Kingdom and Kelela, Butterclock and Deptford Goth; mutant techno and footwork from SOPHIE, DJ Rashad and Slava and the glorious return singles of James Blake, Mount Kimbie and Forest Swords. Without further ado, these are the tracks we've had on constant rotation throughout 2013 so far; hit play on the left, and let us know what you would have included in the comments below.
The widescreen Sun is a triumph for Koreless. Despite being kickdrum-free, it's still rhythmically propulsive, making it primed for DJ use – and when the DJ uses it at the right time in the night, it can bring genuine tears to the wide-eyed crowd. [Selim Bulut]
Shlohmo ft. Jeremih – Bo Peep (Do U Right)
Sell-outs, shmell-outs. With this breezily sexy Adidas-sponsored track that displays both the LA beatmaker and the R&B singer at the peak of their game, Shlohmo and Jeremih made it plain that brand affiliation is nothing to get queasy about in 2013; corporate investment, if done right, can be a welcome crutch or catalyst for creative projects, and when it sounds this damn good then who on earth is complaining? [Aimee Cliff]
Now out on Ciara's triumphant self-titled new album, Body Party has been a staple in DJ mixes throughout the year, making it seem that the popstar is finally having the moment she's been long overdue. Lush, sensual and touched by the warped sci-fi haze of Future's production, it manages to achieve that elusive balance of simultaneously sounding like a classic R&B slow jam and like a track that could only have been made in 2013. [Aimee Cliff]
Post-dubstep poster boy James Blake signalled a radically new songwriting approach with the soulful surprise that was the lead single from his second album, Retrograde. Sauntering into life on a bed of falsetto hums and quivering synth lines, the track leans heavily on R&B influences, leaves Blake's voice more unaltered than it's ever been and represents a leap forward for the producer and vocalist in both confidence and craft. [Aimee Cliff]
August Alsina ft. Trinidad James – I Luv This Shit
There are more than a few male R&B singers playing lotharios today – some with nostalgia, some a wry smile, others self-loathing – but no-one has captured the full spirit quite like August Alsina does in this song. Pained and remorseful yet triumphant and alive, I Luv This Shit is an exceptional debut single from a potential star. [Anthony Walker]
The strength of a hook can make or break a song, and "forever meant nothing when we had nothing" is probably one of the most direct, icy-cold and searingly personal we've heard this year. Feel Real's delicate, sparkling production and driving drum beat elevate this track to the pinnacle of emotional intensity on South London singer-songwriter Deptford Goth's debut album, but for us, it's that tragic one-liner that really drives it home. [Aimee Cliff]
Grouper makes porous, permeable music that has an indescribable quality all of its own. In this unassuming track, Liz Harris does what she does best, keeping her guitar so soft and her voice so muffled that it all feels deceptively simple until you realise the pain behind each and every word. [Aimee Cliff]
Pure X – Thousand Year Old Child
It might start out like heat rising from sun-baked ground – that blissed out, reverb-drenched sound their debut was soaked in – but this stand-out from the Austin slow rock trio's superb second album 'Crawling Up The Stairs' disturbs the slumber. What is revealed is a touching tale of waning love and the natural reassessment that follows. It's the most mature Pure X have ever sounded: a consolidation of their carefree vibe into something with legs. The vapour trail-evoking electric guitar lines at the song's close are the icing on the cake. [Ruth Saxelby]
Kingdom ft. Kelela – Bank Head
Bank Head sounds like two people capable of doing a lot of very good things getting together to do one very amazing thing. Kingdom's production and Kelela's vocals are near impeccable here, but the song feels like a refinement of message and craft rather than some kind of contrived statement – great for established fans but equally special if it just came on and you had no idea who made it. [Anthony Walker]
Rocko ft. Rick Ross and Future – U.O.E.N.O.
"This shit sounds crazy" says Future at the start of U.O.E.N.O, and you can only imagine that's what went through producer Childish Major's mind when he first put together the amazing synth line that leads it. It's easily the best rap beat of the year so far – strange and strong enough to launch from a free mixtape, introduce Rocko to a new audience, tarnish Rick Ross to another (due to his offensive lyrics) and still sound astounding on its own merit. [Anthony Walker]
One of a slew of "comeback" singles on our list, Thor's Stone was Tri Angle producer Forest Swords's way of announcing an upcoming new release for 2013, his first in two years. Woven from gospel samples and intricate percussion, the track itself is the most complete depiction of the elation inspired by this announcement that we can offer. [Aimee Cliff]
There's a brittle edge to Brolin's lyrics that you don't quite notice until you pay them proper attention; he'll reel you in with beautiful pad-footed synths and a dance-teasing beat, but his bleak themes are hiding in plain sight. "I will lead you astray, astray," that sweet, calm voice intones on Reykjavik, taken from his 'Cundo' EP on Double Denim. "If you ask me to stay." This masked producer is making dance-pop that quietly hints at tragedy, and when performing live he's an aggressive and intriguing force; keep an eye on this one. [Aimee Cliff]
After two long years of drought, the single that Mount Kimbie chose to preface their second album with felt like the longest three minutes ever recorded for their thirsty listeners. For an unbearably tense stretch, tightly-wound percussion makes the lightest of touches over distant flurries of brass, easing slowly into sighing chords. It's only when this concoction reaches breaking point that the vocals flood through, and like the most dramatic of rainfalls, it stops as suddenly as it started, leaving you overwhelmed. [Aimee Cliff]
Holograms is a gorgeous synth pop song that feels very retro, but doesn't necessarily sound it. It's uplifting yet sad, nostalgic yet looking towards a future. Or: it's like moving from soft focus to absolute clarity, like accepting that your carefree years are behind you. [Selim Bulut]
Thundercat – Heartbreaks + Setbacks
If there's been a better pick-me-up song this year than Thundercat's ode to the shapeshifting nature of love, I am yet to hear it. Heartbreaks & Setbacks is a shot of sunshine; sonic vitamin D. The funky drum and synth wiggle do the leg work, bouncing off one another enough to keep the good times rolling, leaving Thundercat to seal the deal with lines like "can't let the love stop / flowing from me to you". Soppy never sounded so classy. [Ruth Saxelby]
Planningtorock – Misogyny Drop Dead
There's a lot to like about this song – the directness of its message, the release on International Women's Day, the way it refuses to conform to the ideal of a feminine vocal – but to be honest, the reason that this is one of our favourite songs of the year is that it's so damn groovy. [Selim Bulut]
Girl Like Me twists its title vocal sample to the point where it is completely detached from its source and sets it against a frenetic footwork pattern and bass as thick as mud. It's an exhilarating listen, but the real success of Girl Like Me lies in its visual accompaniment. Watching the song's disturbing music video, an incestuous fantasy that tells a story of modern day suburban alienation, is unforgettable when set to Slava's sounds. [Selim Bulut]
Within the short space of its three-year operation, Ron Morelli's L.I.E.S. Records has established a reputation of unleashing some of the deepest, most raw and stunning records emerging from NYC and beyond. Feelin', a track taken from 'Lifetrax', the debut four-track suite by Wiesbaden/ Frankfurt producer Florian Kupfer, is especially outstanding. There is a glistening euphoria carved out of its hypnotic grooves; what truly snatches our breath away though is its pleasant weightlessness that is both immersive and judged just right. [Karen Ka Ying Chan]
While there's no doubt Rollin – the title track from the Chicago producer's sharpest release to date – packs a melodramatic punch, it's the creeping emotion of Let It Go that snatches it for me. Rashad has a knack for shaping sound like fast-moving water, leading the ear to dodge rapids before he reaches in to pull something sacred from the mud. In this case, it's a ground-down sample from an old jungle record that, reframed as a footwork ballad, feels like permission to step into a new perspective. [Ruth Saxelby]
SOPHIE may be making quite weird, out-there sounds – on Nothing More To Say, and even more so on new track Bipp – but they're also downright fun. Can you listen to the riff on Nothing More To Say without grinning like a maniac? SOPHIE is definitely one to keep an eye on. [Selim Bulut]