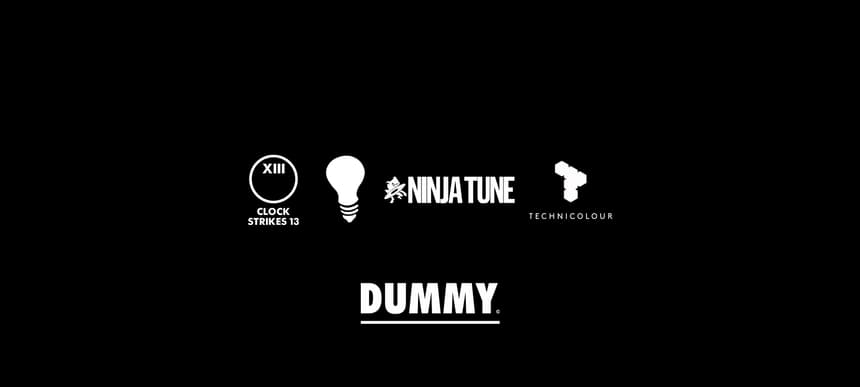 12.11.2015, Words by dummymag
DUMMY x Clock Strikes 13 x Edifeye Podcast: Ninja Tune & Technicolour
Clock Strikes 13, music specialists Edifeye and DUMMY present a series of podcasts with the artists and labels playing their part, telling stories from behind the scenes. Ahead of Ninja Tune's 25th anniversary party at ICA on November 25th, label A&R Dean Bryce discusses his involvement with the stalwart label and one of its dynamic offshoots, Technicolour.
In Dean's words:
"I'm one of the A&R guys at Ninja Tune and I've been producing music / DJ'ing as Fotomachine for a while. A few years back I sat down with the guys at Ninja and we discussed having an outlet for music that didn't quite fit on Ninja Tune and I came up with Technicolour. It's always been an ambitious venture with releases from Raisa K through to Levantis.
The label's focus has always been pretty avant garde, we're releasing exciting music and that's continually been our aim. The motivations were quite simply to release quality music that didn't fit on Ninja Tune and so it's been a platform for that.
It's an artist-centric venture. Every artist is fully involved with the release so it's a collaborative vision of sorts. I'm a collaborative by nature and really encourage artists to be at their most creative and forthcoming. Even if I've never met the artists, we still need to connect on some level and it's about that relationship and passion. If we can't nurture talent then we would fall flat on our faces.
I grew up around South London sound systems like Saxon so my influences stream from British Black music. Back then, Saxon felt like the hub of cutting edge music. We had reggae singers recording dubplates in my living room and I'm be awake all night catching glimpses. I've been involved in lots of different aspects but thats really where my musical story begins. There are so many labels that I grew up respecting and with Technicolour the dream really is to be part of that narrative and culture. The culture of music is so vastly important to us here – relevance and quality is something that we take seriously."
Listen to more from from Ninja Tune and Technicolour A&R Dean Bryce below and tune into Technicolour's six hour NTS takeover on November 12th from midday.
Ninja Tune celebrate 25 years with a second CS13 party on November 20th at ICA (tickets).