01.04.2011, Words by Charlie Jones
Deniz Kurtel interview: 'Outside of a normal, definable view.'
'Music Watching Over Me', the debut album from Turkish, currently New York-based producer Deniz Kurtel, is an assured listen. Tracks with a well executed grasp of what makes bodies move and heads flutter: the sparse and steady climb of the title track; the bass thunks of Trust growing into burbling synths; Equilibrium's stop-start tension. Best Of is where things peak, with its buoyant strut and club-perfect climb.
Deniz Kurtel works as an audio/visual artist, associated with using LED lights and mirrors to create interactive sculptors. She met Gadi and Zev of Wolf + Lamb while living in New York, and has contributed artwork to the label's parties. Music production was something she got into as a different outlet for creativity, and her first release was 2009's 'Whispers' EP on Wolf + Lamb. I was first made aware of her through her remix of N/A's Fables And Fairytales, which made a muscular, rougher beast out of the original. Her album though, recently released by Crosstown Rebels, is the most fully realised creation. The album format can be a difficult one for dance producers to master in a way that holds a listener's interest. 'Music Watching Over Me' is a well-structured and enjoyable journey, its shades and moods varied enough for it to deliver a kick in any context. In light of the album's release, we emailed her a few questions about her working methods in both art and music, and how the two inter-link.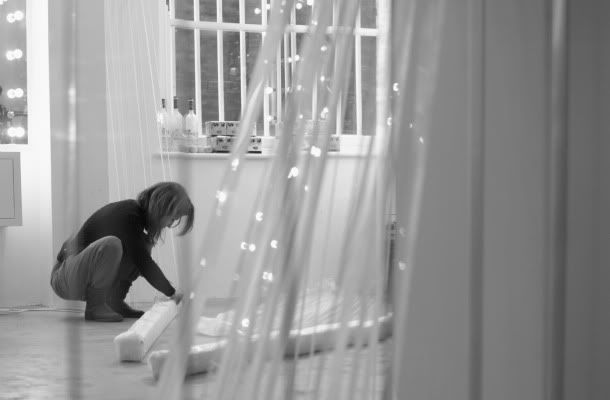 So you're from Turkey. How did the move to the States happen?
I moved to the States after I finished high school, first to Washington DC for college, then moved to NY for graduate school and stayed a few more years after I started making art and music.
You started off as a visual artist, right? How did you first get into that?
My friend Zev (Wolf + Lamb) bought some LEDs to use at Burning Man and gave them to me after, and I started off making LED installations at the Wolf + Lamb parties.
What is it about sculpture that appeals to you over other art forms?
With my LED installations the appeal is not just sculpture but the fact that it's a sculpture with a live composition, like what you would get from computer generated visuals but it's something real/analog, and there is a physical art piece embodying it.
Could you explain the reasons behind the use of LED lights and mirrors?
The main purpose behind the way I use reflection is to go outside of a normal, definable view, and for the added psychedelic effect which helps the viewer isolate from the every day "reality" a little bit. LEDs are simply the best, most convenient light source that can be programmed directly with a computer and gives you the flexibility to build communication with other inputs like sound, motion, etc.
In what ways have Wolf + Lamb influenced you, and in what ways do you think you've had an effect on what they do?
We worked and lived together for a long time so we kind of grew together into what we are doing right now as artists and musicians. Zev was a big influence for me to start making art, and working with LEDs, and Gadi was a big influence for music, we've always had a similar taste. My influence, artistically, was probably in giving the parties more of an artsy feeling instead of just another techno party.
I read in an interview that you said you were inspired by nature. In what ways?
I pay a lot of attention to little happenings in nature, and I'm very attracted to light, and since I was a kid I just love to stare and cherish these moments and I think I'm trying to recreate my favorite ones. And with all that effort I know I can't even get close to the quality and integrity, the effortless perfection of these moments in nature and that makes me appreciate them more.
From your first release, the 'Whispers' EP back in 2009, to your album 'Music Watching Over Me', how do you think your approach to making music or your methods have changed?
Actually I made a lot of the tracks on the album, like Music Watching Over Me, My Ass, One Chance At Happiness, before I made 'Whisper' and 'Stop Trying', so in that way my album also reflects the evolution of my approach and skills. It actually has the first track I ever made (My Ass), to my most recent ones in there, like The L Word, Trust, and My Heart. My methods haven't changed so much but I can say that I definitely learned more about sound and when I started playing live I learned about what works and doesn't work on bigger sound systems.
You perform alongside self-made artwork. Is always having your art interacting with your music important?
No, I actually don't do it so often. It was a way for me to combine the different fields I was working in, and a cool challenge to be able to design a language between my music and my lights.
What are you up to at the moment and in the near future?
I just finished my Europe tour and started the US and South America tour, which will be the next 2 months, and then I'm back in Europe again for the summer.
Are there any other creative outlets other than art and music that you think you might explore in the future?
Yes, I have more abstract sound projects and I want to get into writing and singing.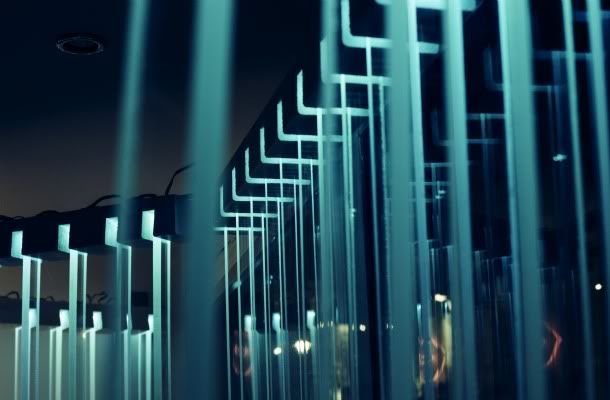 READ NICOLAS JAAR INTERVIEW: 'GHOSTS THAT APPEAR INSIDE THE SILENCE.'