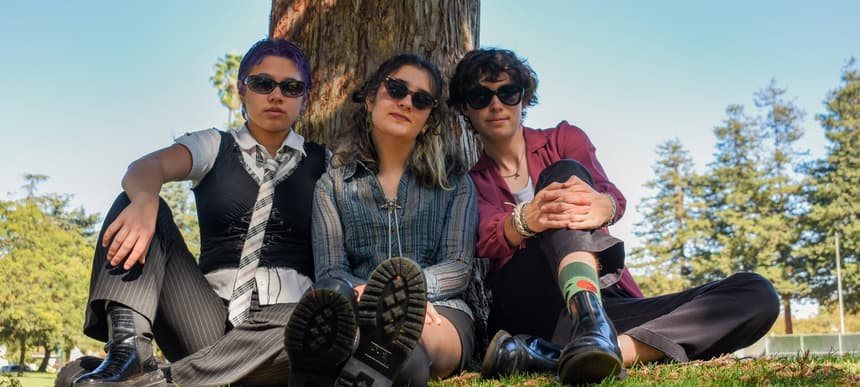 16.05.2022, Words by Billy Ward
Flamango Bay make indie pop with a difference on debut EP 'The Fool'
"The Bay Area's essence has seeped into every thought we've had and all of the art we've made..."
After releasing a series of pace-setting singles this year, indie pop trio Flamango Bay have finally delivered their debut EP 'The Fool'.
Fans received the first slice of the new project all the way back in 2021 with 'Fishing For The Sun', a track written by lead singer Ikaika while they were going through a gender identity crisis. That single was soon followed up with 'LA' and most recently the pop anthem 'Lucky Star', honing the three piece's indie pop sound while weaving intimate tales from their experience growing up around the Bay Area of San Francisco.
Consisting of 5 tracks, the new EP arrives with 2 previously unheard songs, 'Emeralds In The Sky' and 'Bate Kush'. Inspired by disco and funk rhythms, 'Emeralds In The Sky' is one of the band's most danceable tracks to date and introduces the themes of naivety, longing and optimism further elaborated on 'The Fool'.
"The Bay Area's essence has seeped into every thought we've had and all of the art we've made" the group say. "Our schooling taught us a lot about activism and critical thinking skills. The accepting environment of the Bay made us feel comfortable enough to start an indie rock band. Indie and rock music (and most music in general) are straight, white, cis, male dominated fields, but in the Bay Area there was a scene trying to change that which gave us the confidence to pursue that path."
Stream 'The Fool' EP below or listen with your preferred player here.
'The Fool' EP by Flamango Bay is out now on Moshi Moshi Records via DMY.
Submit music for release via DMY Artists.