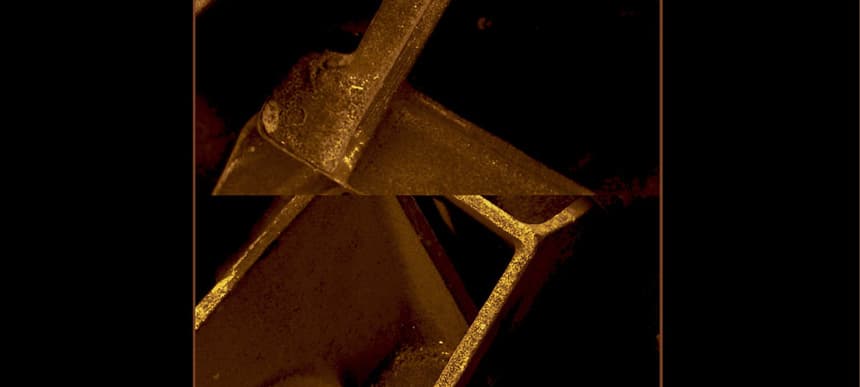 19.05.2016, Words by dummymag
The inspirations that shaped Only Now's 'Hollow' EP
After many years producing as Kush Arora, the San Francisco based producer returns under his alternate production moniker, Only Now. A blend of inspirations collected across the board of industrial and ambient music, Only Now's productions fuse effortlessly with inspirations that are plucked from Angolan kuduro and South African gqom.
He will also be releasing his EP 'Hollow' tomorrow, which weaves together the aforementioned influences with great effect. Both frenetic and mysterious, the four-tracker paves way for promising horizons in the coming months, with Only Now already ticking off performances at Meat Beat Manifesto, Cut Hands, and Low End Theory over the last year, plus an opening set for Hyperdub's Kode9 later this month.
We hit Kush up to delve a little deeper into the mind of Only Now, and he talked us through the project in great detail. Read some of the inspirations on 'Hollow' below, as well as an advance stream of two tracks from the release.
When I approached the 'Hollow' release, it had been about three years in total since the project had been conceived. It was born out of the live performances I did after the first self titled release and early shows.
Thematically, this record is based on my interest with cyber warfare. Whether that's Stux net type stuff, to more activist related activity that is a means to an end. This time around, I focused greatly on tuned physically modeled drum VSTS, synthesis mainly done on a Dave Smith Pro 2, and, tuned metal, utilising my voice/choral VSTs, and samples. I also wanted to break some molds in the scheme of the relatable releases others or myself had done. That included a few synth solos on the record, drastic tempo changes and modulations on a few tracks, as well as utilising lots of silence and filtering to create tension, as opposed to just hitting you on the head with it.
This is very different of an approach from working with a group of drummers on the first Only Now record. At that point, I had played them patterns and got legit Afro-Cuban drummers to do patterns on things, but this time around it was done 100% in-house by myself, I broke away from those drum patterns and sample banks I created.
The rise of gqom is something I've been paying very close attention to since its inception a few years ago, as with the furthering of kuduro techniques from folks like Principe Discos, and Dj Nigga Fox to Cruel Boyz and Jumping Back Slash. I've done many records under my real name Kush Arora with the likes of DJ Bison and Squareffect – who push a kind of gothic tarraxo vibe in Lisbon – to remixing people who are kinda icons of the scene, like Spoeke Mathambo in South Africa. I felt this wasn't the limit of what I could contribute to that scene – that I'm already a complete outsider who is making web connects, doing collabs, and remixing from afar. Similarly, as a younger producer, I spent lots of time in the experimental and industrial scenes with a very similar feeling. Fast forward 10 years, and finally this project came to me from a love for both these styles that I hold so dear to my heart.
Only Now releases are a ritual, and I intend for each of them to wrap around slowly in a sinister fashion, sort of like a snake. I want the listener to dive deep unconsciously as they listen – with unanswered questions, loss, nihilist tendencies by the end of the release, because that's what I'm going through as I produce. I wouldn't say it's purging, maybe more like simmering, and getting really wound up to complete exhaustion….if that makes any sense?
Flare
Only Now: "I had gone surfing for the first few times and wanted to create that sensation of being pushed under the waves, which is how i created the intro….then rising out of that to a powerful icy planet where the sea God posiedon sang to you (choral parts), as you coasted the rims of Pluto's waves. Now to be an extra looney – I'd say that's the analogy we have of pure fucking disaster happening with the way we depend on technology, just every moment is just barely skirting by total destruction of our digital identity, as humans, or as nations. You can hear the digital bits fly by you once the riddim hits and shatter at the end of the tune in white noise."
Virus Encoding
Only Now: "This song took fucking forever. It's really long and combined two separated pieces. This is a total hacker dedicated piece, my tribute to the fine men and women who really are the only real "warriors" in this world with any power to do much more than just kill – but to shift, cripple, and destroy nations, corporations, and general assholes. You hear it building and infecting every bit as the track rises, and then when the song's beat starts, you're hearing the effects as the mighty virus trods along in a biblical fashion laying slay to everything that touches its path."
'Hollow' is out May 20th on Kush Arora Productions.