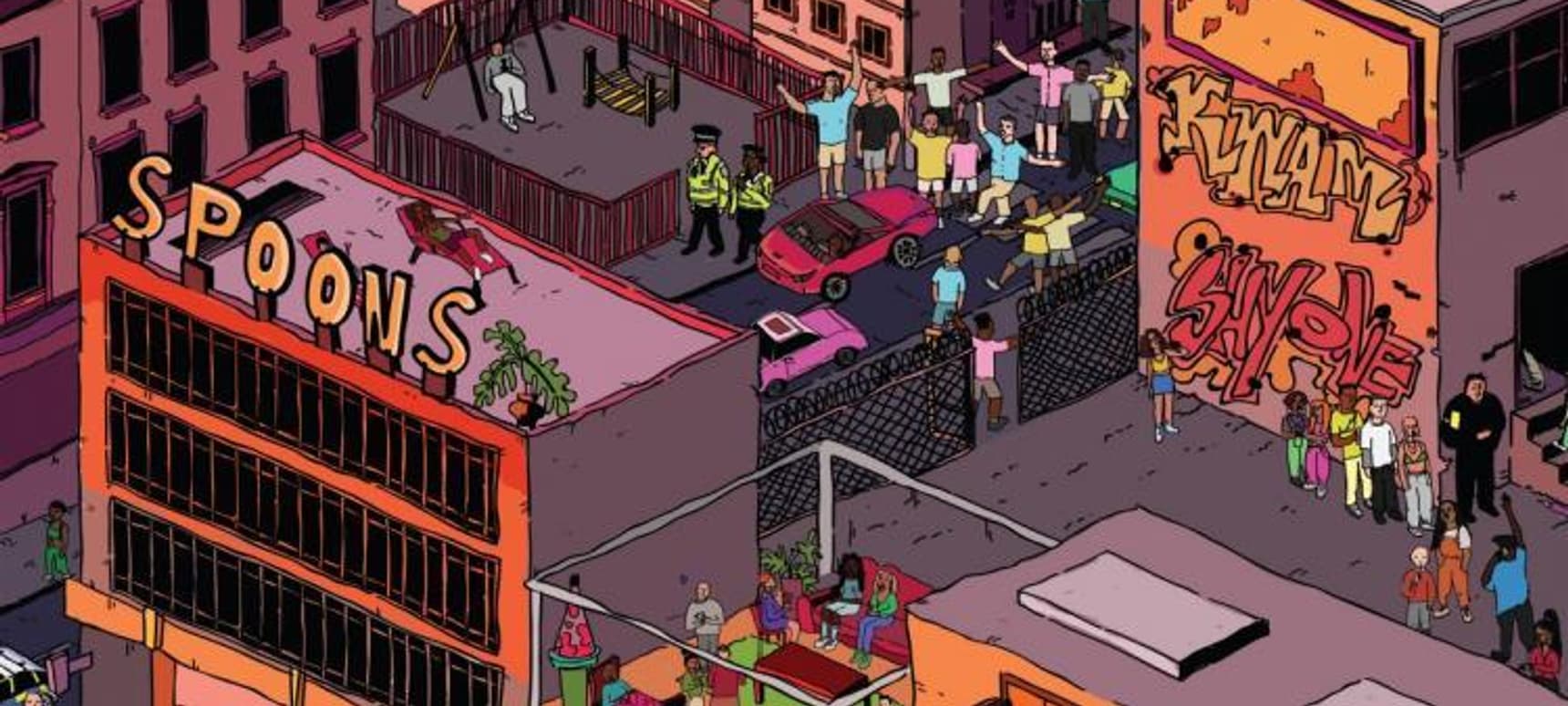 06.12.2018, Words by dummymag
London Living: Shy One & Kwam talk 'Spoons'
After a meeting in Wetherspoons, the pair have locked horns for a collaborative EP - check the premiere here...
Often, the best ideas are forged by sporadic meetings in Wetherspoons – and a new collaborative EP by production mastermind Shy One and tennis-coach-turned-MC Kwam is no different. Titled 'Spoons', after the spot that birthed it, the six-tracked EP was recorded all in one day, and has found a home on Astral Black, arriving just in time to slot into more than a few of those end-of-year lists.
On the release, Kwam's poetic lyricism broaches race, politics and London living in the most powerful of ways – underpinned by versatile, forward-thinking production from Shy One who embraces sounds of grime, garage – basically, those of her home city. Delivering a frank, blistering yet amusing commentary on the state of London life in 2018, Kwam churns out his wit-loaded bars that tackle everything from prejudice to police, while Shy One's wildly explorative productions are equally as heavy-hitting – 'Raid' features a sample from a police raid at a Soul II Soul rave in the '90s.
We fired some questions across to both artists – read the exchange below and listen to the EP in full underneath.
–
What was it like working with each other on the release? Had you worked together before?
Shy One: "There isn't really much chat involved, I feel like we both get each other and respect what makes us both sort of outsiders. It was nice to actually be in the room whilst he was recording, he's vocaled my beats in the past but we'd never physically worked together before."
Kwam: "Working with Shy on the project was pretty normal from my point of view – we first collaborated on a track in about 2008, and in between then and now we've made other tracks together, so the joint EP was really a natural and logical step for us to take!"
How much does London as the place you're from figure on the record, in terms of the samples you've used, genres, or lyrics?
Shy One: "I have a hard time pinning down 'my sound'. My experiences, including the music I heard growing up here all contribute to it. 'London' is the best way I can describe how I sound. A mixture of London through the years. Not to mention having a sample from a Soul II Soull party being raided."
Kwam: "When I was writing for this EP, all the scenes in my head were taking place in my local area, so one could say it's London-centric subject matter in that sense. Personally, I feel like any city dweller I've ever encountered will be able to relate to some of the subject matter, perhaps most notably with the track 'POWER'."
Racial prejudice is one of the themes the EP explores – is that something you've encountered a lot of in the city?
Shy One: "Of course."
Kwam: "Racial prejudice undeniably exists in London and elsewhere. I've encountered my fair share – whether that's a lot or a little is hard to say. What I will say is, I don't allow the knowledge of racism's existence to undermine my outlook on life anymore – I think that's a mug's game."
You're doing a launch party for the EP next week at the Bleep x store – what have you got planned for that?
Shy One: "Imma spin some tunes, Kwam's gonna spray some bars, we're gonna make eye contact with everyone, it's gonna be sexy, there's gonna be beer. Sounds like date night to me."
Kwam: "We will be gently and carefully going through all six tracks off the EP, after having had sets played by Aqwea, Jon Phonics, and an as-yet-unnamed mystery guest! All very exciting – come and see us!"
Finally, which is your favourite Spoons in London?
Shy One: "Masque Haunt in Old Street (It's also the one we first planned this EP in)."
Kwam: "Easy question, that's gotta be the local – the Masque Haunt on Old Street."
And what's your order?
Shy One: "Baked potato with chilli con carne and a pint of Kronenbourg please."
Kwam: "I'm having an Abbot Ale. Cheers."
Listen to the 'Spoons' EP in full exclusively below:

'Spoons' is released by Astral Black on December 7th. A3 prints of the artwork are also available, which you can purchase here.
The EP launch party takes place next Tuesday at the Bleep x Store – more information can be found here.