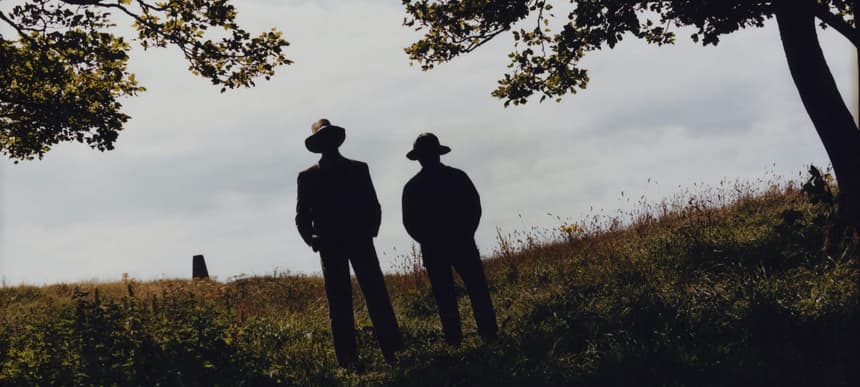 24.09.2021, Words by Billy Ward
Peter Talisman's 'We Have To Leave This Town Because I Have Done Something Unforgivable' is a brooding, melancholy foot stomper
The new track oozes atmosphere and sets the tone for the pair's forthcoming debut album
Marking their second release under the Peter Talisman alias after 'A Life-Changing Discovery', Samuel Organ and Slugabed are back again with a brand new conceptual offering from their forthcoming debut album.
The pair have both released their own solo projects this year already, Organ dropping 'A Safe Place In Cyberspace' and Slugabed toasting his 'we have the window open at night' record. Joining forces to fuse their individual approaches to songwriting and production while putting their inventive world-building skills to use, the two artists' new joint endeavour is rooted in their desire to experiment.
'We Have To Leave This Town Because I Have Done Something Unforgivable' is a brooding, melancholy foot stomper filled with regret and shame, immersing listeners in the carefully imagined universe of Peter Talisman and his companions.
While the story surrounding the mysterious character dreamt up by Organ and Slugabed is reminiscent of the wild west legends born out of the American frontier as well as old-time English folklore, the music itself has a sleek and modern polish to it. Repurposing folk and prog rock sensibilities through wandering acoustic guitar licks and broken electronics, the new track oozes atmosphere and sets the tone for their album on the horizon. 
"All things rotten and all things ripe, Betwixt time and tide, each and all is alike"- Peter Talisman
Stream the track below or listen with your preferred player here.
'We Have To Leave This Town Because I Have Done Something Unforgivable' by Peter Talisman is out now via DMY.