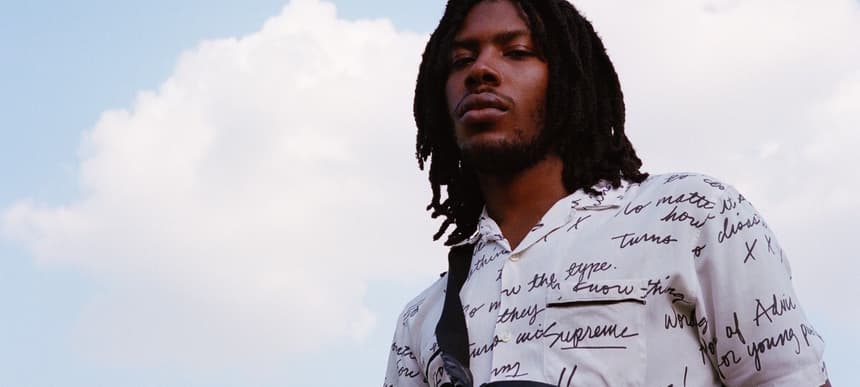 23.11.2018, Words by Daniel Laxness
Premiere: Watch the exuberant new visuals from Nigerian artist Santi
From Shane Eagle's absurdist charm, Santi's top shotta lyrics to Amaarae's youthful voice, this new release makes for a gripping experience
Nigeria's wealth of talent has always been celebrated globally – from Wizkid to Fela Kuti, Yemi Alade to Burna Boy, the list is endless and it's nowhere near decreasing. In recent years, the African country's next generation have been making waves with their abundantly tasteful brand of genre-bending afrobeat.
Known simply as Nigeria's 'Alté' movement, this alternative branch of the already burgeoning scene is made up of a group of misunderstood yet trendsetting teenagers with a crystal clear artistic vision and an extremely refined and mature take on both fashion and music.
Spearheading the scene is Nigerian-born artist Santi, who's been releasing remarkably high-grade music by the boatload. Following the success of his latest single 'Freaky', the rising rapper and vocalist returns in full force with an exuberant music video for his new single 'Rapid Fire' featuring South African rapper Shane Eagle and Ghanaian-alté newcomer Amaarae. Produced by longtime collaborator, Genio, this new offering showcases all three of the artists' distinctly different vocal styles, an array of dancehall grooves and nostalgic R&B licks.
Directed by Santi himself, he told Dummy: "The video is a piece expressing exuberance, exploring themes of freedom and rage. It centres around a gang called 'The Lost Boys', and the exact aim of the video was to show freedom from a group of people who were never necessarily understood by society but continue their quest in finding themselves while enjoying and grasping the ups and downs of life."
From Shane Eagle's absurdist charm, Santi's top shotta lyrics to Amaarae's youthful voice, this new release makes for a gripping experience.
Watch 'Rapid Fire' exclusively now.