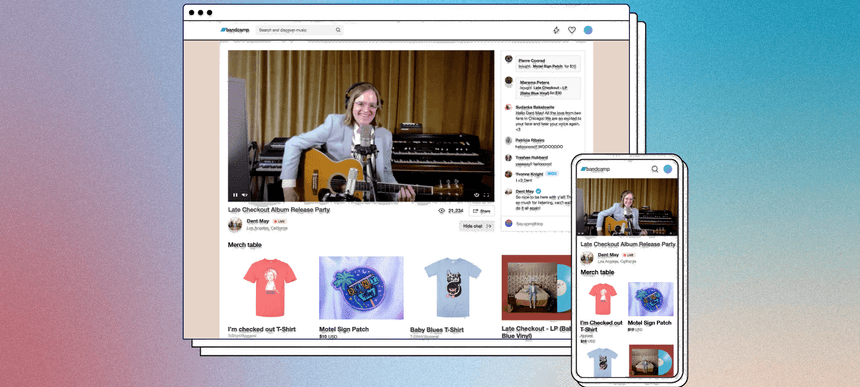 18.11.2020, Words by Felicity Martin
Bandcamp announces Bandcamp Live, a ticketed live streaming service
The platform takes a 10% fee, but is waiving it entirely until March 31st 2021
Bandcamp has announced Bandcamp Live, a new ticketed live streaming service where artists can perform for and connect with their fans.
The platform says that huge amounts of equipment or large spaces are not needed, and that "with just a bit of setup, plus a laptop, webcam, and microphone, you can start streaming on Bandcamp and connecting directly with your fans."
The service will allow artists to set the price of each stream for their audience, and Bandcamp will take a fee of 10%, which they're waiving until March 31st 2021.
It will also allow artists to display their merch while streaming and there will be a live chat box where fans can comment during the performances.
Currently, there are shows in place for Eyedress, Kaitlyn Aurelia Smith, Cloud Nothings and Hatchie – check out the full listings here.
Artists who are interested in streaming on Bandcamp Live can find more information here.
The music platform has been active in its support of artists throughout the pandemic, waiving its fees in a bid to support artists whose incomes have been slashed.