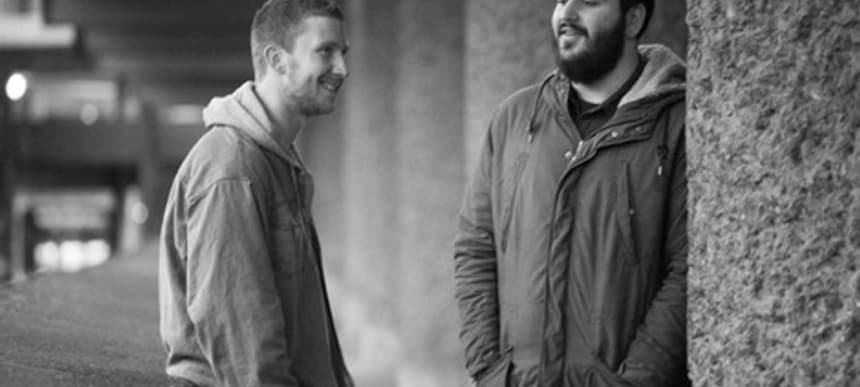 05.09.2013, Words by Aimee Cliff
Cloud Boat - Amber Road (The Haxan Cloak remix)
Terrifying hell-raiser Bobby Krlic takes on the grittiest track from the duo's debut album - download it for free.
Back in May, I caught R&S-affiliated duo Cloud Boat live at The Lexington in London, where the energy was unlike any other gig I've seen this year. On their debut album 'Book Of Hours' – which they released on the same day as the show – they veered seamlessly between soulful folk, electronic grit and even traces of their thrashing, metal background. This resulted in a crowd who leant forward, gripped by every delicate word that left the mouth of vocalist Tom Clarke, and yet ready and willing at any moment to be launched into a swarm of noise and chaos. Awed silence met each tip-toeing post-dubstep melody, and brash, enthusiastic cheers went up when the band launched into their heated album track Amber Road.
Harder and meaner than the rest of the album and devoid of vocals, Amber Road is the moment on 'Book Of Hours' that the duo break open their sound to expose its angry, bodily core, and so it's entirely fitting that this is the track that The Haxan Cloak – aka terrifying hell-raiser/pretty nice guy Bobby Krlic – has chosen to rework. Mirroring the original album's sense of lulling the listener into a false sense of security before completely bombarding their senses, Krlic teases the track out with a two and a half minute intro full of metallic effects that gradually intensify towards an immersive minute and a half of cathartic noise. It fantastically walks the balance between song and remixer with sensitivity, and you can download it for free (for 24 hours) here.
Read our interview with Cloud Boat, on sourcing percussion in car parks and being in metal bands so they could get up to no good, here.