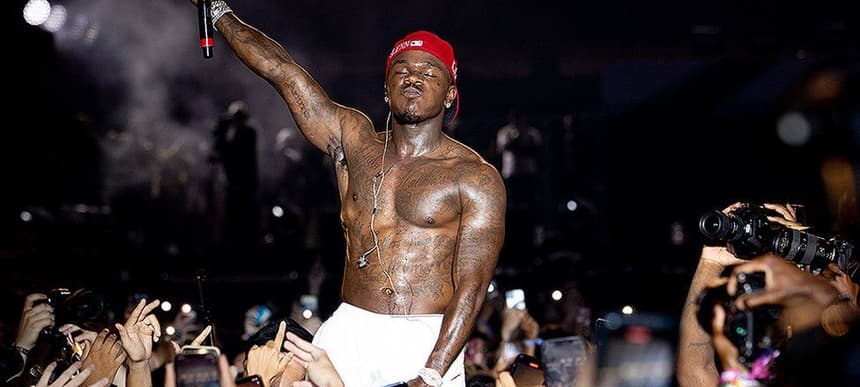 28.07.2021, Words by Maisie Goulsbra
DaBaby sparks outrage after alleged homophobic comments
Dua Lipa says she is 'surprised and horrified' at the rapper's comments
Rapper Johnathon Lyndale Kirk, otherwise known by his moniker DaBaby, is currently trending on Twitter following the alleged homophobic comments that he made during his show at Rolling Loud Miami.
DaBaby features on 'Levitating' by Dua Lipa, who shared an Instagram story to say that she was "surprised and horrified at Dababy's comments. I really don't recognise this as the person I worked with. I know my fans know where my heart lies and that I stand 100% with the LGTBQ community. We need to come together to fight the stigma and ignorance around HIV/AIDS."
The rapper, who received two Grammy nominations in 2020, was due to release a clothing line with online menswear brand boohooMAN, boohoo have since condemned DaBaby's homophobic comments on Twitter.
boohooMAN condemn the use of homophobic language and confirm we will no longer be working with DaBaby.

Diversity and inclusion are part of the boohoo Groups DNA and we pride ourselves on representing the diverse customers we serve across the globe.

1/2 pic.twitter.com/C2BLYFwwaN

— boohooMAN (@boohooMAN) July 28, 2021
DaBaby apologised for his comments in a tweet.
Anybody who done ever been effected by AIDS/HIV y'all got the right to be upset, what I said was insensitive even though I have no intentions on offending anybody. So my apologies 🙏🏾

But the LGBT community… I ain't trippin on y'all, do you. y'all business is y'all business.

— DaBaby (@DaBabyDaBaby) July 27, 2021
He added:
& for any brands, networks, or artists that like to profit off of black rappers influence on the culture, without understanding it or having the patience to deal with what comes with the position we play in our culture.

Keep yo money next time
us "NIGGAS" human too.#GodBless

— DaBaby (@DaBabyDaBaby) July 27, 2021
Among those who took to Twitter to share their thoughts was Elton John, who in this thread informs his followers of some statistics about HIV/AIDS.
(1/5) We've been shocked to read about the HIV misinformation and homophobic statements made at a recent DaBaby show. This fuels stigma and discrimination and is the opposite of what our world needs to fight the AIDS epidemic.

The facts are: pic.twitter.com/MqCv3vWiz2

— Elton John (@eltonofficial) July 28, 2021
Read next: GRM Rated Awards Return for 2021.