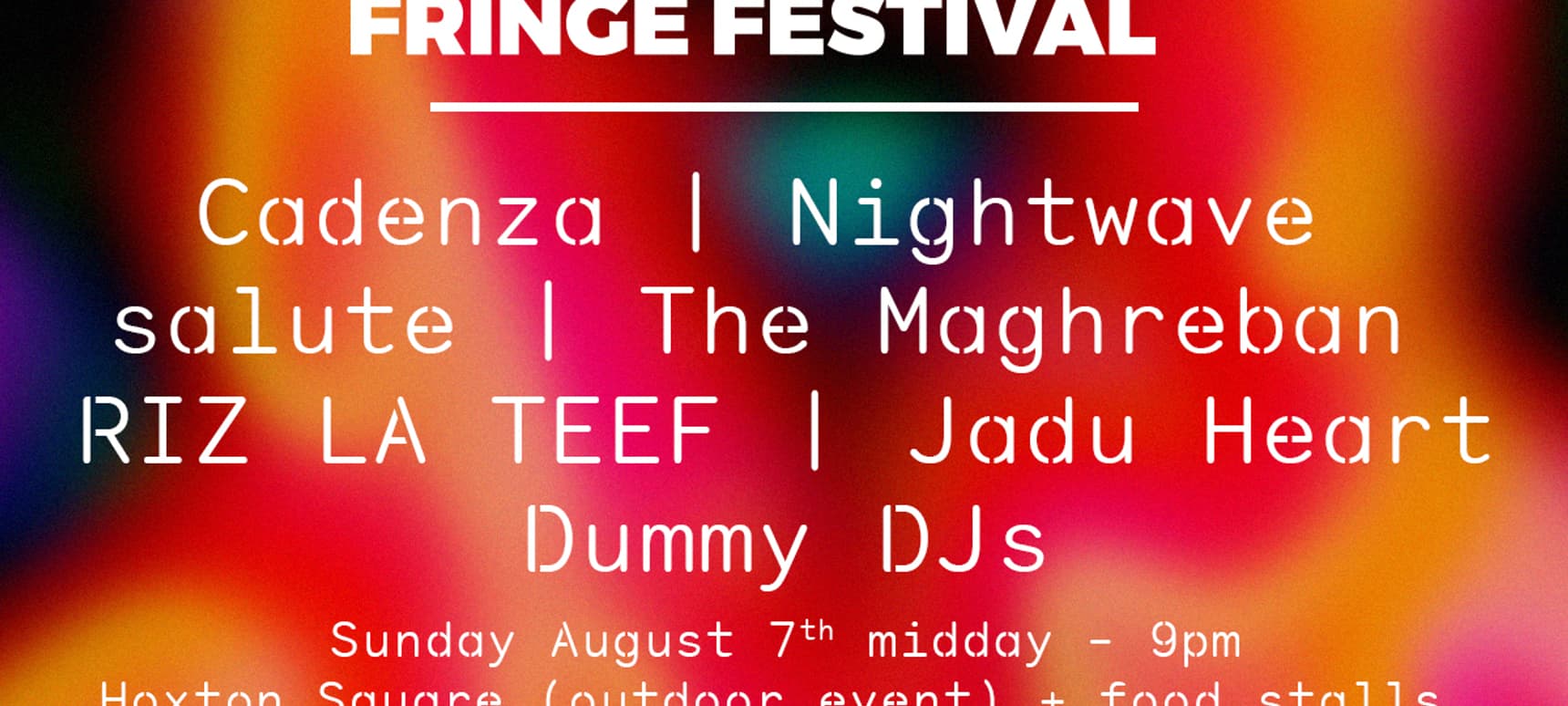 15.07.2016, Words by dummymag
Dummy takeover at The East London Fringe Festival
Dummy are pleased to announce a takeover at this year's East London Fringe Festival, which will be held August 7th on Hoxton Square. An outdoor day party with the added bonus of food stalls, we'll be stretching through until 9pm led by an impressive line-up featuring some of Dummy's favourite DJs right now…
After a very successful 12 months working on productions and remixes with the likes of SYV, Mssingno, Ella Eyre and more – West London soundboy and selecta Cadenza will head up our outdoor throwdown on Hoxton Square. Come rain or shine (we're praying for the latter), he's sure to bring positive vibes with his unique blend of club-ready cuts and party-starting edits. Listen to his Missy edit above, and you'll know what we're on about.
Glasgow's premier Egyptologist and booty bass connoisseur Nightwave is a real female boss. Producing her own original productions for the past 10 years – she's collaborated with DJ Deeon on Hit This and remixed a lot of your club music heroes, whilst also staying at the helm of her own label Heka Trax and running parties. We warn you now, Nightwave's DJ sets come with a guaranteed dancefloor workout.
Radar Radio regular Riz La Teef's set at our party for The Great Escape with Earth Agency impressed us so much that we had to ask him back again. The dubplate don will be warming up the dance with his undeniable blends of grime, R&B, and club music that are sure to bring nothing but energy.
Black Acre's The Maghreban will join us for an evening excursion into dark and ponderful house music. Also known as hip-hop demi god Dr. Zygote, he's been producing for some time now but has his sights firmly set on making peak-time dancefloor dynamite these days, releasing solid material across the Bristol label and his own Zoot imprint.
Classically trained musician and Vienna native salute has climbed the ranks over the past year – from dropping a collaboration with Awful Record's queen bee ABRA on his 'Gold Rush' EP to covering Rihanna with RobLaw. Salute once told us that he's "obsessed with UK underground culture," so we're expecting to hear a slew of anthems in the sunshine. (Proceeds to do second sundance of the day).
Singer-songwriting duo Jadu Heart makes music you can play to your beau…simple as. Gearing up to support mura masa on his upcoming European tour, we welcome the pair down to Hoxton Square for an African funk set to get things moving.
Further DJ support comes from the Dummy residents. Keep up with further announcements on the Facebook event page.
The East London Fringe Festival takes place August 7th on Hoxton Square (£5 advance tickets available).