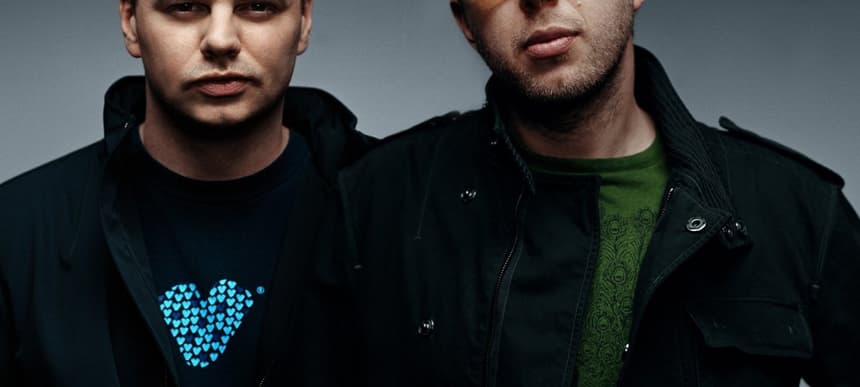 17.11.2014, Words by dummymag
Ed Simons has left the Chemical Brothers' live show
Tom Rowlands will pilot the Chems' live shows solo from now on, although he and Ed are "still very much together" as a music-making duo.
Ed Simons has left The Chemical Brothers' live show in order to focus on his "academic pursuits".
The Chemical Brothers are DJing at the Bugged Out Weekender in January, and before their set Simons has given the clubbing institution a short interview revealing their plans for their next album and their live shows – which will be a solo project from Tom Rowlands.
"I know Tom and Adam [Smith, visuals and director of the Don't Think concert film] are working on a brand new look for the show," Simons says, "I have committed to academic pursuits over the last few years so I won't be able to be part of the live show. It's been a really difficult decision but it doesn't work for me to be away from home for the periods of time touring requires."
"Tom is continuing with the live show, he wants to take this music to the people," he continues, "It will be the same big production, with Adam's amazing visuals and the studio set up on stage but I won't be part of it. The academic work I'm continuing with is too meaningful for me to break from right now. I'm really excited to see how the new show looks and on the plus side, one day I will get to see a Chemical Brothers show from the audience's perspective."
Although he's departed the live show, Simons makes it clear that he and Rowlands will continue DJing and making music together: "We're still very much together and making this record together and DJing together. The touring just doesn't fit alongside my academic work."
Speaking of their forthcoming album, Simons says that it "sounds incredible", is full of "far-out electronic music", and will be out "next year".
The Chemical Brothers (DJ set) headline the Bugged Out Weekender on January 17th 2015 (more information and tickets).