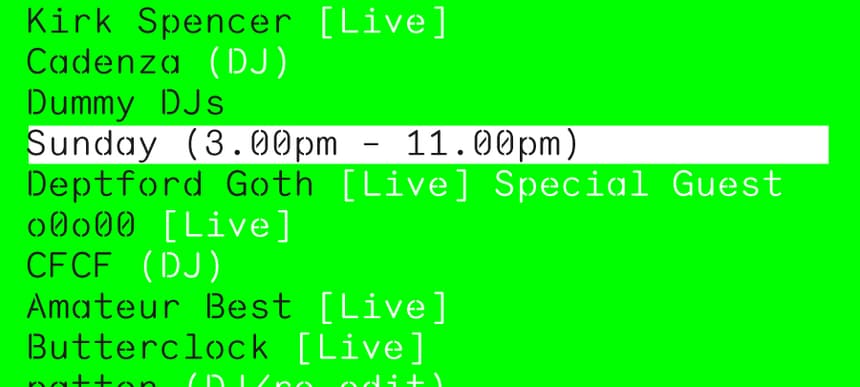 26.09.2013, Words by Aimee Cliff
Find out the set times for this weekend's Dummy AGM
Grab your diary and pencil in some organised fun, as we reveal what time Darkstar, Deptford Goth and the rest will be playing.
This weekend we're officially celebrating our website re-launch by hosting the first ever Dummy AGM, a two-day live event at London Fields Brewery with a line-up that we're unspeakably proud of (#humblebrag). We want as many of you as possible to come down and join us as we enjoy the talents of Darkstar, oOoOO, Only Real and loads more of our favourites, so take note of the set times below and make sure you lock it in, because tickets are selling fast.
There's a limited number of advance tickets still available at £10 for the Saturday, £8 for the Sunday or £15 for the whole weekend – click here to get your hands on them.
Or, if being fashionably late is more your thing, there will be some tickets on the door for £12 on Saturday and £10 on Sunday.
Saturday
Kirk Spencer – 6.30pm
Larry Gus – 7.30pm
Brolin – 8.45pm
Only Real – 10pm
CFCF (DJ) – 10.45pm
Darkstar – 11.45pm
Micachu (DJ) feat. Tirzah (live) – 12.45am
Nadia Ksaiba (DJ) – 1.45am
Cadenza (DJ) – 3am
+ Dummy DJs
Sunday
Eaux – 3.30pm
Rainer – 4.30pm
Woman's Hour – 5.30pm
patten – 6.20pm
Amateur Best – 7.20pm
Butterclock – 8.35pm
oOoOO – 9.05pm
CFCF (DJ) – 9.45pm
Deptford Goth – 10.45pm
Go here to listen to a staff mix of our favourite tracks from the featured artists.