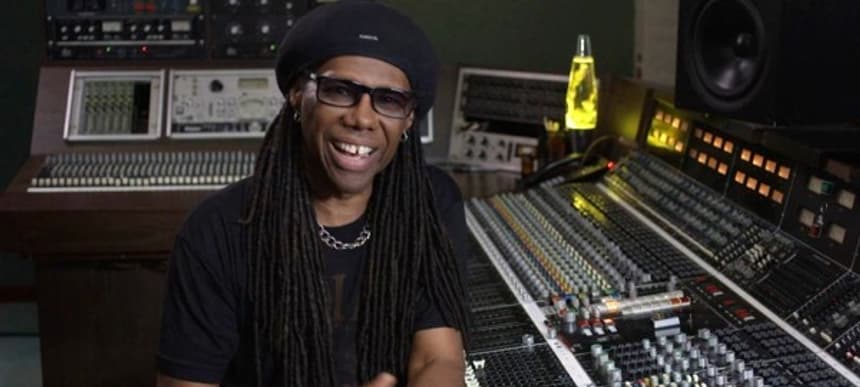 01.09.2014, Words by dummymag
Freaks wanted: Nile Rodgers is recruiting young people to remix Chic's Le Freak
Rodgers has teamed up with new work experience programme GoThinkBig to offer a chance for young artists to release a new version Le Freak, debuting it at a secret gig later in the year.
It might be one of the most recognisable songs in the world, but do you reckon you could do a better version of Chic's Le Freak?
That's what Nile Rodgers is wanting to find out. Working alongside Rudimental, he's announced a competition to remix the song with GoThinkBig, a work experience programme launched by O2 and Bauer Media who are offering young folks across the UK a chance to join the Rodgers and Rudimental supergroup ("Rodgermental"?) and re-release the track later in the year and debut it at a secret gig.
If you're aged between 16 and 24, you can apply for a host of different roles: production team, performers, directors, camera crew, and stylists. There are also opportunities for interns to get involved with track production and music videos. All in all, they're actually creating over 100 job placements for the project, each mentored by a professional in their field, which is something pretty neat to put on your CV.
"There is still a large number of young people unemployed or out of education and feeling disconnected from society," says Rodgers of his involvement in the programme, "I know the feeling of rejection from when I started out. I want to change that feeling. Rudimental and I have joined forces with GoThinkBig to offer up opportunities to remix Le Freak and give them, possibly, their first career experience. I'm looking for the freaks."
If you reckon you're one of those freaks, head over to GoThinkBig's website and apply before September 8th.
To help young musicians find inspiration when making their remix, we spoke to Danish disco/house producer Kasper Bjørke about his approach to 'the art of the remix'. Bjørke has been releasing music for nearly eight years now (and producing and DJing for 15 years), and is lining up his latest album, 'After Forever', for release on September 22nd. Here, he talks us through his latest remix, taking on Brooklyn disco ensemble Midnight Magic's Paranoid Jungle, released by Permanent Vacation.
What did you do on your remix of Paranoid Jungle? What elements of the original did you like and keep?
Kasper Bjørke: "I tried to make it a bit less party/disco than the original, and give it a darker and rougher vibe. I used a lot of the original elements, both the vocals – which are great, by the way – and also the synths, and parts of the bass. So I focused on giving it another groove instead. And I did a new piano part to also add something new melodically to the original."
How long do you normally work on a remix for?
Kasper Bjørke: "It's very different… Sometimes one to two days if I nail it, with others it can be weeks. This one was a lot of work, actually. I did three different mixes, and actually had to change something after it was mastered, and have that final fourth version remastered."
How quickly do you know if a remix you're working on is going well or not?
Kasper Bjørke: "After an hour or two. If I don't have an idea or a sense of direction, I know that I have to delete it and start over."
What was the first remix you ever completed?
Kasper Bjørke: "I honestly don't remember! As a remix in my own name, I think it might have been of Icelandic band FM Belfast, and their cover version of Rage Against The Machine's Killing In The Name Of."
How did you approach making that?
Kasper Bjørke: "I think I was just using that crazy vocal of the cover, which was really fun and quite brilliant, and then I programmed this nu-rave beat and synths, which was so in the moment at the time… I think it was 2006…"
And how has your process evolved since then?
Kasper Bjørke: "Only in the sense that I don't really follow music trends anymore – I just try to do my own sound – and I spend a lot more time with details and record analog stuff. Back then, I was mainly using software plugins."
There's a quote from Andrew Weatherall about remixes: "Just f**king destroy it."* But there's also a David Dewaele quote where he says "There are a lot of remixes that are just taken a capella, and then producers put their sound onto it, whereas what shows real genius is if you make the song better by using the original elements." Which school of remixing do you fall into: subtle tweaks to the original, or full on deconstruction?
Kasper Bjørke: "I tend to do both – I call the ones I really tear apart the 'Kasper Bjørke Remix', and then the ones where I use a lot of the original elements, I call them 'Kasper Bjørke Version' or 'Rework'. So funnily enough, somehow someone at the label actually didn't credit me right on this particular one, as I clearly made it as a version and not as a remix!
It's hard to pick a favourite remix ever, but if you had to choose one track that really encapsulates 'the art of the remix', what would it be?
Kasper Bjørke: "Well, speaking of Andrew Weatherall, he is surely a strong contender. But also Trentemøller always surprises me when he remixes other artists – and also when he remixes himself. He always delivers something unique. For example, his own brand new remix of his own track Come Undone. I think the original is great – but his remix is even better. He actually told me he feels the same!"
If you had to remix Le Freak, how would you approach it? (And you're not allowed to say 'I wouldn't remix it!')
Kasper Bjørke: "Oh, Lord… Probably, I would try out different angles first – but most likely go with Nile's guitar parts as a central element, and of course some parts of the vocal – maybe I'd keep them out until the very end of the remix as a last goodie – and also, I would try to avoid using the original bass to not go too much in a 'version' direction, but treat it as a 'remix'…"