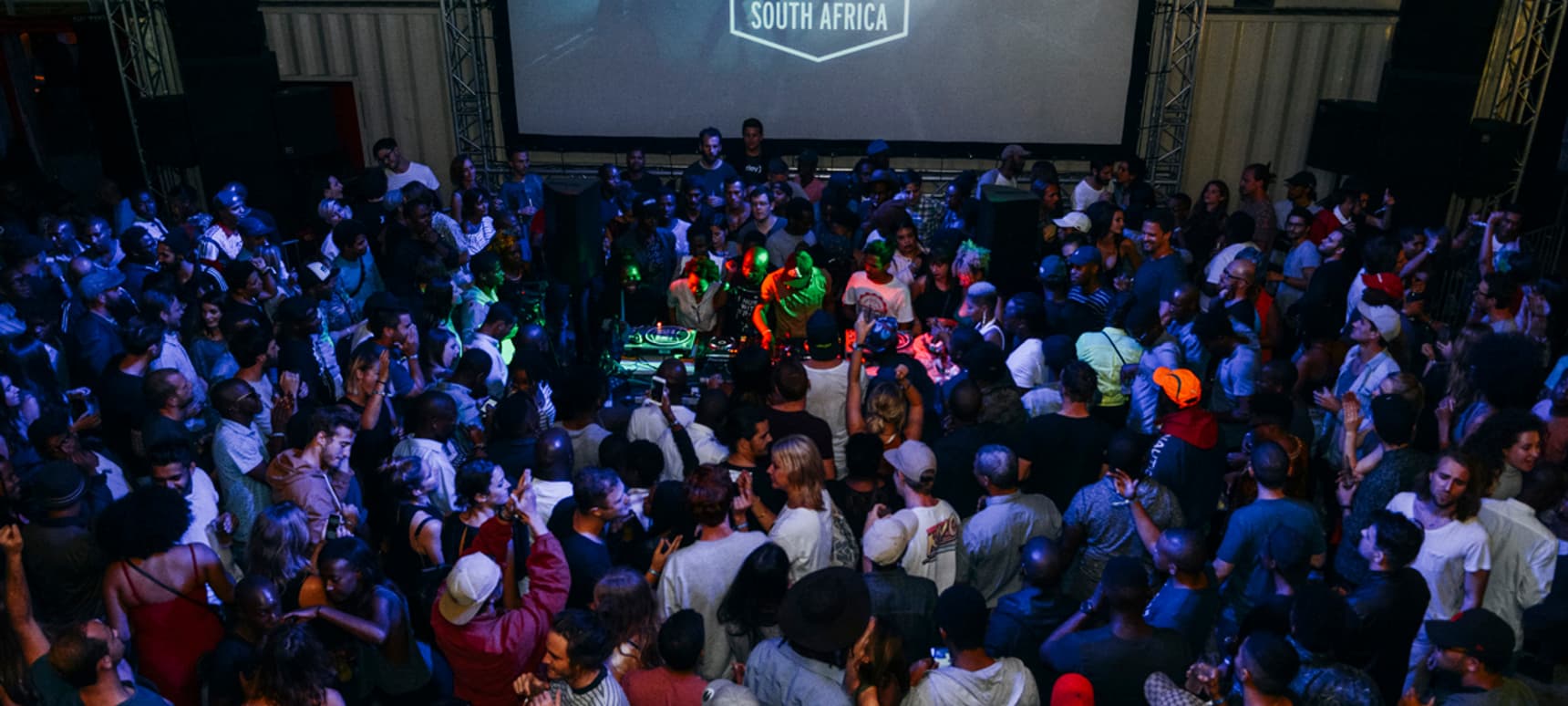 11.04.2016, Words by dummymag
From Cape Town to the world: how Boiler Room & Ballantine's shared the true sound of South Africa
An email on Friday, a flight on Sunday: my trip to South Africa was a whirlwind affair. Seeking to uncover authentic underground music scenes around the globe, I was heading to experience the second instalment of Ballantine's Scotch Whisky and Boiler Room's Stay True Journeys events in the country. For the uninitiated, the series aims to bring together up and coming local DJs with more established international names, with previous parties taking place in in Mexico City, Santiago, Warsaw and Hamburg.
I never thought I'd find myself in South Africa, largely due to a combination of turbulent political history and geographical distance. There always seemed to be a subconscious culture gap that I couldn't really get beyond. However, I quickly forgot about this as soon as I landed. The townships' hand built houses line the motorway, before giving way to the glass fronted sea-view houses as you draw closer to the city itself. The first view of Nelson Mandela Boulevard and the looming, movie set appearance of Table Mountain is proof that I'm actually here. My first impressions quickly escalate into the learnings that Cape Town has sunshine, steak, seafood, and surf, all bubbling up at the foot of it's mountains. Restaurants have menus that go on for days. Open top tourist buses warn of the danger of baboon raids. On top of that, all you can hear in the malls, on the streets, and in the cabs…is house music.
It's becoming common knowledge that South Africa is a country in thrall to that classic Chicago sound. It is a sound that resonates throughout the country, and is heard louder than any other genre. Although, despite being surrounded by the sub-scenes of the East Coast's gqom or Johannesburg's jazz-flecked vocal house, Cape Town is still finding its feet when it comes to flaunting its own unique house sound. As Jazzuelle put it, it can be a "mainstream" city, with the underground taking centre stage in the townships. However, stopping off early in the week at one of the city's vinyl hothouses, Mabu, we were told that all roads led to Thursday night's Boiler Room. A showcase of Cape Town's local talent set alongside some of house music's biggest names, it included DJs cherry-picked by Boiler Room and Ballantine's including Cape Town born and Johannesburg based DJ Jazzuelle, Langa township label-head Fosta, and a back-to-back set from Stay True Sounds heads Kid Fonque and Jullian Gomes. Then, touching down from the world stage, South Africa-phile Henrik Schwarz, the now Berlin based Fred P, and selfie loving deep house veteran Move D.
"South Africa has a very particular type of vibe, and there are artists that champion that sound." – Fred P
Langa local Fosta was the first to play the event, and spoke to me straight after his set. Growing up with a steady desire to be a musician, Fosta was raised by a musical family in the heart of the township, and found him himself surrounded by a lot of Langa's jazz legends in his formative years. Initially grasping jazz as his genre of choice, he was soon consumed by the sway of electronic music, with the main culprit being South Africa's kwaito scene. "It was actually for the young people, which drove me away from the jazz scene, and took me into my own generation. In the early '00s we started shifting from kwaito into house music."
Fosta was followed by a back-to-back set from fellow Capetonian producers Kid Fonque and Jullian Gomes, who showered the crowd with a set that peaked with a club friendly edit of their track with Okmalumkoolkat, Usangikhumbula. With the Ballantine's and ginger in hand and the feel-good vibrations all around, the Langa crowd were steadily locked into the beat. Several of the party-goers passed comment on how the bridging of communities was progressing, with more 'mixed market' parties, especially in Cape Town. I incorporated this into my conversation with Fosta, who progressed onto the subject of his work and how performing at music events are a staple part of his week. Yet, the idea of his set being broadcasted by Boiler Room and Ballantine's to a global audience was an exciting prospect for him, especially seeing house music unfold to create social and racial cohesion real time. "Boiler Room and Ballantine's are bringing a mixed market which is a great thing, especially when it's happening in the township, as we normally experience this when we're playing in the cities. It's such a great thing to experience that in the township….[the mixed market events] do happen quite regularly now, especially in these sort of venues. It's a good thing that it is becoming a norm, especially when promoted by an internationally recognised brand such as Boiler Room."
Cape Town's local scene also captured the hearts of the invited DJs, especially Fred P. Moving from New York to Berlin, the sunny climes of Cape Town were a draw to the internationally known DJ and producer, who had been seduced by South Africa's sunshine lifestyle during his visit. "I know there's a very strong scene here and deep house is the music," Fred P says to me after wrapping up his far-reaching set, which saw him surrounded by a current of dancers moving so energetically that he couldn't reach his record bag. He was already aware of deep house's dominance in South Africa, referring to it as a "beautiful thing" in juxtaposition to its shying subculture status in his hometown of New York City. He made reference to Johannesburg's Black Coffee, but also shared an active interest in the wider scene. "South Africa has a very particular type of vibe, and there are artists that champion that sound. I know every scene has a sub-genre or a subculture to it and I'm always drawn to that, because that's where you usually find the next big thing. That's what I was really curious about."
Keen to capitalize on having already played at events like Sonar, Glastonbury, and ADE, Fosta and Jazzuelle are motivated by the thought of further international exposure. Raised in Cape Town, Jazzuelle upped sticks to Johannesburg during his youth to pursue his dream of being a full time DJ. However, Fosta grew tired of the notion of uprooting to succeed and decided to stay true to his desires by taking matters into his own hands. "We were actually sick and tired of the whole idea in South Africa that you have to move to Jo'Burg for things to happen," Fosta explains, before revealing his tongue-in-cheek solution. "We started our own company 021 Records, which is named after the dialing code of Cape Town," he adds. "It has a pun too, which is our slogan: 'from zero to number one', as we started from nothing. We didn't have computers, we didn't have anything, but now we're here today and have a studio, and have been producing music from 2005 up to today."
"We were actually sick and tired of the whole idea in South Africa that you have to move to Johannesburg for things to happen." – Fosta
The success paying dividends, Fosta has also assembled a live music band, 021 Live. Progressing from simply standing still and playing DJ sets, the producer is now fulfilling a burning desire to take his productions and perform them live on stage with the three other members, working to launch the band on April 23rd at a live event in Cape Town. Discarding any limitations that could be imposed on him, Fosta sees South African house music as a valuable export, believing the scene has a lot to take to the world stage. "Yeah definitely, you don't have a choice because you need to keep track of the game. You do have to keep yourself updated with everything happening globally, especially coming from South Africa. We want to take our music worldwide…and having gone out of South Africa myself I've actually seen how much respect we've got overseas."
From the crowds monumental surge as Jazzuelle played Shena's influential anthem Let The Beat Hit 'Em, through to Move D's bouncy European tinged set and Henrik Schwarz's uplifting finale – it's hard to put the excitement and unique atmosphere of the night into words, but with such a steadfast attitude to sharing their sound with the world, this can only be the beginning for South Africa's house scene covering more global ground. As Fosta frames it, "I think our music is exclusive. It is music with its own elements, that you'll never find anywhere else in the world."
Check the sets from Ballantine's and Boiler Room's Stay True South Africa Journey here.