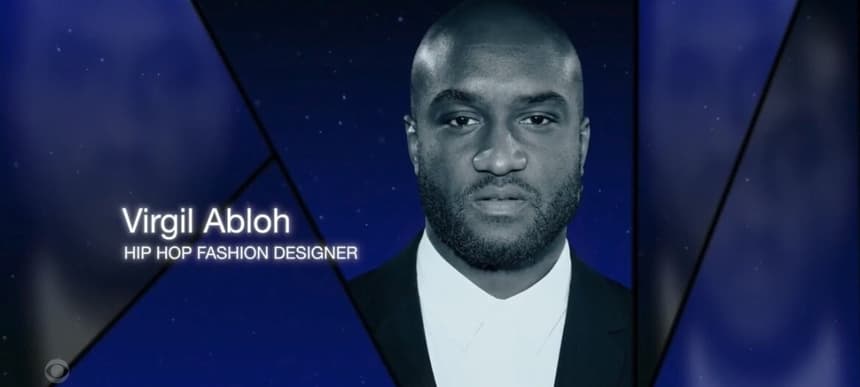 05.04.2022, Words by Billy Ward
Grammys face backlash after calling Virgil Abloh a "hip hop fashion designer" during tribute
The Recording Academy has been widely criticised following the 2022 award ceremony
Following the 2022 edition of the Grammys that took place over the weekend, The Recording Academy's tribute to the late Virgil Abloh has come under criticism for labelling the visionary creative a "hip hop fashion designer" during an "In Memoriam" segment.
Abloh, who was artistic director of menswear at Louis Vuitton and his own brand, Off-White, led a barrier-defying life which saw him exercise his influence on a wide array of industries and individuals.
Fans quickly took to social media to express their concern with the poor wording, a label that seemingly takes away from his multi-faceted career and his impact on sectors concerning visual arts, music, fashion, architecture and beyond.
"Virgil was a producer, DJ, artist, designer, creative director, brand owner, ambassador and fashion designer and the Grammys minimise him to 'hip hop fashion designer'," wrote one user, with others calling it "very distasteful", "disrespectful" and "insulting".
Despite exercising his influence in the hip hop scene, collaborating with likes of A$AP Rocky, Kanye West, Pop Smoke and more, Abloh never dedicated himself solely to that one community, nor did he label himself a "hip hop designer".
The backlash towards The Recording Academy adds to the award ceremony's fraught relationship with celebrating Black artistic achievements. In 2020 the Grammys discontinued the use of the term "urban" at their award ceremonies after facing backlash from artists such as Tyler, the Creator, and Billie Eilish, who previously spoke out against the category groupings.
The same year, they renamed their Best World Music category to Best Global Music Album to "symbolise a a departure from the connotations of colonialism".
After Tyler, the Creator's experimental 2019 record 'IGOR' won Best Rap Album at the start of the year, he labeled it a "backhanded compliment", reportedly saying: "it sucks that whenever we – and I mean guys that look like me – do anything that's genre-bending or anything – they put it in a rap or urban category which is – and I don't like that "urban" word, it's just a politically correct way to say the 'N-word' to me."
See some of the reactions from social media below.
The Grammys calling Virgil Abloh a "Hip Hop Fashion Designer"…big yikes

— Jacob Gallagher (@jacobwgallagher) April 4, 2022
thought it was gonna be the first good grammys then they didn't air best rap album and messed up a virgil abloh tribute

— steez🌿 (@steeztalkscrap) April 4, 2022
Virgil was the creative director at LV and the Grammys reduced him to "hip hop fashion designer".

No ways.

— * (@palesa_moloto) April 4, 2022
The Grammys calling Virgil Abloh a "hip-hop designer" does not sit right with me. At all.

— Kea (@jacquemusx) April 4, 2022
Was there no one on the team of people who work on the Grammys to say "hey Virgil is not just a hip hop fashion designer"? Like what the actual fuck?

— Kim (@TheKimbino) April 4, 2022
This is just disappointing from #GRAMMYs i remember Tyler speech about how everytime black people do something culture bending and all they just categorize it under "hip hop" Virgil was running the show at Nike and LV. Yall gotta put RESPECT on man's name. pic.twitter.com/7A589Z4DnR

— Frank White (@buckethattee) April 4, 2022
Virgil Abloh, one of the best fashion designers of all time. Designed for Louis Vuitton, off white, etc. Changed the way many people see fashion only for the Grammys to box him into a "hip hop fashion designer" phrase. Nah these people are actually insane

— Adonis Deuce (@031Deuce) April 4, 2022