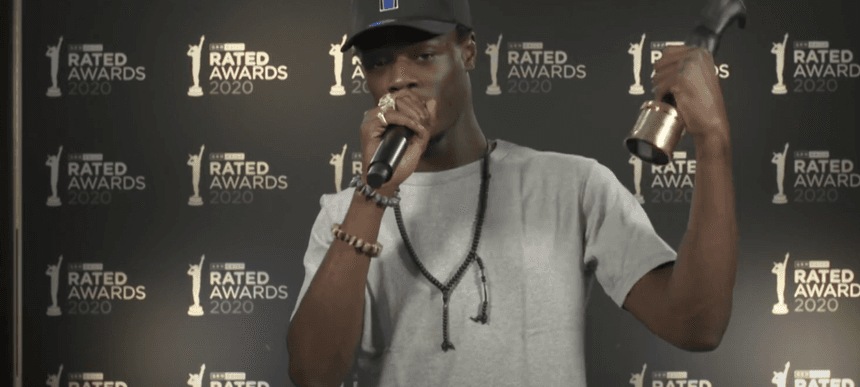 10.09.2020, Words by Billy Ward
J Hus, Dutchavelli and Dizzee Rascal won big at the GRM Rated Awards 2020
Kano stole the show with his emotional and brutal performance of 'Teardrops'
Celebrating the best of black British music, the GRM Rated Awards hosted a virtual ceremony on Wednesday night, topping off proceedings with a pair of show stopping performances from Kano and Dizzee Rascal.
J Hus won the prestigious Album of the Year award with his 'Big Conspiracy' record, while Track of the Year went to Tion Wayne for his link up with Stormzy and Dutchavelli on 'I Dunno'.
Dutchavelli had a good evening, also taking home the Breakthrough of the Year prize, with Female Artist of the Year going to Stefflon Don.
One of main talking points of the evening came from Legacy Award-winner Dizzee Rascal's performance. The grime legend carried out a powerful 16-minute set of hit tracks 'Sittin Here', 'Fix Up, Look Sharp', 'Stand Up Tall' and 'Bonkers'. He opened the show by recreating his iconic 'Boy In Da Corner' album cover.
Kano also impressed with his emotional tribute to those who have lost their lives at the hands of law enforcement. Filmed in a car, the riveting performance saw the rapper spit hit single 'Teardrops', before being pulled over and subjected to the brutal police  measures that black people across the world face every day.
Elsewhere, D-Block Europe won Male Artist of the Year and Mixtape of the Year with their 'PTSD' project, while Kenny Allstar won Radio DJ of the Year.
Other winners include JAE5 for Producer of the Year, Chunkz for Personality of the Year, and Aitch & AJ Tracey for Video of the Year, with their track 'Rain' featuring Tay Keith earning them the award.
Watch Dizzee Rascal and Kano's performances below:
Read next: Kano is hosting D Double E, Ghetts and more in 'Newham Talks' series