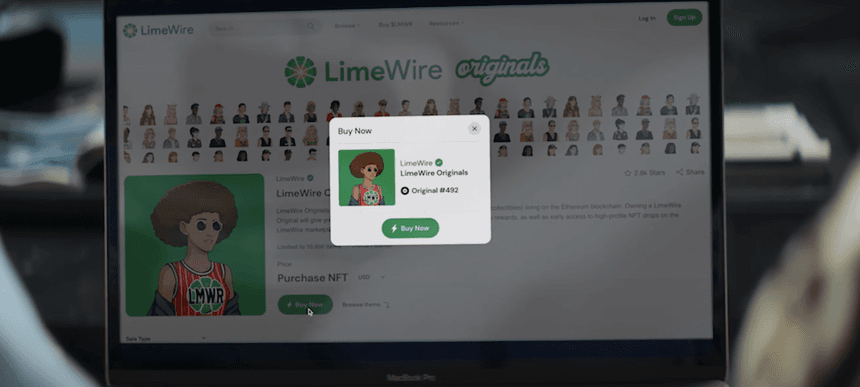 13.07.2022, Words by Billy Ward
Limewire's music NFT marketplace officially goes live
The platform will facilitate credit card payments and will pay for the gas fee of each transaction
After announcing its web3 comeback story in March, LimeWire has officially launched its NFT marketplace.
As per the announcement, the marketplace will serve as a one-stop spot for artists and fans to create, buy and trade digital collectibles without the technical crypto requirements of the current NFT landscape. Fans will have the opportunity to engage with their favourite artists by accessing original songs, backstage passes, visual artworks, and other in-person opportunities when they purchase an NFT on the platform.
"Music has entered an on-demand era with ownership taking a back seat. We are on a mission to allow artists to go back to selling directly to fans and collectors," a statement on the new website reads.
In celebration of the launch, the LimeWire marketplace has opened up with a number of star-studded collaborations, including artists such as Travis Barker, Nicky Jam, Brandy, Aitch, Dillion Francis, 7 Aurelius, Elijah Blake, and more.
As well as the artist collectibles, LimeWire of offering 10,000 'Originals' NFTs which will provide owners with access to invite-only events, token rewards, and early access to future NFT drops.
The peer-to-peer file sharing software became popularised in the '00s for downloading and sharing illegal MP3s. Predating today's all-access streaming service model, the controversial platform was used by music fans to bypass having to purchase individual songs or albums via iTunes and other digital stores.
LimeWire's reign as a service was to brought to a halt in 2010 following a court injunction, where major labels and music rights-holders initiated lawsuits resulting in fines worth $105 million.
Now back to make music NFTs more universal and accessible than ever before in 2022, the platform will facilitate credit card payments and will also pay for the gas fee of each transaction, in order to appeal to a wider audience.
Watch the launch video below, featuring Soulja Boy's 'Crank That'.
Join the Do Music Yourself community on Discord to have your say.