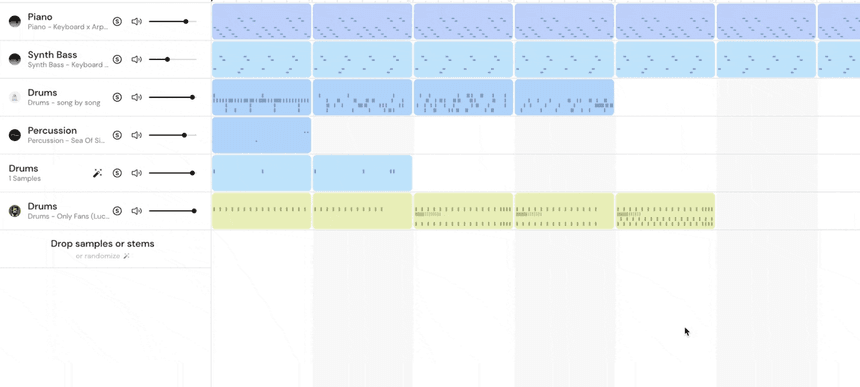 11.07.2022, Words by Billy Ward
Make a song and mint it as an NFT for free instantly with Arpeggi V2
With Arpeggi, musicians have full visibility into where and how their music is used...
Arpeggi, the world's first web3-native digital audio workstation, has launched its latest music creation tool.
Following the release of Arpeggi Genesis last October, an in-browser DAW to mint songs as fully on-chain Music NFTs, Arpeggi V2 evolves from a simple music creation tool to a revolutionary web3 music creation ecosystem.
The San Francisco start-up was founded by brothers Evan and Kyle Dhillon with their childhood friend James Pastan and sets out to empower users to write, produce, mint, and share music entirely within the web3 ecosystem. Where other web3 platforms aim to change the way music is owned, Arpeggi seeks to revolutionise the way it's created.
"When an artist mints a song on Arpeggi, the audio is registered in ARP, a decentralised on-chain music registry protocol that publishes a record of authorship to the blockchain and adds the song and loops to an open library of registered sounds," a statement on Arpeggi Labs' Mirror page reads. "Through ARP, every song and loop created in Arpeggi is available for remixing and sampling with guaranteed attribution to original creators."
The guaranteed attribution to the original creators means users are able to track the DNA of all of their favourite sounds. Every sample, loop, and song in Arpeggi V2 has its own page detailing all the different places that sound is used, allowing musicians to have full visibility into where and how their music is used while being paid accordingly.
Speaking about Arpeggi in a feature on Culture3, journalist Clovis McCoy states: "Arpeggi provides users with a complete, traceable, real-time, easily visible genealogy of every sound and song – a logistical nightmare using existing web2 technology that's made easy via blockchain."
Another feature that sets Arpeggi V2 apart is its focus on harnessing the social experience of music making. To facilitate community, the start-up has made connecting and collaborating with your favourite artists as easy as possible, letting users begin a new project together with one click. Your songs aren't just an on-chain record of your creations on Arpeggi V2, it's an on-chain record of your artistic connections.
Join the Do Music Yourself community on Discord.