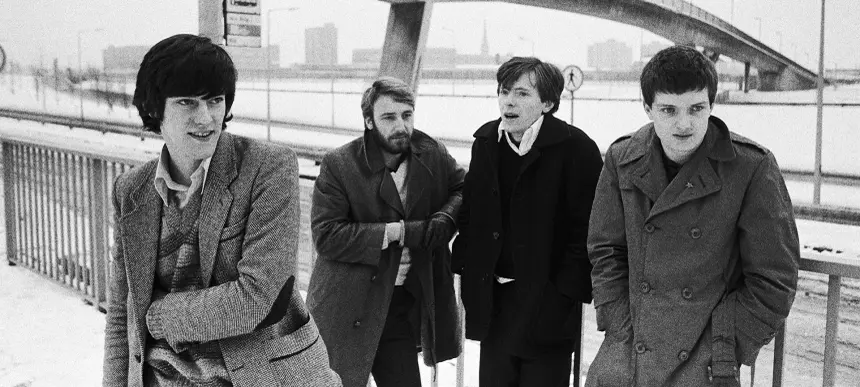 06.04.2022, Words by Billy Ward
Manchester's new British Pop Archive to exhibit un-seen artefacts from Joy Division, The Haçienda and more
"These materials tell the story of a vibrant city with art, culture and music at its heart..."
Information surrounding a new British Pop Archive in Manchester has been revealed, looking back at some of the city's most famous musical exports with a collection of iconic items from British pop history, many of which have never been made available to the public until now.
On 19 May 2022, the British Pop Archive will launch with Collection, a distinctively Manchester-focused exhibition. Some highlights include personal items relating to New Order, The Smiths, Factory Records, The Haçienda, Granada Television and Joy Division, including Ian Curtis' original handwritten lyrics for 'She's Lost Control'.
Hosted at the John Rylands Research Institute and Library at the University of Manchester, the new archive is described as "a national collection dedicated to the preservation and research of popular culture," and was curated by Mat Bancroft, Jon Savage and Hannah Barker.
"We launch the British Pop Archive with a Manchester focused exhibition full of unique and unseen artefacts. These materials tell the story of a vibrant city with art, culture and music at its heart," said Bancroft. "More than that they foreground the creative catalysts, musicians, producers, artists, designers and writers who have instigated this repositioning of landscape – to propose media as the new cultural capital of the city."
The collection will include the meticulous archive of Rob Gretton, the manager who oversaw the transition of Joy Division into New Order, according to Hannah Barker via the Guardian.
"He kept everything. The archive is enormous, it took up an entire cellar. I never knew Rob, but I'm assuming he kept these things because he knew they were important," she commented.
While the archive is kicking off with a Manchester focus, the collection comprises major archives of individuals and organisations involved in British popular music and popular culture more widely.
Jon Savage, Professor of Popular Culture at the University of Manchester, said: "Britain's pop and youth culture has been transmitted worldwide for nearly sixty years now. As the most fertile and expressive product of post war democratic consumerism, it has a long and inspiring history that is in danger of being under-represented in museums and libraries.
"The intention of the BPA is to be a purpose-built, pop and youth culture archive that reflects the riches of the post war period running to the present day. We are launching with Manchester-centric collections but the intention is for the BPA to be a national resource encompassing the whole UK: it is, after all, the British Pop Archive."
Read next: Kojey Radical calls on music community to donate samples to Hoxton Hall's Beat Bank