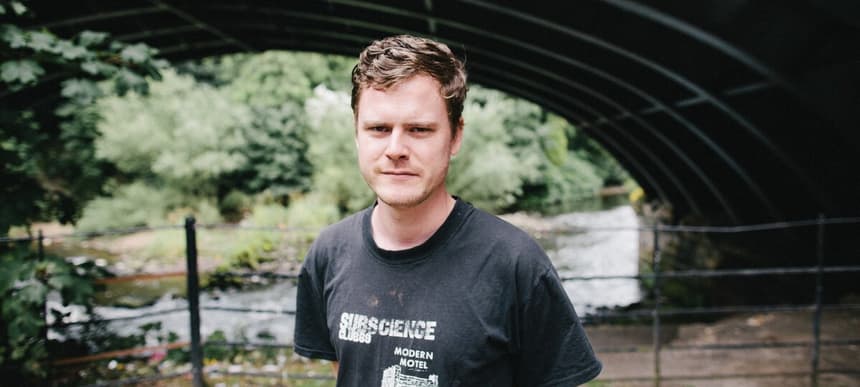 12.09.2013, Words by Aimee Cliff
Premiere: Konx-om-Pax - Selective Recall [album stream]
Glaswegian musician and visual artist Konx-Om-Pax drops a surprise third album of sound sketches and vignettes.
If there's one thing that can be consistently attributed to Glaswegian artist Konx-om-Pax, it's his work ethic.
As an illustrator and animator for Warp, Hyperdub, R&S, DFA and Underground Resistance, the technicolour idiosyncrasies of his visual work has helped breathe life into some of modern electronic music's most seemingly indescribable sounds – and, in true Konx-om-Pax style, this is something he has tried to flip on its head as a producer. After his well-received LP 'Regional Surrealism' was released on Planet Mu last year, an album of compositions inspired by classic science fiction cinema and a murky, deep sea underworld, he's returned to his own musical labour of love, Display Copy, for his third, self-released LP, 'Selective Recall', which Dummy is happy to present an exclusive stream of.
Less of an album in the traditional sense, 'Selective Recall' is structured as vignettes of sounds; ideas composed over a near-ten year period of the artist's life, tracing new and burgeoning influences across a variety of creative disciplines that Konx-om-Pax was exposed to during his time at the Glasgow School of Art.
In his own words, "the bulk of it was made in my third year of Art School. At the time I was introduced to the prepared piano work of John Cage, and digital glitches of Yasunao Tone. I was sticking microphones down into old broken pianos and drawing onto CDs: making them skip on playback, then recording the outputs. I had a great time experimenting with manipulating sounds and presenting the outcomes visually as part of my course work. Around this time, myself and Richard from Numbers organised a show for Autechre at the Art School. It was definitely one of those lifechanging gigs for me, hearing collapsing polyrhythms so loud that your eyeballs started to vibrate. The week after the show I wrote a couple of tracks directly influenced by that night. My influences being what they were (well, are), and considering the extended time period that these tracks were recorded in, it made sense to self-release the album because I didn't want to compromise the structure. In this sense it's less of an album and more in line with one of my Display Copy mixtapes – random selections of ideas, caught in the moment and compiled over time."
Display Copy will release 'Selective Recall' on September 16th via Bandcamp.