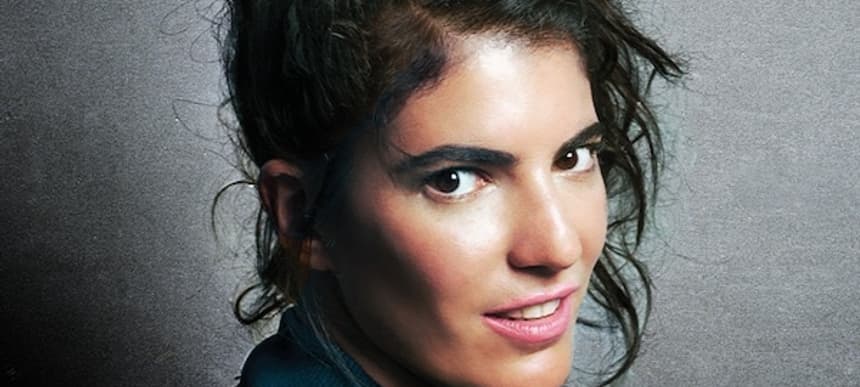 24.09.2013, Words by dummymag
Premiere: Nadia Ksaiba - Virtual Lover (Dub)
Get to know one of London's finest selectors with an exclusive track and new Q&A.
Nadia Ksaiba has been a part of London's DJ circuit for a good few years now, but besides a few low-key items with Matt Waites as G&S, she has remained predominantly a selector (and a really great one at that), keeping her production talents something of a secret.
All that changed yesterday with the release of the pop-tastic Virtual Lover, her first solo single, for Erol Alkan's Phantasy Sound imprint. Nadia Ksaiba will be DJing at our Dummy AGM this weekend, so to introduce her music to those unfamiliar, we've conducted a short Q&A with Nadia and are streaming an exclusive version of Virtual Lover's drawn-out dub mix, which brings to mind classic extended 12" mixes made for the discotheques.
Hi Nadia! Can you introduce yourself to Dummy's readers?
Ksaiba: "I'm an artist / producer and my debut single is out this week on Phantasy. I am probably better known for DJing and playing other people's music. I run a night called Say Yes with Rory Phillips and have a radio show called Rhythm Connection on NTS."
I'm digging this dub mix of Virtual Lover. What's your all-time favourite Extended 12" Version?
Ksaiba: "It's so hard to answer this as there are so many extended dub, extended dance mixes and special disco versions that make me go weak at the knees but as you're making me pick one, it's got to be the 1984 special Nile Rodgers remix of Sister Sledge's Lost In Music. He takes a perfect song and works it to the next stratosphere. 1984 was a great year for the extended mix."
You've been DJing out and about for ages now, but excluding the bits and pieces you've done with G&S over the years, this is really your first high profile solo release. How long have you been making music unbeknownst to the world at large?
Ksaiba: "There are three albums of unfinished ideas knocking about, I'm technically writing my fourth album now. It's just been a hobby that I've never really taken seriously or committed to until now."
What does the future hold for you?
Ksaiba: "Well I've got to get that fourth album out to the public. I'm just finishing off the next release but I think for the moment I'll take it one single at a time, and of course I will keep on DJing in between records."
Three favourite records right now – go!
Ksaiba: "The forthcoming Connan Mockasin album, 'Caramel', on Phantasy – this is without a doubt the best album this year. Phreek's Weekend – somehow this passed me by all these years, and I'm loving it more than the Class Action version. And for the clubs, Room 303's You Don't Know Me (Tuff City Kids remix)."
Phantasy Sound released Virtual Lover on September 23rd. Nadia Ksaiba will be DJing at our Dummy AGM, joining the likes of Darkstar, Larry Gus and Tirzah and Micachu, on September 28th – more information and tickets here.