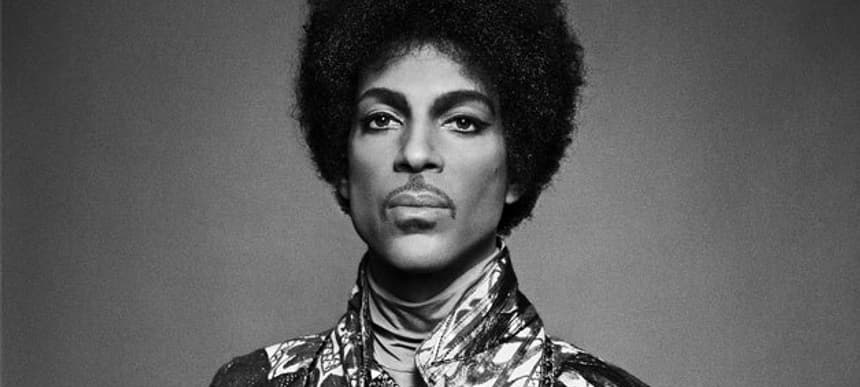 21.04.2016, Words by dummymag
R.I.P. Prince
BREAKING: Publicist: Pop music superstar Prince has died at his home in suburban Minneapolis.

— The Associated Press (@AP) April 21, 2016
Prince has died at the age of 57, a publicist has confirmed to the Associated Press.
The news was initially reported by TMZ before Prince's publicist verified through Twitter that the singer-songwriter passed away at his home Paisley Park in Minnesota today. The cause of death has not been established, but last week, Prince had been on a flight home from Atlanta when his pilot was forced to make an emergency landing before taking him to a hospital. A representative said he had the flu.
This story is being updated with more news when we have it.
Rest In Peace, Prince Rogers Nelson.
Update (18:50): Prince's publicist Yvette Noel-Schure has released a brief statement: "It is with profound sadness that I am confirming that the legendary, iconic performer, Prince Rogers Nelson, has died at his Paisley Park residence this morning at the age of 57."
Update (19:40): The Carver County Sheriff's Office have tweeted that they are investigating Prince's death:
Prince Rogers Nelson (57) found dead at Paisley Park Studios in Chanhassen, MN. We are investigating the circumstances of his death. 802jk

— Carver County S.O. (@CarverSheriff) April 21, 2016
Update (20:00): Frank Ocean has reacted to the news of Prince's death with a post on his Tumblr – read below:
"I'M NOT EVEN GONNA SAY REST IN PEACE BECAUSE IT'S BIGGER THAN DEATH. I NEVER MET THE MAN (I WAS TOO NERVOUS THE ONE TIME I SAW HIM) AND I NEVER SAW HIM PLAY LIVE, REGRETTABLY. I ONLY KNOW THE LEGENDS I'VE HEARD FROM FOLKS AND WHAT I'VE HEARD AND SEEN FROM HIS DEEP CATALOG OF PROPELLANT, FEARLESS, VIRTUOSIC WORK. MY ASSESSMENT IS THAT HE LEARNED EARLY ON HOW LITTLE VALUE TO ASSIGN TO SOMEONE ELSE'S OPINION OF YOU.. AN INFECTIOUS SENTIMENT THAT SEEMED SOAKED INTO HIS CLOTHES, HIS HAIR, HIS WALK, HIS GUITAR AND HIS PRIMAL SCREAM. HE WROTE MY FAVORITE SONG OF ALL TIME, 'WHEN YOU WERE MINE'. IT'S A SIMPLE SONG WITH A SIMPLE MELODY THAT MAKES YOU WISH YOU THOUGHT OF IT FIRST, EVEN THOUGH YOU NEVER WOULD HAVE – A FLIRTATIOUS BRAND OF GENIUS THAT FEELS APPROACHABLE. HE WAS A STRAIGHT BLACK MAN WHO PLAYED HIS FIRST TELEVISED SET IN BIKINI BOTTOMS AND KNEE HIGH HEELED BOOTS, EPIC. HE MADE ME FEEL MORE COMFORTABLE WITH HOW I IDENTIFY SEXUALLY SIMPLY BY HIS DISPLAY OF FREEDOM FROM AND IRREVERENCE FOR OBVIOUSLY ARCHAIC IDEAS LIKE GENDER CONFORMITY ETC. HE MOVED ME TO BE MORE DARING AND INTUITIVE WITH MY OWN WORK BY HIS DEMONSTRATION – HIS DENIAL OF THE PREVAILING MODEL…HIS FIGHT FOR HIS INTELLECTUAL PROPERTY – 'SLAVE' WRITTEN ACROSS THE FOREHEAD, NAME CHANGED TO A SYMBOL… AN ALL OUT REBELLION AGAINST EXPLOITATION. A VANGUARD AND GENIUS BY EVERY METRIC I KNOW OF WHO AFFECTED MANY IN A WAY THAT WILL OUTRUN OBLIVION FOR A LONG WHILE. I'M PROUD TO BE A PRINCE FAN(STAN) FOR LIFE."
Update (20:50): The Carver County Sheriff's Office have released a press release about Prince's death. It says:
Carver County Sheriff Jim Olson reports that on April 21, 2016, at about 9:43 am, sheriff's deputies responded to a medical call at Paisley Park Studios in Chanhassen. When deputies and medical personnel arrived, they found an unresponsive adult male in the elevator. First responders attempted to provide lifesaving CPR, but were unable to revive the victim. He was pronounced deceased at 10:07 am. He has been identified as Prince Rogers Nelson (57) of Chanhassen.

The Carver County Sheriff's Office, with the assistance of the Hennepin County Sheriff's Office and The Midwest Medical Examiner's Office, are continuing to investigate the circumstances surrounding his death.
Update (04/22): The Guardian reports that a postmortem to determine the cause of Prince's death will take place today.
Update (04/23): Prince's autopsy has been completed. At 13:00 local time yesterday, the Midwest Medical Examiner's Office in Ramsey, Minnesota stated that discovering the cause of death could take days or weeks, though they have released the body to Prince's family. According to a press release, further details will remain private until a full exam is completed – read more below:
The autopsy on Prince Rogers Nelson completed at 1:00 pm CDT. Results are pending. Body will be released to family. pic.twitter.com/mr5dzHO3WX

— Midwest Medical Exam (@MidwestMedExam) April 22, 2016
In addition, to the office's statements, Sheriff Jim Olson has added that the investigation so far leads to "no obvious signs of trauma" and that "we have no reason to believe this was a suicide."
Update (04/24): Prince's publicist has confirmed to the Associated Press that Prince's body has been cremated – read more here.