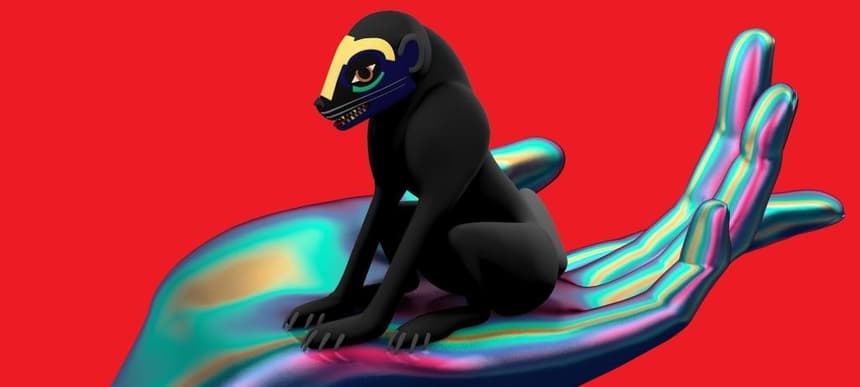 23.07.2014, Words by dummymag
SBTRKT announces second album 'Wonder Where We Land'
Masked man's new album features Jessie Ware, Sampha, Warpaint, A$AP Ferg and more. Stream new song New Dorp, New York featuring Ezra Koenig now.
SBTRKT has been hinting that a new album was set to land this year for a bit now. Recently, he's been busying himself with his 'Transitions' series, a string of instrumental 12" releases acting as a stopgap between his old material and new, but last night he announced on Radio One that his new record was complete and ready for release.
On September 22nd, Aaron Jerome will release 'Wonder Where We Land', his second full-length as SBTRKT and one that once again blends pop vocals and structures with his colourful production. Recorded in part on Osea Island off the coast of Essex (which recently housed sessions from Tri Angle's WIFE), the album is being led by electro-funk song New Dorp, New York – which we're guessing is a reference to the tiny Staten Island neighbourhood – and appropriately features Ezra Koenig of New York band Vampire Weekend on vocals.
Other collaborators include familiar faces Sampha (who pops up on four tracks including the previously heard Temporary View, as well as a bonus track) and Jessie Ware, as well as other members of the Young Turks family – Caroline Polachek of Chairlift/Ramona Lisa, and Koreless. Big surprises? A$AP Ferg and Warpaint close the album.
SBTRKT 'Wonder Where We Land' tracklist:
01. Day 1
02. Wonder Where We Land (feat. Sampha)
03. Lantern
04. Higher (feat. Raury)
05. Day 5
06. Look Away (feat. Caroline Polachek)
07. Osea (feat. Koreless)
08. Temporary View (feat. Sampha)
09. New Dorp. New York (feat. Ezra Koenig)
10. Everybody Knows
11. Problem (Solved) (feat. Jessie Ware)
12. If It Happens (feat. Sampha)
13. Gon Stay (feat. Sampha)
14. The Light (feat. Denai Moore)
15. Voices In My Head (feat. A$AP Ferg & Warpaint)
Deluxe version bonus tracks:
01. Forgotten
02. Paper Cuts (feat. Raury)
03. War Drums (feat. Warpaint)
04. Spaced Out (feat. Boogie)
05. Maybe (feat. Andrew Ashong & Sampha)
06. Decemberist
Live dates:
September 26th: O2 Academy, Leeds
September 27th: ABC, Glasgow
September 29th: O2 Academy, Bristol
September 30th: Albert Hall, Manchester
October 1st: Rock City, Nottingham
October 2nd: Brixton Academy, London
November 8th: C2C, Turin
November 10th: Theaterfabrik, Munich
November 11th: Astra, Berlin
November 12th: Basen, Warsaw
November 15th: Rockhal, Esch-sur-Alzette, Luxembourgh
November 16th: Melkweg, Amsterdam
November 17th: Vooruit, Gent
November 18th: Trianon, Paris
Young Turks release 'Wonder Where We Land' on September 22nd 2014 (pre-order).