04.01.2012, Words by Charlie Jones
Scuba and The Caretaker announce new albums
Two leading lights of ex-pat Berlin are dropping great records in the next six weeks.
Scuba, CEO of Hotflush Recordings (Mount Kimbie, Sepalcure, Joy O, Scuba himself), is one of dubstep/techno most interestring voices, and in February, he will release his third album, 'Personality'. It's his last full release since the 'Adrenalin' EP [2011], and continues his work fusing the futuristic techno of Berlin, the city he now calls home, with the Bristolian dubstep of his birthplace. If you want to know the names of the songs on the album, and even if you don't, they are pasted below.
1. Ignition Key
2. Underbelly
3. The Hope
4. DSY CHN
5. July
6. Action
7. Cognitive Dissonance
8. Gekko
9. NE1BUTU
10. Tulips
11. If U Want
Another British electronic musician of note now living in Berlin with his own label is Leyland Kirby. As The Caretaker, he makes magical music about memory that sounds like dancehalls in deserted British seaside towns. The hauntological leading-light will follow last year's 'An Empty Bliss Beyond This World' with 'Patience (After Sebald)', also on his label History Favours The Winners. The artwork, by Ivan Seal, is below.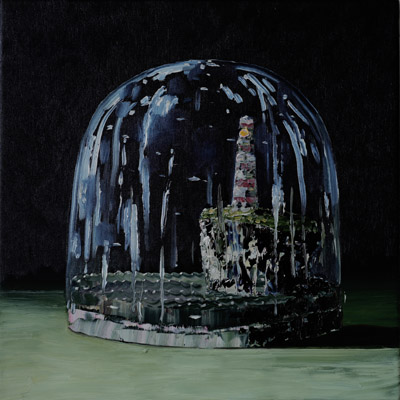 The soundtrack to Grant Gee's documentary about German writer WG Sebald, who also dealt with memory and place and that sort of thing, it's formed out of re-worked snippets of pretty piano music, including a 1927 work by Franz Schubert. We're listening to it now, and it is very nice. Here is the tracklisting:
1. Everything Is On The Point Of Decline
02. As If One Was Sinking Into Sand
3. Approaching The Outer Limits Of Our Solar System
4. When The Dog Days Were Drawing To An End
5. A Last Glimpse Of The Land Being Lost Forever
6. The Homesickness That Was Corroding Her Soul
7. I Have Become Almost Invisible, To Some Extent Like A Dead Man
8. In The Deep And Dark Hours Of The Night
09. No One Knows What Shadowy Memories Haunt Them To This Day
10. Increasingly Absorbed In His Own World
11. Isolated Lights In The Abyss Of Ignorance
12. Now The Night Is Over And The Dawn Is About To Break