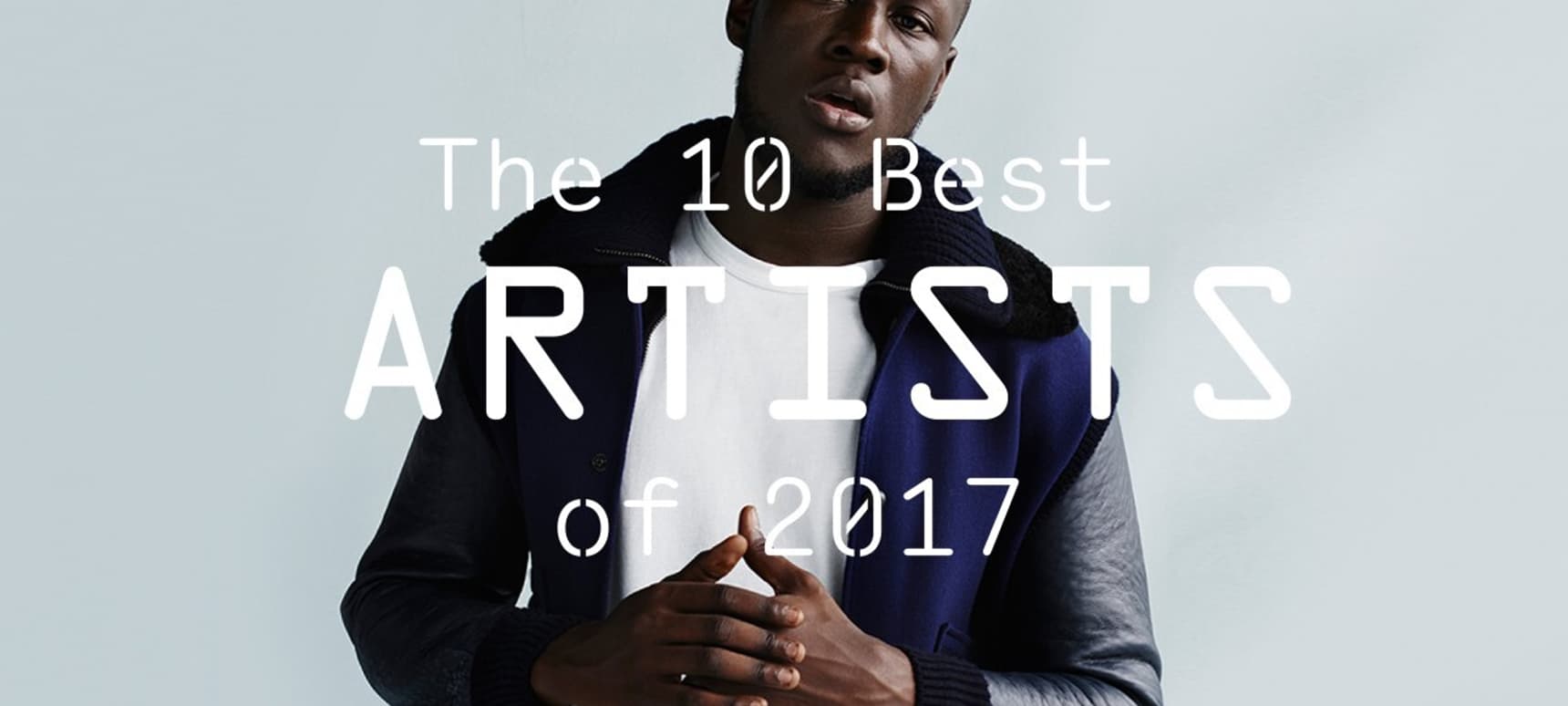 13.12.2017, Words by dummymag
The 10 Best Artists of 2017
Artists shared the wealth this year. Whether it was through blockbuster singles, albums, awards and endorsement deals, they all ran to the money and recognition and haven't slowed down a bit yet.
Throughout 2017, we've seen some of our favourite names etch out their legacy further, like Rihanna, who has seemingly revolutionized the makeup game with her Fenty Beauty line, or grime godfather Wiley releasing his much-anticipated autobiography. Elsewhere, new artists saw their potential fully realised and their names taken to new heights, such as J Hus, who dropped one of the albums of the year, or Jorja Smith, who crooned her way to a Brit Award before the ceremony even took place.
So, whether you're a fan of anyone on this list or not, you can't deny that their respective years have been nothing but great, in their own individual ways. Check out our favourite artists of 2017 below.
10. Mabel
Packing a beat that leans heavily on its 'Diwali Riddim' sample and a silky-sweet, '90s R&B-esque female vocal, Mabel's 'Finders Keepers' was perhaps the antidote that 2017's unending rash of woeful news stories needed. Having been tipped for big things in the BBC's Sound Of 2016 longlist, and with a considerable weight of expectation rested on her young shoulders, Mabel has taken her time to explore her own identity and where she sees herself fitting into the world. The results of this period of taking stock – the Bedroom EP and October's Ivy To Roses mixtape – have shown the value of taking a moment to ensure that what ultimately reaches a listener's ears is an authentic document, and one that can outlast the endless churn of communication that today's hyper-connected world throws up on a daily basis. What's more, is that this has served to whet the appetites of a growing legion of fans, who'll come to receive a debut long player delivered on Mabel's own terms. Will Pritchard
9. Wiley
Wiley will outlive us all and still spray elite bars from sun up to sundown. Grime has been on the lips of many this year, but hats have to go off to the originator, the reason why everybody's here – to quote the man himself. Much was made about his supposed 'final' album, January's Godfather, but all it did was consolidate the powers of the godfather of grime yet another time, and his legend has been on the up and up since. His Eskiboy autobiography, released in November, was a key chapter, reminding those who know that he has been the guy from day one. 2017 wasn't without controversy, though; add a wild Twitter beef with former partner in crime Dizzee Rascal that got deeply personal, and you have an individual who's always ready for the war. Wiley knows nothing else but the war, but it continues to endear a wider community to him. Now gearing up to release the sequel to Godfather in the first quarter of 2018, Eskiboy is primed to shell yet again next year. Yemi Abiade
8. Jorja Smith
Coming off a debut year in which she'd already been nominated for a MOBO and selected for the BBC's Sound of 2017 list, Jorja Smith kickstarted this year with one of the biggest co-signs an artist could hope to receive – not just one but two features on Drake's multi-platinum More Life 'playlist'. After that, the 20-year-old from Walsall treated us to an excellent run of singles. 'Beautiful Little Fools' adopted a smoky trip-hop instrumental to lament the restrictions that society places on women, while the slinky 'Teenage Fantasy' came with a superbly executed French New Wave video. Then of course there was 'On My Mind', the inescapable UK garage throwback that stands as her best track yet. To have amassed quite so many great tunes without even a hint of her debut album is quite an accomplishment. Smith picked up the Brits Critics' Choice Award last week to cap off her excellent year – no doubt there's much more to come from her in 2018. Cosmo Godfree
7. Sampha
Winning the Mercury Prize can do a lot for an artist's profile, but with Sampha Sisay it almost felt supplementary to see him take the gong back in September. He'd come straight out of the gates in February with one of the year's best albums – and it simply proved what plenty of people in the industry already knew. Sampha is already credited as a songwriter and featured artist across an extensive catalogue of outstanding music (counting Frank Ocean, Drake, Solange, Kanye West and more as collaborators), but, with Process, he invited listeners into his world. More intimate, less detached, and just staggeringly beautiful, it's an album that was years in the making – a project, or process, put on hold as Sampha supported his late mother through her struggle with cancer. To see and hear those same songs performed live over the following months felt like a privilege to all who could witness it. It felt like watching an artist realising that there's a whole world of people out there who've been waiting to welcome him whole into their lives. Will Pritchard
6. SZA
Everyone became a SZA fan in 2017. Seemingly out of nowhere, the first lady of Top Dawg Entertainment stole our hearts and isn't giving them back. Releasing her debut album, Ctrl, to rave reviews back in June, the project unveiled a vulnerable, yet confident young lady owning her past, present and future through brutally honest perspectives on love and life, and her phenomenal singing and writing prowess were opened up to the world. In a sphere where R&B stars are leaning towards pop more and more by the day, SZA is R&B through and through, and the number of friends who have reminded me of her greatness is a different story entirely. Album success has garnered her five nominations at next year's Grammys, including one for Best New Artist. She is sure to win at least one of those, which will only serve as justice for her incredible talent. Yemi Abiade
5. J Hus
J Hus started the year off with scene-stealing features on Nines and Stormzy's albums, along with cheeky Dave collab 'Samantha'. In retrospect, all of that was just a warm-up for Common Sense, one of the best British albums of the last few years. Having been hospitalised with stab wounds in 2015, before later serving jail time as his violent past caught up with him, Hus' ascent has been far from smooth, but this year his talent was rewarded with a Mercury Prize nomination and a Best Song MOBO for 'Did You See'. Last month, J Hus played what was, remarkably, his first ever London headline show, coincidentally in the same week as the Met Police's controversial Form 696 was phased out. Strutting out on stage to an impossibly excited crowd, flanked by a full band and a small fleet of black and white Benzes, here was a man enjoying the fact that his moment had finally arrived. Cosmo Godfree
4. Giggs
Drake doesn't just fly across the Atlantic to perform a guest verse at Reading Festival for anyone. Perhaps the most heartwarming thing about the blockbuster year Giggs has had, though, is that it's come after more than a decade of grinding away in his own inimitable lane. He's never been a man to compromise on his integrity, and 2017 felt like a real tipping point. He's grown into his role as a talisman for the UK rap scene and has been the subject of a memetic cultural exchange that's seen people adopt him as prime minister, name 'Talkin The Hardest' as the UK national anthem, and go to war with a bunch of American hip hop fans on Twitter who were bemused by the south London rapper's appearances on Drizzy's More Life.
This culminated in the blinding success of his surprise-drop mixtape, Wamp 2 Dem. It had next to no traditional promotion, other than via Giggs' own social media channels, and still shot – along with its zero budget artwork – to number two in the charts within a few days of release: the second time he'd achieved the feat in two years. W2D was described by Giggs as a response to the US listeners who'd taken to talking down UK MCs, and that artists such as 2 Chainz, Young Thug and Popcaan wanted to be a part of it stands as testament to the global pulling power that this young man from Peckham now possesses. Will Pritchard
3. Rihanna
Rihanna didn't have an album out in 2017, but that couldn't stop her from featuring on some of the year's best singles. Her performance on 'Selfish' brought some Caribbean warmth to Future's ice cold HNDRXX album, while her verse on Kendrick's 'LOYALTY' was a reminder that she's almost as good a rapper as she is a singer. Best of all was 'Wild Thoughts', a carnal frenzy that sizzled with lust and the heat of Latin America. Outside of music, Rihanna launched Fenty Beauty, an inclusive makeup line which focuses on hard to match skin tones, and has been recognised by TIME as one of the 25 best inventions of 2017. She also won the Harvard University Humanitarian of the Year award for her work supporting health and education programmes in Malawi. Oh, and let's take a moment to appreciate her contender for 'Burn of the Year' when she told Diplo that his music sounds like "airport reggae". Cosmo Godfree
2. Kendrick Lamar
I mean, he only proved himself to be the best rapper alive; no biggie, right? To put Kendrick in a 'top 10' is kind of arbitrary at this point, but it is always warranted. The Compton rapper entered the year with many wondering how he would top the last two years, but K. Dot always has a trick up his sleeve. Following up his colossal sophomore studio effort, To Pimp A Butterfly, Kendrick gave us DAMN, a glossier but equally potent body of work. A lot of people harped on about Kendrick's lack of commercial success, but he blew those arguments out of the water with this album, which went double platinum and secured his first number one single for 'HUMBLE'. He now finds himself with seven Grammy nominations, including Album of the Year. Pop culture can't get enough of Kendrick, but the way in which he has organically transcended hip-hop, without losing his principles, has to get the biggest respect of all. Yemi Abiade
1. Stormzy
Grime and UK music has a new modern king. The man who cannot put a foot wrong and has the country behind him. We rallied hard for Stormzy's debut album, the Mercury-nominated Gang Signs & Prayer, to go number one, and he did it, and it became the first chart-topping grime album. For that, his legacy is already confirmed, and you can't find one artist who doesn't want to see the Croydon rapper win.
Stormzy just has a charm to him and a genuinely endearing personality that sees him call out the bullshit when he sees it – the guy called Theresa May a 'paigon' at the GQ Awards – and big up every young UK artist doing it. He is even big enough to admit his own faults, recently apologising for previous comments he made that can be deemed homophobic.
Stormzy's journey has taken him from the park shooting freestyles with his friends to the very top of UK pop culture, headline slots at festivals and numerous awards, including the BBC's Artist of the Year, beating the likes of Lorde and Ed Sheeran. And he hasn't lost a shred of his credibility. He has provided moments to last a lifetime, from beautiful ballads like 'Blinded By Your Grace' parts 1 and 2, to the aforementioned Theresa-May-paigongate, and he will only continue to push himself and UK music across the country and beyond. Yemi Abiade