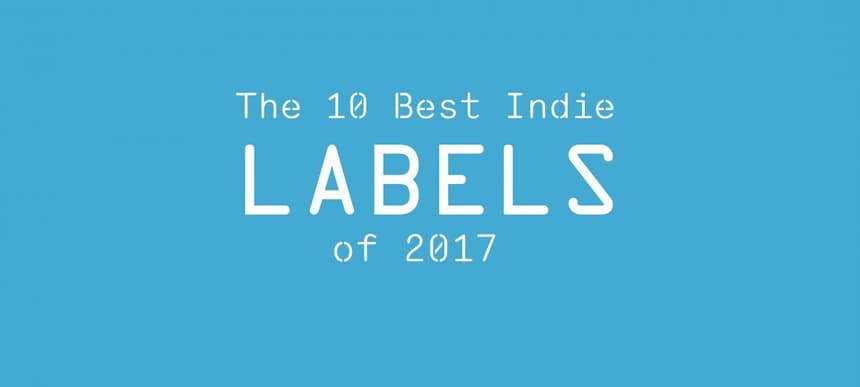 18.12.2017, Words by dummymag
The 10 Best Indie Labels of 2017
Despite the changing nature of the music landscape – the increasing dominance of streaming and the independent route that many artists are taking, to name a couple of examples – record labels continue to play key roles, not only in distributing fiery bodies of work, but also in providing a home for like minded musicians to shine.
2017 has certainly seen a crop of imprints, particularly in dance music, debut and consolidate themselves, handing debuts to some exciting talent, while established outfits have undergone a renaissance of relevance. Whether labels will take up the same importance in the next year is anyone's guess, but these 10 have released enough that got our gears running in the best possible way.
Check out our selection of 2017's best labels below.
10. Cotch International
South London-based Cotch International made a seamless transition from party starters to recognisable label this year. For someone who was at their weekly Thursday parties at Peckham's Rye Wax on a regular (like me), it has been satisfying to see them blossom in such an organic way. Gearing output more towards artists in 2017, the year saw them release stellar projects from Jumping Back Slash (Slow Oceans) and Omo Frenchie (D.I.T.D.), the latter of which is a personal favourite. Add a few memorable sets on Radar Radio and Balamii and we have a well-rounded label ready to make the next big step in 2018. Yemi Abiade
9. Bone Soda
Every record put out by Bone Soda, from slowthai's debut EP I Wish I Knew, to releases by lesser known artists such as Michul Kunn and LoVibe, resonated with me. Previously known simply as an NTS show hosted under the same name, the imprint has been making waves, not only through the always exciting selection of guests, but through slowthai's undeniable presence this year. Run by the one and only Skinny Macho, the London-based label has been putting out quality content since day one, ranging from carefully crafted music videos, to EP's and singles, all working towards the rise of slowthai to stardom. Across this year's releases, it has effectively showcased exciting new gradings of hip-hop. We're extremely hyped to hear what other gems the label has lined up for 2018. Daniel Laxness
8. Moveltraxx
Run by Big Dope P, London/Paris-based label Moveltraxx is all about giving you the rawest yet most pristine quality of club music. Since it's creation in 2007, the imprint has been on a mission, delivering countless releases, throwing regular parties and making sure it's done with energy. This year has been a good one for Moveltraxx, after releasing over ten projects from artists such as Hiroki Yamamura, Mighty Mark, TT The Artist, Ezekiel and the boss himself, the imprint is constantly proving itself to be a hub for people who are looking for club music genres that aren't necessarily pushed in this day and age. Daniel Laxness
7. Valby Rotary
Valby Rotary's
Soundcloud
page does a lot to sum up their creed. Simply three friends with a passion for sharing new music that led to the creation of their imprint, Tom, Louis and Benito have made money moves. Focusing on carefully constructed club-bangers, releases on the label this year include the Louf singles 'If I Was' and 'Outside My House', and a constant flow from the consistent Tom VR. On top of singles releases, they also collaborated with Lobster Thermin earlier in the year for a rambunctious club night that underlined their growing following, and places them in good stead for 2018.
Yemi Abiade
6. Afterlife
Beginning life in 2016, the ominous, dark Afterlife label's powers were brought further into the light this year. Founded by Tale of Us members Carmine Conte and Matteo Milleri, the duo have expounded on their mission to inject surrealism into the dance. In the calendar year, they released a collection of modern techno masterpieces – a special shout out goes to Stephan Bodzin's 'Strand' physical release – and a seismic closing party at Ibiza's Privilege Festival in October offered sets from the likes of Dizon, Nina Kraviz and more. Evidence that team work has made the dream work, the work will not stop for the guys from the Afterlife. Yemi Abiade
5. On Loop
Run by radio and DJ stalwart Moxie, On Loop's sophomore year of existence has seen it rise beyond expectation. Outside of her busy schedule shutting down sets throughout Europe, the label's foray into releases has been very special, with EPs including Fold's Mill Theme and the nine track Moxie Presents compilation, featuring Shanti Celeste, Addison Grove, Throwing Shade and others. It's the variety that each offers that really outs On Loop as a label with music at the forefront, with each bringing something unique to the table. With Moxie at the helm, she will no doubt guide On Loop to more prosperous heights next year. Yemi Abiade
4. Midlife
Since it's creation in 2016, Midlife has been slowly reshaping the landscape of Belgium's underground music scene through a number of intimate releases, jagged artwork and fringe lineups at the heart of the capital. Run by Kassett and Samuelspaniel, the Brussels-based imprint presents itself as a polymorphous collective simply functioning as a group of mates focussed on working with like-minded friends and family. Shortly after releasing a set of two astonishing EP's by Samuelspaniel and BEAN, Midlife delivered the eleven-track Never Too Late compilation that landed in July showcasing their meticulous approach, carefully considered aesthetics and undeniable strength to assembly quality content whilst pushing a strong consensus built around familiar relationships and artistic intimacy. Furthermore, the imprint has also put out a mind-blowing EP from US-Japanese singer-producer Golin, highlighting it's development from digital-only releases to full 12' vinyl records, while expanding their ever-evolving artistic maturity and charisma. Daniel Laxness
3. TAR
It's commonly known that quality, rather than quantity, always wins, however TAR seems to prove the exact opposite. From past releases from the likes of Abjo, DJ Taye, Wwwings, Traxman and Nick León, the mysterious Los Angeles-based collective's consistency is not only brilliant but abundant. Everything TAR releases stems from unknown or up-and-coming artists, and the creativity is remarkable yet atypical and gripping at the same time. Through their unmediated approach they've released a collection of 11 breathtaking projects ranging from compilations to EP's by artists such as Jade Statues, Heroshe, Grasps, Cralias. Slowly but surely, the label is making a name for itself through dark and hostile experimental cuts to the lesser known sides of LA's beat scene, and TAR's formula is limitless and beyond the confines of genres. Keep your eyes peeled for the next release. Daniel Laxness
2. PAN
Berlin-based label PAN is at the forefront when it comes to exploring the depth of electronic music. The treasures discovered and unveiled by Bill Kouligas on a yearly basis are phenomenal in the sense that each and every piece of music takes into account past, present and future but still defies them. Through a series of six outstanding releases from artists such as Konrad Sprenger, M.E.S.H. and Pan Daijing, including Mono No Aware – an incredible sixteen-track compilation regrouping some of the most impressive ambient works of the year – PAN continues to expand it's cutting edge discography of conceptual and emotion-driven electronic music. Daniel Laxness
1. Circadian Rhythms
Every year, London sees a number of new labels pop up with an undeaniable amount of quality content, but the manner in which the music is released often remains the same, and rarely do these labels have the impact and approach which differs from the norm. However, over the course of this year, Circadian Rhythms has shown a distinct amount of creativity completely altering the standard. From an exciting NTS show and a one off 12" release back in 2015, Circadian Rhythms has now evolved into a genuine cooperative, meticulously crossing lines between music, fashion, activism and art. Run by a crop of musicians, fashion designers and artists including Blackwax, Last Japan, William Francis Green, Jase Coop and Dylan Tushar, the label strives to create products and content solely produced in London and in response to issues affecting the city. Daniel Laxness
Check out Dummy's curated playlists on Spotify.