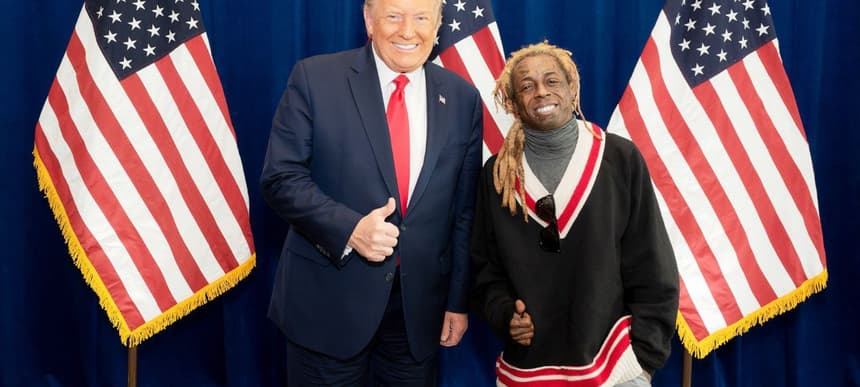 18.01.2021, Words by Felicity Martin
Trump expected to pardon Lil Wayne and Kodak Black on his last day in office
The President is preparing to issue around 100 pardons and commutations on his final full day in office on Tuesday
Donald Trump is preparing more than 100 pardons and commutations on his last full day in the White House, with CNN reporting that the list will also include "high-profile rappers".
A pardon cancels a criminal conviction, while a commutation shortens or ends a prison sentence and, for crimes charged in a federal court, the US president has virtually unlimited power to pardon.
It has previously been reported that Trump was considering a pardon for Lil Wayne, who faces up to ten years in prison after a gold-plated handgun was found in his luggage at Miami airport.
The rapper endorsed Trump in October last year, tweeting a picture of himself with the president and highlighting his work on criminal reform.
Another rapper slated to be in the running for a pardon is Kodak Black, another Trump supporter, who is serving time on gun charges.
The full list of pardons is expected to be announced tomorrow (Tuesday 19th).
At his final rally before losing the election, Trump mistakenly introduced Gucci Gang rapper Lil Pump as "Little Pimp".
President-Elect Joe Biden has drawn criticism from MF DOOM fans after including a track of his in his inauguration playlist, despite the Obama administration denying DOOM re-entry into the US.
UPDATE (20/1/21): Lil Wayne has been given a pardon and Kodak Black has had his sentence commuted, according to the BBC.
Black, real name Bill K Kapri, was charged with firearms offences and had his sentence of three years and 10 months commuted. A White House statement praised his philanthropic work: "He has committed to supporting a variety of charitable efforts, such as providing educational resources to students and families of fallen law enforcement officers and the underprivileged. In addition to these efforts, he has paid for the notebooks of school children, provided funding and supplies to daycare centers, provided food for the hungry, and annually provides for underprivileged children during Christmas."
Other people to be granted pardons include former adviser Steve Bannon, former Detroit mayor Kwame Kilpatrick and former Google engineer Anthony Levandowski.