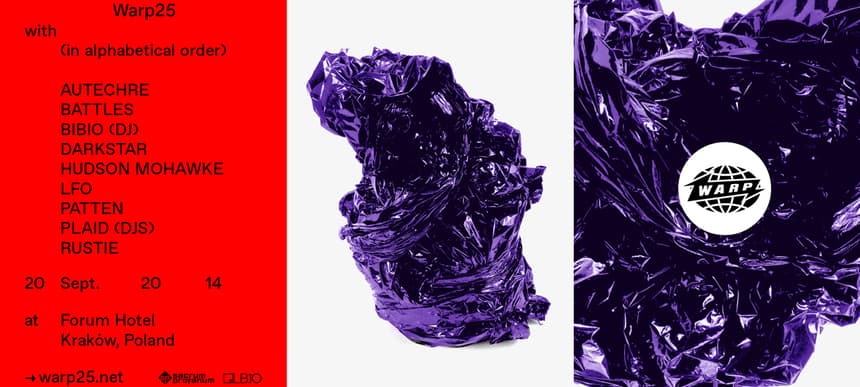 13.06.2014, Words by dummymag
Warp Records celebrate 25 years in Kraków with a ridiculous lineup
Autechre, Battles, Bibio, Darkstar, Hudson Mohawke, LFO, patten, Plaid, and Rustie all playing in Kraków in September to celebrate the label's quarter century.
Warp Records turn 25 this year, and in September they'll be heading to Kraków, Poland to celebrate. Teaming up with avant-garde collective Sacrum Profanum, Warp will bring some of their biggest names – all with an eye of airing brand new material.
On Saturday September 20th, Battles will play their first show in three years and their only show of 2014, presenting new material for the first time. Elsewhere, Autechre will play live for the first time since 2011.
Hudson Mohawke and Rustie will both play. A press release promises that HudMo will play material from his "nearly-completed" new album, while Rustie will play "some heavyweight cuts from his upcoming sophomore LP", implying that the eagerly-awaited follow-up to 'Glass Swords' is finished and in the bag.
The other Warp regulars playing, both new and old, are LFO, Plaid, Darkstar, Bibio, and patten.
Days later, the London Sinfonietta will perform 'Warp Works and 20th Century Masters', featuring interpretations of works by Boards of Canada, Aphex Twin, Gyorgy Ligeti, Steve Reich, and others.
Tickets go on sale this Monday (June 16th).
Warp25 takes place at the Forum Hotel, Kraków on September 20th 2014.