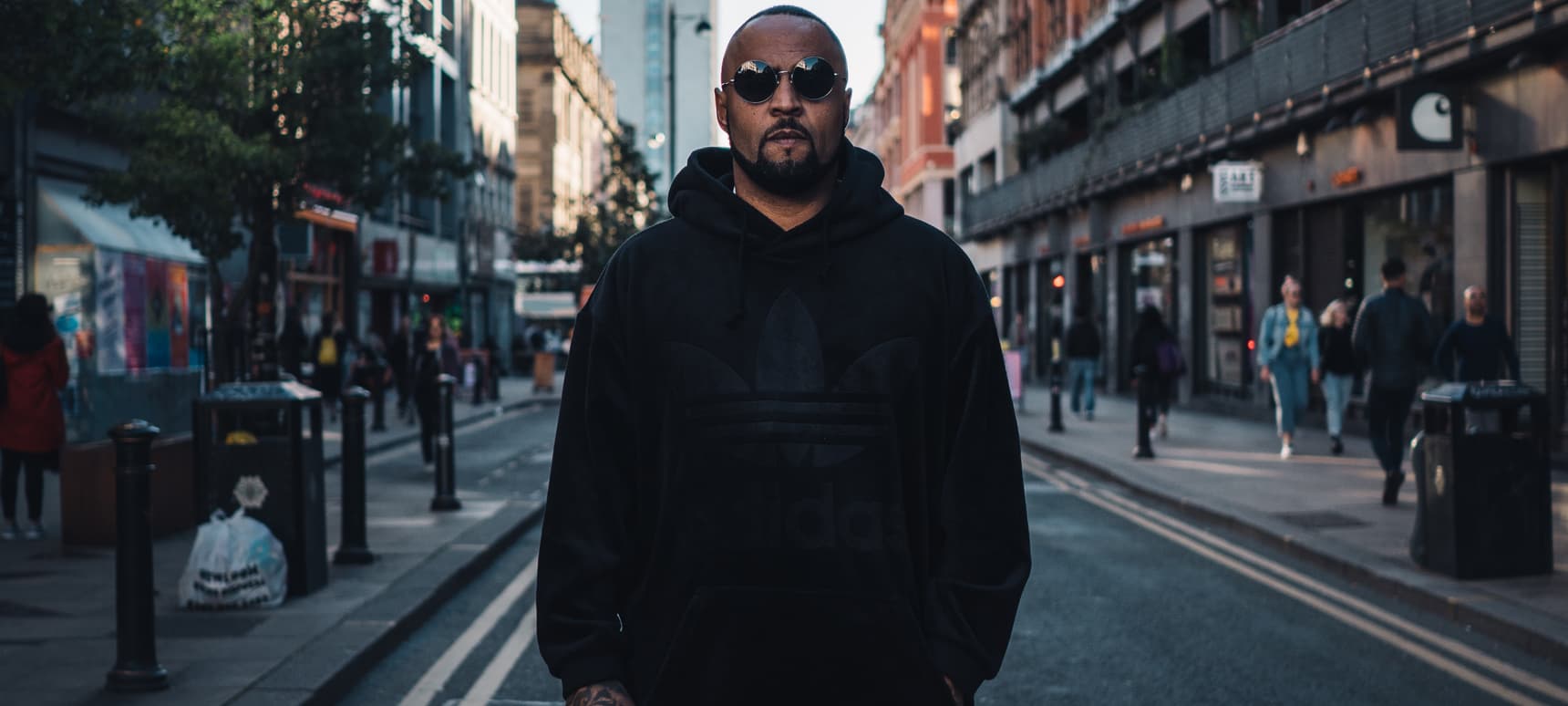 06.02.2019, Words by Felicity Martin
The 10 Best Artists Coming Out Of Manchester, according to DRS
The Mancunian MC combs through the immense talent seeping from his native city...
Manchester has long been a powerhouse of talent. In a piece we published last month, 'Why Manchester is the new creative epicentre of neo-soul and hip-hop', we explored some of the talent seeping out of its tight-knit community, finding parallels with the creative surge of the Madchester scene in the late '80s.
So who better to tip the city's talent than someone directly in the midst of it? Enter DRS – previously part of Broke 'n' English, the Mancunian MC dropped his solo 'Grown Man Biznizz' LP in 2010, and now follows it up with 'From The Deep', a hip-hop album that tells true, cutting stories about love and loss, over production by rising Manch beatmaker Pitch92. Below, DRS tips ten figures and collectives operating out of the city who are destined for greatness.
"Leaders of the new Manchester soul movement. I've known both Konny and Tyler for over 15 years and it's been a pleasure watch these guys grow into the amazing artists they are today. Check out 'All On You' above, featuring myself and [ K S R ]."
"The future of soul music in this country, full stop! His voice and innocence is angelic. His live show is amazing, too – he's so confident and calm about his ability. He doesn't drink or smoke, he's a true artist who chooses to look after his voice rather party with the rest of us. Check out 'Seasons' to have your mind blown." Read our 'Taking Off' interview with [ K S R ]
"All hail my little sister and the mermaid queen. Her meteoric rise to fame literally happened overnight with 'Shade' becoming a worldwide anthem! Her message of love and higher energies are so refreshing in a world of materialism. Check out 'Child's Play' or 'Back Again' for some cosmic power."
4. Black Josh

"The future of UK hip-hop. Member of Blah Records, 616 and "cult of the dammed" and also a member of the Voltron-like super group Levelz as well as a solo artist in his own right. Believe me, this kid's going far! Check out his new album 'Yung Sweg Lawd' or his track 'Paul Scholes'."
5. Sleazy F Baby

"Another future artist of UK hip-hop. A key part of Ocean Wisdom's stage show and amazing artist in his own right! He's constantly touring, playing to thousands of people and going from strength to strength daily! Believe me this kid's going far, too. Check out his latest offering 'Sleeping on Me', taken from his 'Halftime EP'."
"Manchester's deep-thinking sheller. I've had the pleasure of releasing two projects with him on my The Awkward Music Group imprint I created to release Manchester artists who need a helping hand to get on. People really love the angle that he looks at the world from. Check out 'No Biggie' or 'Shinobi' and watch this space."
7. Blind MIC

"The jazziest young G in Manchester! One third of the young lords known as the Free Wize Men and an out-of-this-world producer and vocalist who's destined for greatness. Watch out for his album coming soon – it's something else – and check out his single above for a taste of what's to come."
"Pro-skateboarder and soulful drum 'n' bass don. I've known this guy for over ten years and watched him find his way to a path in music via pro-skating and video production. Check out his debut release on my Space Cadet imprint, 'Falling For You', produced by him and Mindstate. Also watch out for their 'Broken Home' EP, forthcoming on 1985."
"A force of nature! Super duper crew! Bass music's Wu-Tang and Manchester party heroes! They've been touring, putting on raves, and releasing amazing music for the past few years. Check out 'Rainy Day' and 'Warning Call' [above] to see where they are right now."
"Manchester's soulful songbird who's about to take flight. I've known Eva for a few years and also watched her go from strength to strength. She's part of the exciting duo "a broken Camarilla" and an out-of-this-world solo artist in her own right! Check out her new single 'Full Circle' [above] to have your chakras realigned."
Stream DRS's 'In The Deep' on Bandcamp here.
Read next: Why Manchester is the new creative epicentre of neo-soul and hip-hop.