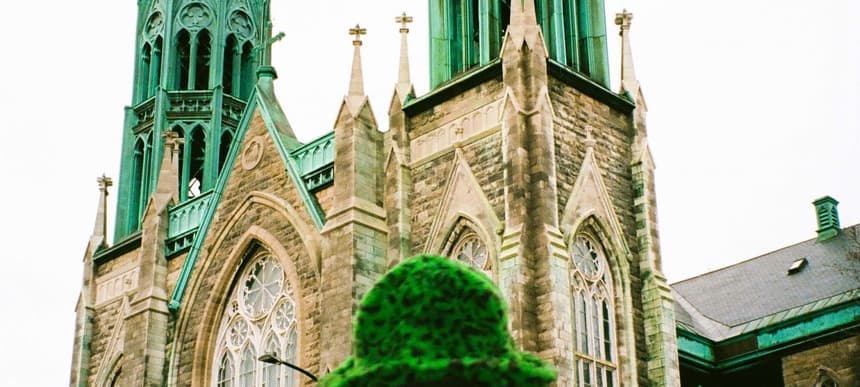 10.03.2020, Words by Felicity Martin
The 10 Best Artists From The Real US Hardcore Scene, according to Miley Serious
"Hardcore is not about how extreme you are, it's a community thing..."
Miley Serious is a DJ who likes to explore the connective tissues between techno, hardcore and other grittier genres that feed into each other. When she plays (check out her Dummy Mix here), the Toulouse-born selector always has a surprise or two in store, pitting grainy 4×4 next to wild flashes of acid. A Rinse France resident, Miley Serious also runs 99CTS RCRDS, a tape and zine label. She's also a big fan of US hardcore, a scene that sprung from basements as a strain of punk from the late '70s, becoming its own riotous scene.
It's a scene which now, of course, looks very different from its Black Flag and Minor Threat origins. In anticipation of her US tour, which kicks off on March 13th in Brooklyn, Miley Serious has drawn up this list of her favourite hardcore artists to originate from North America. "Here is a non-exhaustive list of what is happening on both side of the hardcore scene (punk and techno one)," she says, "so many good (new) names, bands and people, I just really picked my favourite ones. Hardcore is not about how extreme you are, it's a community thing – don't forget that. Live together, die together, with only positive energy and respect. That's it."
1. Show Me The Body
"So let's start with the band that inspires me the most at the moment. Show Me The Body are from NYC and bring back a real community vibe. They put out the best music ever, best spirit. I really like everything about them. This is what I want for my life. Long live Corpus [Show Me The Body's community]. This is how people should support each other."
2. Jesus Piece
"Jesus Piece breathed new life into the HXC scene too. It's the hardcore as I discovered it when I was younger, those guitar parts, so beautiful and his vocals, fuck… There is a lot of detail and dedication in their music, in my opinion. [Aaron] Heard is the bassist in Nothing, a really good band that you have to listen to, it just shows how diverse they are."
3. Dog Breath
"Dog Breath are part of Corpus. They're a fucking amazing band – Dog Breath give you the power to fight for your rights and people in a positive way. You can feel the energy of NYC in their sick albums. This love/hate thing that only happens in NYC and makes the rotten apple unique. One of my favourite bands at the moment, for sure. BEST SPIRIT EVER. POSITIVE ENERGY ONLY. Do yourself a favour, listen to them."
4. Plasma
"Just discovered Plasma through Death By Sheep Records (NYC). If you are an Arms Race fan, it's for you. I can't wait to hear more from them, it's just crazy good and the artwork is on point."
5. Decisions
"Discovered on Death By Sheep too, really good one, powerful, with a trans person in front and as it's written on Bandcamp, this album "IS A STATEMENT REGARDING THE APOCALYPSE FACING OUR WORLD AT LARGE ". You will get the feeling. Support them."
6. Skander
"Let's switch to techno hardcore – Skander's new release gives you chills, there is a ton of texture, it's a really good one. Well done. Pure hardcore, reminds me of Collin Strange stuff. I also really appreciate the spirit of these people from the bay."
7. Bib
"A punk hardcore band from Nebraska that I really like, 'Us & Them' [above] is from their new 2020 album, a little more like garage punk and lo-fi, but it's really good."
8. DJ Flapjack
"Not at track but a mix here… I'm super into rave culture and when I found out about DJ Flapjack keeping the real happy hardcore/rave spirit alive, I was like thanks, it still exists in the real way. He is real. He is passionate, LA on the map for some pure old-skool rave."
9. Redline
"Full support to the Nashville fam, keeping the hardcore tribe techno scene alive in the old way. Here is the new release, the second for this label. Sold out so don't miss the next ones."
10. Trash Talk
"The last one is a band I will love forever. You might know them for sure but never tired of what they did for the scene. This one is more about how they inspired me. Trash Talk energy, Babylon LA as a brand but also a community for skate and music in California. They used to throw real crossover line up between rap, punk hardcore and other scenes, it's only about being supportive and believing in people. That's what i want to do and try to do. As Lee says : "Same old shit different day, Until somebody changes the game"."
Listen to Miley Serious's Dummy Mix.
Follow our NEXT HYPE playlist on Spotify to keep up to date with all the best new music.