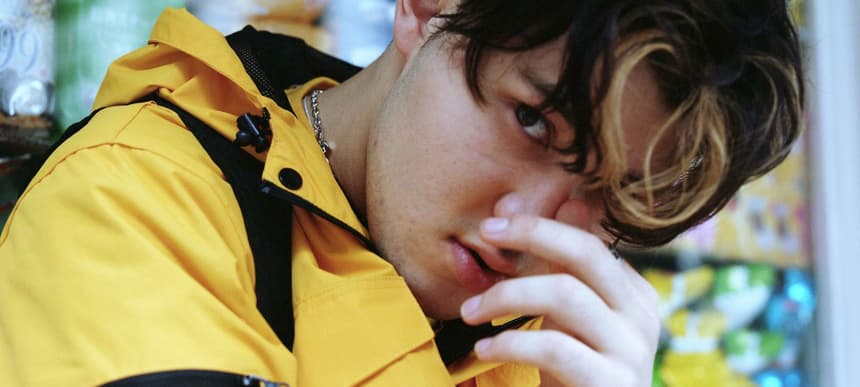 23.01.2020, Words by Felicity Martin
The 10 Best Examples of Chinese Instrumentation in Hip-Hop/Pop, according to GZ Tian 
"I hope people can see the future of Chinese pop and hip-hop as one which is bright and charismatic..."
Born in Manchester to Chinese parents, GZ Tian grew up surrounded by music. His mum was an international circuit performer of the Guzheng (Chinese harp) while his dad was a successful punk and jazz artist. The music he makes now is inspired by his heritage: a blend of fierce street rap reinforced by East Asian sonics, with GZ primed to drop his debut EP 'Another Artist' in March. With labels like 88rising dominating things globally, there's clearly a growing appetite for Eastern sounds across the world.
With Chinese New Year approaching this Saturday, GZ Tian has named his favourite Chinese tunes that revolve around traditional instrumentation. "With the rise of hip-hop in China, thanks to the hugely popular TV show Rap of China, I will be discussing the musical space which many Chinese artists find themselves in today," he says. "Increasingly artists in China are choosing to introduce traditional Chinese instruments to more conventional pop or hip-hop tracks. Through this I hope to establish the perspective that there is a sonic space which exists in the West for music of this kind: a niche which is interesting, different and unapologetically Chinese!
"I hope people can see the future of Chinese pop and hip-hop as one which is bright and charismatic. Chinese music is incredibly distinct and as a Chinese artist I do not think we should attempt to escape this, but instead harness it, develop it and consistently improve our sound without forgetting the rich musical roots of China. Happy New Year!"
1. JJ Lin – 'The Story of Us'
"This came out recently, on New Year's Day 2020. JJ Lin is one of the most famous pop singers in China today for songs much like this. The instrumental is beautifully composed, resembling a movie soundtrack at times, with the Er Hu and Guzheng complimenting the romantic string sections throughout; it is a song which you do not need to understand in order to feel."
2. Gai – '天乾物燥(官方版)'
"Second is perhaps one of the dopest hip-hop tracks from a Chinese artist I have come across. The Pipa, Guzheng and Flute are masterfully played, and the track is composed in a way which is both raw and messy in parts but absolutely deliberate. It is a serious introduction to, not only Chinese hip-hop, but traditional Chinese culture (both visually and sonically). For Chinese speakers, it also serves as an introduction to Chongqing culture as Gai spits in his native region's dialect (Sichuan)."
3. Jay Chou – '霍元甲 Fearless'
"Possibly the most famous Chinese artist ever – if you have ever been to karaoke with your Asian friends then chances are you have seen this guy singing some emotional songs. Jay Chou delivers a song and visual which is rich in traditional Chinese culture. Kung fu, big drums, Chinese instruments… This song has got it all!"
4. Higher Brothers – 'Made in China'
"Originating from the same province as Gai (Sichuan), Higher Brothers have made a name for themselves in the West for their adopted trap style. It is hard to talk about Chinese hip-hop without giving them a mention right now! Check them out!"
5. Jellorio – '李佳隆'
"A chill, melodic underground rapper from China who I can see doing big things for the industry! While the production breaks away from the main theme of this article – traditional instrumentation – the aesthetic for the visuals is a nice twist on traditional Chinese culture and so it finds its place on this list! Also shout out to Zhongtv for giving hundreds of underground Chinese acts a platform to be heard!"
6. Jin – 'Learn Chinese'
"Jin was possibly the only cool Chinese guy who was relevant when I was growing up, so I had to put him in there! While the production, over a decade down the line, comes across as a dumbed-down version of Chinese traditional music, Jin's confident personality and flow is still missed in the Chinese hip-hop scene today… Important tune!"
7. Lexie Liu – 'Hat Trick'
"Lexie is an up-and-coming artist from China. Listen to her deliver some smooth vocals over a super interesting beat. I just wish there were some more traditional instruments in the production! Lexie's performance in the song and video was so strong she deserved a mention though."
8. VAVA – '我的新衣 My New Swag (ft. Ty. & 王倩倩)'
"Another dope track! This one is infused with Chinese opera. The director of this video brought out this theme wonderfully as well. But in terms of pure musicality, this is super interesting. On the one hand you have the piercing Chinese pipa sample and opera singing, while on the other you have the upbeat dance synth and hard-hitting drums. Vava, Ty and Wang Qian Qian kill it!"
9. JJ Lin – 'River South'
"Here we return to the artist we discussed first – JJ Lin. This is one of his earlier songs but another which has some wonderful influence from ancient Chinese culture and music. Beautifully composed and sung."
10. GZ Tian – 'Laid Back'
"To conclude, I offer a song from myself. A song which should conclude the line of argument which I wished to foretake the idea that there exists a space in Western music for Chinese artists who are brave enough to engage with their musical roots. Here, I experiment in the production between hip-hop and traditional Chinese music, specifically the Guzheng, while singing in a laid-back manner. This is something which I hope to see more of both in China and the West!"