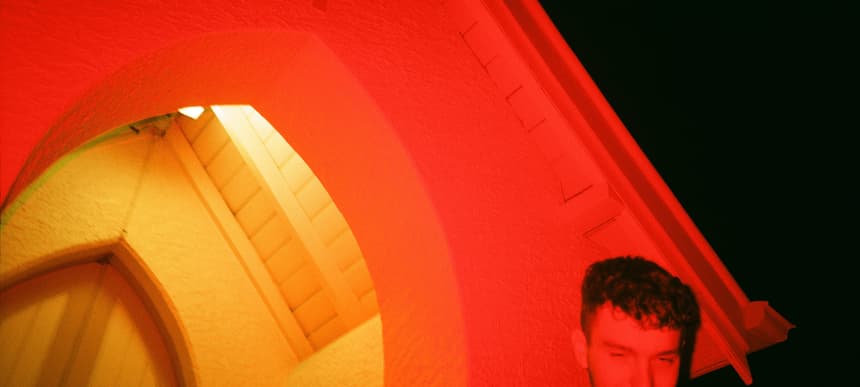 05.11.2019, Words by Felicity Martin
The 10 Best Dark Underground Trap Bangers, according to Mutant Joe
"The production on this should definitely keep you up at night..."
Not much is known about Mutant Joe, other than that he makes music that sounds pure evil. Like slinging a brick through your window and terrorising your family, 'Home Invasion Anthems' is the producer's debut album. A new addition to Manchester label Natural Sciences, it taps underground rap collaborators from around the globe like Lord Pusswhip, Onoe Caponoe, Orrin, YVNCC and Gizmo.
Appropriately, the album opens with a recording of Louis Theroux interviewing a Miami mega-jail inmate about a robbery they were convicted for. Sound-wise, Joe throws Memphis, grime, dungeon rap and industrial into the blender, the end result being something that sounds decidedly disgusting (in a good way). In case you needed any more of an endorsement, TNGHT recently played three tracks from the album in their much-lauded Essential Mix. Below, Mutant Joe runs through the darkest trap bangers that have graced his (stolen, presumably) sound system.
1. Five Finger Posse – 'Trapped In The Trench (prod. Oogie Mane)'
"The introductory track to 'Trapped in the Trenches' was one of the most influential songs for me getting into dark underground trap. It's a certified underground classic that I believe played a major role in the tread sound/scene in 2016."
2. Hook – 'Switch (ft. Lil House Phone)'
"Hook and Lil House Phone's energetic but dark take on this uncanny sounding Bay Area-type beat from Nedarb caught my attention immediately. Hook is definitely one of the most original and exciting underground rappers sure to be blow up very soon."
3. DJ Akoza & MC Holocaust – 'Demonstrate Haste'
"I remember stumbling upon Akoza and MC Holocaust coming out of my Lil Ugly Mane phase and being shocked by how dark they took the underground Memphis/Southern sound. This track is probably my favourite of theirs and is an unbelievably brutal banger."
4. Dystopian Futures – 'Death Duel (prod. Calsutmoran X Jak3)'
"All the dudes in Wastedeep Clique are some of my favourite underground artists. I believe this track best demonstrates legendary producer Jak3 and Calsutmoran's abilities to produce the most evil lo-fi sounding underground rap music I think I've ever heard."
5. Freddie Dredd – 'All Alone (prod. Ryan C)'
"Freddie has been dominating the game lately and this recent track is a personal favourite of mine. The fast dynamic 808s and unrelenting lo-fi sound gets me every time."
6. Yvncc x TrippJones x Freddie Dredd – 'On Da Clock (prod. Mutant Joe)'
"I had to include a posse cut with some of my favourite underground rappers right now. YVNCC, TrippJones and Freddie Dredd absolutely kill this beat I produced and I'm still stumped to be able to make stuff like this with these guys. Very proud of this one."
7. Zotiyac – 'Laps (prod. cxrpse)'
"Have been listening to this track fairly consistently for the last couple of months, a terrifying and unrelenting banger from my guys Zotiyac and cxrpse. The production on this should definitely keep you up at night."
8. Chynna – 'Practice (prod. heaven in stereo)'
"Chynna has been one of my favourite rappers while I was getting into the underground scene early on. Her beat selection and flow is always amazing and this track is probably my favourite of hers."
9. Karmah – 'Go! ft. Black Kray (prod. BMB Evil Haze)
"I couldn't make this list without including at least one Goth Money cut and this track, conveniently produced by the legendary BMB Evil Haze, is perfectly raw and dark. Karmah and Black Kray fit so well on the beat with their off-kilter rap styles."
10. Sybr – 'Shoot The Party (prod. Blank Body)'
"Had to finish the list off with honestly one of my favourite songs ever. Sybyr (formerly Syringe) kills the insane Blank Body production with his completely unique and dynamic vocals. This underground classic will surely go down in history."
Mutant Joe's 'Home Invasion Anthems' was released on October 25th via Natural Sciences – purchase it here
Read next: The 10 Best Underground Artists from the UK and Ireland, according to Cam Wild.