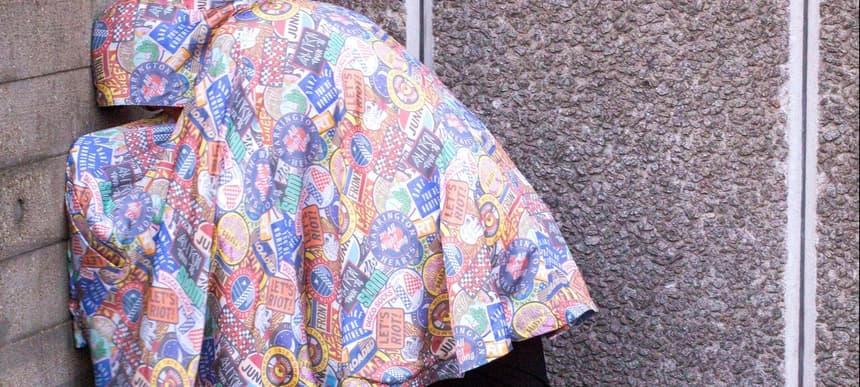 29.05.2019, Words by Felicity Martin
The 10 Best Electronic Tracks For Every Modern Mood, according to Morgan Hislop
"Sombre club jams are something I always warm to..."
There's currently something of a trend for streaming playlists tailored to suit a particular activity – especially if you're in need of some lo-fi hip-hop beats to study/relax to – but less so for moods we all experience in the modern world. Producer, visual artist and DJ Morgan Hislop has just released 'Umbra' following his excellent 'Watch As My Ceramics Crumble' EP, a club-focused weapon that matches Hislop's acclaimed sonic pallette with a fun-loving sensibility, coming complete with a DJ Earl 160BPM rework on the flip.
Fresh from sharing this new club tool with the world, Hislop is now sharing the ten tracks that complement a specific modern mood. "This list compiles a scrapbook of tracks that relate to moods that are all too familiar to me," he says. "These might not be the most obvious of moods, but I'm guessing people can relate to most of them.
"Though super eclectic, this range of tracks all share similarities with vibrancy, energy and an unpredictable nature; which I always try to convey with my sets. It's also something I've been exercising with the new regular slot on Reprezent; to not get caught up on thinking about genres, and instead ride on a particular mood and how it feels and what it might trigger in someone's mind."
1. TEARS IN THE CLUB: salute – 'All About U'
"Fairly recently I discovered producer salute – he's been putting out a string of singles this year that have all been fire. Sombre club jams are something I always warm to, a single tear on the dancefloor, and this is no exception, those vocal samples are haunting and delicate."
2. EUPHORIC: Househead Samira – 'Arco Iris'
"'Arco Iris' is the latest track from Moveltraxx artist Househead Samira – this is just dizzyingly fun, a regular track in my club sets lately. An ego-less track that encourages you to lose yourself, turn it up loud and smile."
3. WAVEY: Sim Hutchins – 'Like Herding Cats'
"Sim Hutchins has been putting out some incredible releases the last couple of years, and his attention to the visual side of the project resonates heavily with me. This is my favourite of his, it's all skewed and angular, but there's a real bump there, with the key stabs sounding like they are losing their balance over each other. 'Like Herding Cats', to me, is perfectly summed up by the *drunk emoji* in the best possible way."
4. WISTFUL: D33J feat. Deedorian – 'Spark'
"A firm favourite with the pop/R&B show I do with Limited Health on Rinse FM – this one by WEDIDIT affiliate D33J – and consistently perfect guest vocalist Deedorian – sounds so bittersweet and forlorn. Listen while staring out at the rain hitting the window. This one gives me all the melancholy feels."
5. BLISSED OUT: Lapti & Nocow – 'Sirenas'
"This song is drenched in heat. It sounds scorched and burnt already. In a perfect world I would open every DJ set with this track for eternity. For the art installation I exhibited at Tate Britain in December last year I had this track playing subconsciously in the back of my mind when putting together all the slow-mo video pieces, it's totally otherworldly."
6. AGGY BUT CUTE: Crookers – 'Scopare (Morgan Hislop Remix)'
"This was a recent remix I did for Moveltraxx's Street Bangers comp series. I chopped the vocals up and shifted the pitch right up, the result is a snarling yet weirdly adorable choppy vocal hook. In itself it's a bit of a juxtaposition but we've all felt kinda cute when angry right? No?"
7. COMING UP: O'Flynn – 'Siberian Goose Down'
"This ominous banger feels like a rush of blood to the head. The trancey synth filters up and up and you can feel your heart beating faster. The big drums are an adrenaline shot and; for anyone that knows the music I make myself; the whoops and screams throughout are something I'm immediately drawn to."
8. LONG JOURNEY: Taeko Ohnuki – 'Sargasso Sea'
"Another track I could potentially start every set with. This album track from Japanese singer Taeko Ohnuki's 1977 record 'Sunshower' has a real adventurous and dramatic tone to it. It's exciting and builds and bubbles. I want to drive to this and look at incredible scenery and bask in how epic this song grows to become. An unforgettable and unique piece of music."
9. NOSTALGIC: Yasmin – 'On My Own (Burns Remix)'
"This was released back in 2011 at the tail end of the Blog House buzz. I'm always keen in revisiting forgotten corners of my iTunes from different movements and seeing if songs could stand up in sets today. I enjoy being quite retrospective rather than dismissive of music that I must have found exciting when I was younger. Every time I've played this out someone has come up to me after and asked me what it is – I feel the big drums in it fit in with UK styles today, but the organ chords sound quite timeless. It's been a solid part of my sets for years now."
10. BIG MOOD: Seiho – 'I Feel Tired Everyday (Weekend Version)'
"The track title says it all. I am ALWAYS exhausted! One can relate! Ever since catching a live set from Seiho at a Maltine Records showcase at Birthdays (RIP) I've been checking in to see what they are up to with their music. Their back catalogue feels like a metamorphosis of different styles but it's always so vivid and bathed in obvious hardware sounds – which I really love. This one is just a great summer bop, for fans of someone like Lone."
Listen to Morgan Hislop's 'Umbra':
Morgan plays a release party for 'Umbra' this Thursday at the Ace Hotel with Big Dope P, Daniel Ness, Yazzus and more – RSVP for free tickets here.