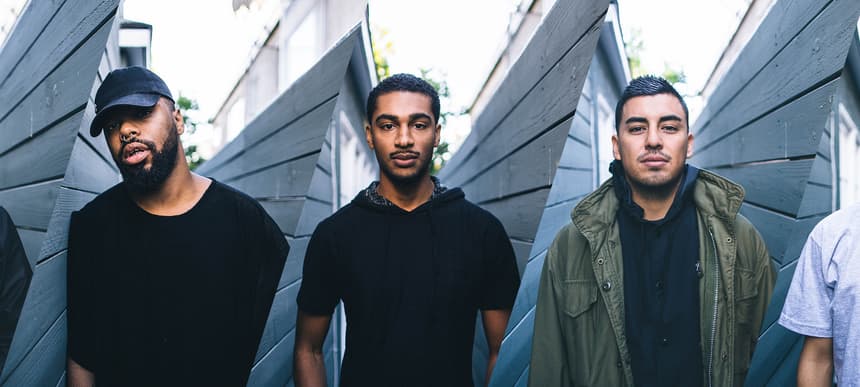 14.03.2017, Words by dummymag
10 Best Forgotten Gems according to Soulection
Celebrating their sixth anniversary, LA collective Soulection has a pretty serious mission statement: "Soulection is a global platform, moving culture. With music as the foundation, Soulection exists to inspire a shift in passive consumption placing value on community, discovery, transparency, DIY growth and the artistry of music." At the heart of this is their Beats 1 radio show, but they also travel the world bringing their unique sound to showcases at festivals including Afropunk, Sonar and Appelsap to name a few. As part of the celebrations, they are taking over London's Roundhouse with their 'Promise Once More' show (based around their compilation of the same name) featuring Soulection's finest selectors and their trademark "future beats, eclectic soul, forgotten gems and timeless sounds." To mark the occasion each Soulection member picked one 'forgotten gem' for their debut Ten Best.
Patrice Rushen 'Number one' (12" version)
Hannah Faith: "Patrice is deeply appreciated, being a multi-talented female producing her own music, she's an entity of raw soul. Voice like an angel and beats as funky as ever, her music puts me in good spirits."
Roy Davis Jr 'Gabriel' (Live Garage Mix)
The Whooligan: "Quintessential soulful house with powerful vocals and just an overall classic vibe. This track takes me back to my early days of travelling – connecting with beautiful people and moving to deep and moody tones…a passion of mine that I still cherish to this day."
Slum Village 'Players'
Joe Kay: "This track reminds me of the era when I was discovering a deep love for beats and Dilla's legacy. I would listen to this track and Vol. 2 in its entirety over and over again. It's one of those sounds that can't be replicated."
Common 'Star 69 (PS with Love)'
Andres Uribe: "This is a Common joint that I can never skip. It's the perfect balance of love and lust. The right amount of lust to where God won't mind. Poetry in motion. Dilla production and Bilal on the hook? Man…."
4hero ft. Lady Alma 'Hold It Down' (Kaidi Tatham Remix)
Sivey: "Kaidi Tatham is a legend of the underappreciated broken beat genre and this is one of his finest pieces of work. All of my favourite musical elements are here: deep, jazzy chord sequences, unconventional rhythms and plenty of dynamic space for your ears to breathe."
Missy Elliot Ft. Ginuwine 'Friendly Skies'
Montalis 'Montlov' Anglade: "This song takes me back to the early days to when I was first introduced to R&B. The 90's / Da Basement era was a huge part of my childhood and music foundation."
Usher 'U Make Me Wanna'
Da-P: "It's just the most fly track ever."
Azymuth 'Dear Limmertz'
Jarreau Vandal: "All time classic, practically the soundtrack of my youth. So raw and funky yet still timeless. Almost every song of this band is gold!"
Boom Clap Bachelors 'Tiden Flyver'
Andre Power: "This song came at a pivotal time in my life, being new to California and also diving deep into the electronic/soul/beat realm. The space and dreamy vibe is the timeless sound and feeling I search for in music to this day, and I think Kendrick Lamar and co. can agree, since it was sampled for 'B*tch Don't Kill my Vibe'."
Binary Star 'Reality Check'
ESTA: "An old favorite of my friends and I back home. The first verse is embedded in my brain and that beat can be looped forever and I'll never get tired of it."
Soulection take over Camden's Roundhouse on Saturday 25th March as part of their 'Promise Once More' tour. For info and tickets please visit here
Stream the 'Promise Once More' compilation here