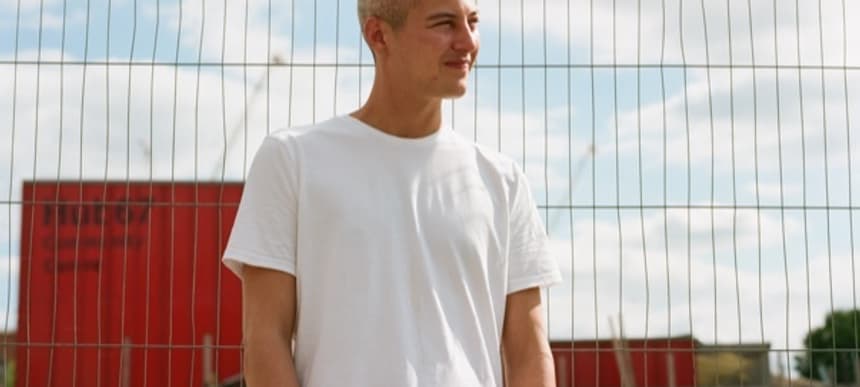 27.02.2019, Words by Felicity Martin
The 10 Best Grime Tracks of All Time, according to Devlin
The mercurial MC digs deep into grime's dusty archives to pull out his ten essentials...
Dagenham MC Devlin has long been a force to be reckoned with within grime. A mercurial artist, Devlin's 15-year-long career has seen him achieve gold-selling albums and Top 10 hits while never straying far from his underground roots – an achievement pretty much all MCs wish they could boast of.
Having recently unleashed the Terror Danjah-produced 'Fun To Me', the silver-haired MC is on the brink of dropping his hotly-awaited 'The Outcast' LP – his fourth studio album. A teeth-gritting return to his grime roots, it finds collaborations with Ghetts, Syer B, Scratchy, Steph Wills and Rawz Artilla alongside production by the aforementioned Danjah, Kid D and Lewi White. In anticipation – and as a salute to his longstanding position within the genre, Devlin has dug deep into the dusty archives of grime to pull out his ten essentials.
1. Nasty Crew – 'Take You Out'
"Always loved Nasty Crew, they were the first people I got into in grime and everyone brought their different style to the tune."
2. Syer B & Shots – 'Pussy'
"Love the warped sound to the beat and Syer definitely smashed the vocals on this one."
3. Ghetts – 'Artillery'
"This is the sort of tune I would choose to vocal and here you can hear Ghetts at his very best – great delivery."
4. Dizzee Rascal – 'Jus' A Rascal'
"Love the energy in this one and especially Dizzee's cheeky and fast flows. Brilliant tune."
5. Kano – 'Ghetto Kyote'
"Almost a haunting sound in the music, very good record and I think anyone would agree it was very hard not to like Kano's vocals…"
6. Danny Weed – 'Creeper'
"One of the most well-recognised grime instrumentals of all time. Most MCs loved riding out on this one."
7. DJ Target ft. Dogzilla & Syer B – 'STDs'
"It was different to anything about at the time and it had pace, energy, and subject matter."
8. Musical Mobb – 'Pulse X'
"Always made an impact whenever it was played in a rave or on any set. Massive instrumental and great to ride on."
9. Lewi White – 'Platoon'
"Very sick, catchy, nice beat and had musical elements which made me want to work with the man himself."
10. Dogzilla – 'Welcome To The Slums'
"Really showcased Dogz's ability to make powerful tunes, this one was a favourite of mine from him and the beat is cold."
Watch Devlin's 'Fun To Me' video:
Devlin's 'The Outcast' arrives on March 15th 2019. He embarks on a UK tour throughout April – tickets go on sale this Friday and can be found here.
Related: Read 'The 10 Best Grime Tracks, according to Ruff Sqwad'