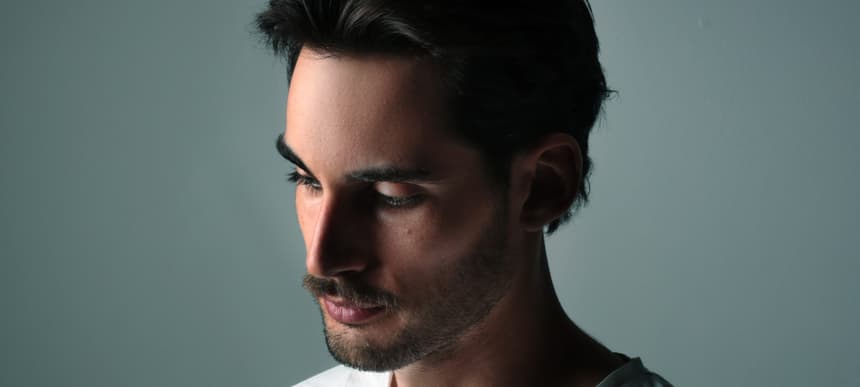 09.01.2019, Words by Felicity Martin
The 10 Best Hidden French Electronic Gems, according to Povoa
The French electronic newcomer unveils some unfairly-overlooked top-to-bottom bangers...
French producer Jules Rosset aka Povoa first grabbed our attention with his seriously impressive debut track: 'Okopipi', a psychedelic, whirling construct that he's described as "liquid, tropical and menacing". The single, released by Moshi Moshi as part of EP 'Hiatus', marked him out as a talent to watch – as someone with a clear knack for making mesmerising club music.
Rosset gained a deep love for electronic music after studying at the American School of Jazz and Modern Music in Paris, and as a result is an avid crate-digger. Below, he's put together a list of electronic gems from his homeland that – for whatever reason – haven't gained the widespread success they deserve.
1. You Man & Jerge – 'Everybody'
"'Large' by Jerge has been remixed by You Man and Jerge himself and they did a stunning job. The original one was already very good. This is one is a classic."
2. Docteur Satan – 'Entity'
"Krikor Kouchian aka Krikor, Crackboy, Docteur Satan, POV, France Copland, Plein Soleil has so many amazing releases hidden behind all those names. He uses his drum machines through his 16 bit converters creating this unique classic vintage sound. His mixes are perfect to me."
3. Acid Arab – 'Berberian Wedding'
"This is Guido Minisky and Hervé Carvalho, aka Acid Arab. They mix electronic music with Eastern music (North Africa, Lebanon, Egypt, Turkey, Mumbai). I love this approach to creativity, merging different cultures encounter and seeing what comes out of it. It is really hard to find the right balance and that is where their whole art is. They do it extremely well."
4. Bambounou – 'Deepstaria'
"This is Jéremy Guindo-Zegiestowski, aka Bambounou. This track he made from 2012 is definitely not famous enough but I know one day it will be. I love the surprising development and structure of it and the quirkiness of sound textures."
5. Jacques – 'Tout Est Magnifique'
"If you still don't know Jacques, go check him out, there's a whole world to discover. He doesn't use traditional instruments, but instead creates sounds with anything he can. Like a door creaking, a garden hose, a plastic chicken or a pair of scissors."
6. TSHEGUE – 'Muanapoto'
"This duo formed by Faty Sy Savenet and Nicolas Dacunha also has the ability to merge different musical cultures and they do it perfectly."
7. Myd – 'The Sun'
"Myd made a classic with this one, creating a new kind of house in the process. The perfectly-played guitars by Jerge and arranged like never before by Myd. What is it called? I don't really care, but I love it."
8. DJ Deep – 'Stressed'
"I discovered DJ Deep with this prodigious track and it blew my mind. Another favourite from him is 'Cavalier Drums'."
9. Borussia – 'Gradient Groove'
"A neat and groovy percussive track. I love the simplicity of it, the absence of harmony and the grain of the drums. Borussia has done an amazing job on this one."
10. Agar Agar – 'Lunatic Fight Jungle'
"Agar Agar, another duo – it seems French musicians don't like to be alone. They exploded with their track 'Prettiest Virgin' and they keep making amazing stuff. This one is from their last album which is worth playing beginning to end. Keep an eye on them."
And he's offered a bonus cut…
11. Boston Bun – 'Missing You'
"This last one is by Boston Bun on his new label, Circa '99. This is very house and a classic already. It will probably get stuck in your mind. The video is pretty neat, too – crafted by a mysterious videographer known only as Bloomfield Productions."
Povoa's 'Hiatus' EP is out now on Moshi Moshi