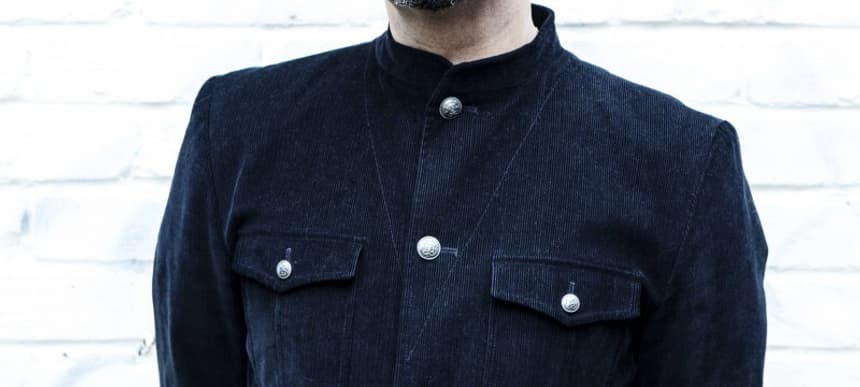 14.08.2015, Words by Natalie /
The 10 best ingredients for a turbulent cocktail, according to Justin Robertson
Justin Robertson has done it all. Starting out as Northern Soul and Balearic were the hazy and dominating forces of the north, his music career has seen him in festival-conquering band Lionrock; remix a huge range of artists including Bjork, The Chemical Brothers, Stone Roses & New Order; and be remixed himself by the likes of Barnt and Andrew Weatherall.
Never stopping for much air, Justin has a new album around the corner under his Deadstock 33s alias called 'Everything Is Turbulence'. Its a bubbling piece of work surfing along grooves of pulsing electronica, acid and dub techo; including vocal and guitar from Lisa Elle of Dark Horses on Metal Taste and his wife Sofia Robertson vocalising For One Touch and I Am Automatic, a collaborative track between Justin and Daniel Avery.
His interpretation of the ten best list format is a reflection of his life beyond music as a painter, writer and all-round stylish gentleman. In this ten ingredient cocktail that stretches way further than just tracks, Justin mixes up psychedelia with trance, latin with a sitar pedal and the sort of philosophical prose that does a policeman knock on the meaning of life's door. Turbulent like a Dark and Stormy, this combination is sure to get you through the night.
01.The Soul Of Science Martin Diaz
Justin Robertson: "Daniel Martin Diaz is an artist based in New York, and I really dig his stuff. He explores the mysterious intersection between science and superstition through beautiful drawings with a time worn feel, like some ancient wisdom rediscovered. The work is both macabre and magical, replete with fascinating figures and symbols. He teases out an unintended spirituality in scientific diagrams."
02. The Caretakers of Cosmos Gary Lachlan
Justin Robertson: "A great book that attempts to make us all feel a little better about being human! It has been the tendency in Western thought of the last several years to adhere to a depressingly reductive view of life as an essentially meaningless accident. This added to a terrible guilt that we have wrought destruction on our planet and has led many to view human beings as nothing more than 'a virus with shoes'. This is essentially what Charles Manson thinks, and I'm not having it! This book offers some optimism that we are charged with a greater more positive purpose. If we can shake our selves out of our selfish deterministic torpor then maybe we can save the day."
03. Space Rock
Justin Robertson: "It's quite liberating going back to some musical roots. As teenager I took to walking around the Octagon Centre in High Wycombe without shoes on. I equated this to some revolutionary act, striking a blow against the man. The soundtrack for this rank silliness was the work of Hawkwind, Gong, Grateful Dead, and Tangerine Dream. I had a pretty cosmic palette and that's something that acid house re-awoke: a definite sense of galactic abandon. I think you can hear a lot of its influence in the new record. At times I've quite literally covered a Hawkwind number."
04. Metronomic Trance
Justin Robertson: "I mentioned Tangerine Dream above and I've always loved an arpeggiator, the relentless trippy refrain of machine burble. I guess thats why house music struck such a chord with me. It's not just the olden day masters like Terry Riley and the great krautrock cannon, but contemporary holders of the torch of repetition that I dig. Listening Centre, Eat Lights Become Lights, Jakob Skott, Follakzoid, Jonas Munk and Warm Digits all keep the pulse throbbing."
05. El Paraiso Records
Justin Robertson: "It is funny how you can get hung up on the aesthetic of a label. Factory is an obvious example, but I love the look and content of this lot. Started in 2011 by Jonas Munk and Jakob Skott, its the wigged out homestead for Causa Sui, Papir and Psicomagia, as well as there own solo output. Every record is a gem and has very covetable artwork. Musically its been a great inspiration on tracks like Sacred Bone where I've tried to imitate their repetitive psychedelic crescendoes."
06. Latin Spirit
Justin Robertson: "Over the last couple of years I've noticed how I have been drawn to the work of several producers who have a shared Latin American origin. Mexico is very different from Argentina; some of them live in the USA, some in Berlin so maybe geography isn't the key, but whatever its is they make a righteous noise! I initially got drawn to the quirky stripped back sounds of Matias Aguayo and the Comeme label. It has an energy that is unique, touching on familiar sounds but presenting them in fresh, visceral way. That led me to the world of Electrique records from Mexico and producers like Sanfuentes, Mijo, Alejandro Paz, Los Mekanikos, Andre VII, and the amazing DJs Pareja from Argentina, who appear on the record adding vocal chants to Bajo La Luna. I just love their approach as it gets to the roots of dance music."
07. Ravish Sitar Peddle
Justin Robertson: "I'm not really into synth porn. I don't have banks of barely functioning expensive keyboards – don't get me wrong I wish I did -but I don't. I'm a great believer in using your limitations. In the beginnings of the great German 'electronic' revolution in the '70s, many of the bands feted for their use of technology rarely had more than a couple of unruly machines, so I like to soldier on with my happy limited arsenal! One thing I did put to work was the Electro Harmonix Ravish sitar simulator peddle. It can drone and ping like a mad thing and all manner of objects were routed through its hallowed circuits."
08. Kurt Vonnegut Jnr. The Sirens of Titan
Justin Robertson: "I've always been a fan of science fiction – not the 'take me to your leader' ray gun variety – but the disturbing dystopian vision of our possible future. or the 'completely bombed out of your skull' imagining of alternative reality. Its not just the possibility of escapism, its the essence of imagination that makes it lofty and psychedelic at the same time. This was Vonnegut's second novel and it deals with questions of free will, history and quantum mechanics, but with an easy eloquence that's disconcerting and witty as well as being pleasantly far out."
09. Chip E Time To Jack
Justin Robertson: "Those Road to Damascus moments are never really far from my mind, and its something I can never take out of my music, nor would I want to. When I was a pimply youth, hearing stripped back jacking house changed the way I listened to music forever. I could pick a million producers from that time, but it just so happens I was listening to Time To Jack by Chip E this morning, so hey! It was particularly in the instrumental numbers that I found the most satisfaction, vocal samples were used to push the rhythm on. It was pure and beautiful and still is."
10. Yevgeny Zamytin We
Justin Robertson: "A Dystopian novel from the 1920s, its fair to say that it was thoroughly ripped off by George Orwell for 1984 and by Aldous Huxley in Brave New World. Its a cautionary tale about about a society ruled by Logic and Mathematics which reminds us to be wary of any attempt to reduce the sum of human achievement to simple formulae."
Justin's new album 'Everything Is Turbulence' is due for release on September 25th 2015 via Skint Records.