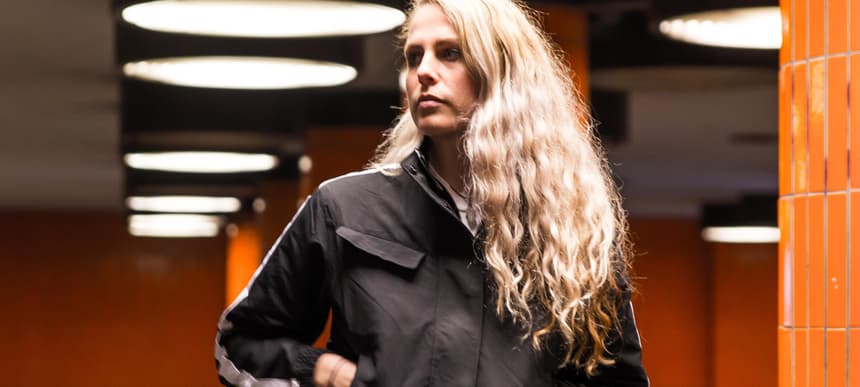 03.06.2019, Words by Felicity Martin
The 10 Best Irish House Anthems, according to Sally C
"Play this tune on any dancefloor and it will erupt."
Though she's moved around quite a bit, Sally C always stays true to her roots in her native Ireland. After moving up north and getting involved in the Scottish scene, Sally parachuted into Berlin's techno market in 2015, gracing clubs like Renate, Else and Griessmühle with her brand of raw, timeless club sounds that draw on cuts from the '80s and '90s. It was in the German capital, strangely enough, that she met fellow Irish spinners Or:la, Cromby and Brame & Hamo – coming to throw her coveted Waffles parties alongside the latter two.
A voracious crate-digger, Sally C is one to uncover second-hand vinyl cuts to drop into her ever-evolving sound that encompasses hip-house, Chicago house and acid. Having just exhibited her skills at AVA festival in Belfast, below she's picked out the best of the best house jams that Ireland has produced.
1. Or:la – 'Wendy Wild'
"Or:la is one of Ireland's most interesting and talented artists. She's probably one of my favourite DJs and her productions are so genius. This is one of my favourite of her records – it's weird, breaky, and brilliant. It soothes and lures you in carrying strange vocals which I'm a sucker for then it takes you on a mad journey of dark atmospheric beats and bouncy rhythms."
2. Cromby – 'Psychoactive Strawberries'
"This is without a doubt my favourite track from the one and one and only Cromby. His productions have evolved and matured so much in the last few years and this tune is an absolute testament to this. It's an acid puncher with a ridiculous bassline and an extremely emotional synth lead halfway through which gets me very time. I love mixing it for ages with the mids right up on other tracks, it sounds so fucking good."
3. Kojaque – 'Eviction Notice (ft. Kean Kavanagh)'
"Kojaque's music came into my life last year and I'm so grateful and inspired by this young man's work. Steering out of dance music for this one, it's an emotional R&B love song with powerful lyrics by the two Soft Boys at the forefront of Ireland's hip-hop scene. Kojaque and Kean Kavanagh are the geniuses behind Soft Boy Records. GET TO KNOW."
4. ELLLL – 'Febreeze'
"ELLLL is a producer from Cork, who is also based in Berlin. Her productions are full of experimental, atmospheric and breaky sounds. She's a very interesting artist and this track will take you through a spooky utopian feel with raw breaks."
5. Cailín – 'First Taste'
"Cailín's 'First Taste' is one of Ireland's hidden gems. It's a euphoric house banger with some lovely saturated drums, trance melodies and haunting vocal hits. That kick drum is an absolute beast."
6. Brame & Hamo – 'Limewire'
"Brame & Hamo are Ireland's favourite dance music duo. They have been relentlessly releasing the highest quality productions for the past five years, more recently on their own Brame & Hamo label which has blown up. 'Limewire' is a very special record, it's a nostalgic piano house house track which fills you right up with all the emotions. When you hear it on the dancefloor in the heat of a set it almost fills your eyes and I'm so happy to see it get the recognition it deserves."
7. Bobby Analog – 'Dr In The House'
"Big Bobby! Seamless productions and sets from this amazing artist. This one is so class, it's a disco roller with a lovely vocal. Most new disco tracks are 'disco bangers' which this has elements of but it's so much more than that. It's more of a progressive disco banger, if that makes sense. It rolls through lovely drums, vocal samples and string sections."
8. Or:la – 'BWUW'
"Obviously slotting in another Or:la special. This one's my favourite of hers. It's warm, punchy, rolling and emotional all at the same time. I feel like her sets are very much similar to that description. She specialises in rhythms that really get you moving, her drums are always completely on point and ready for the dancefloor. Hats off to you Or:la, you're one of Ireland's finest gems."
9. Kettama – 'Body'
"Not a set goes by where I don't rinse about four of Kettama's bangers. His productions are literally right up my street and I was so buzzing when I discovered his music. I'm all about the weird old vocals which he captures so well in his music. He's so young with so much talent and I'm really excited for him. He's going to go far. 'Body' is a ridiculously good track with a class vocal, hard punchy rolling drums with a hint of breaks throughout. Play this tune on any dancefloor and it will erupt."
10. Hammer – 'Kee Tha Tha'
"Hammer is a powerful force in Irish dance music and I've been behind his productions from the start. He's an incredible artist and class DJ. This is maybe one of his lesser-known tunes but one of my favourites. I always play it a little sped-up in sets and it grooves. It's a rework of the original by Five Letters with an Italo feel, funky groove and a class vocal."
Follow Dummy on Spotify, Soundcloud and Mixcloud to stay up to date with all the best new music.