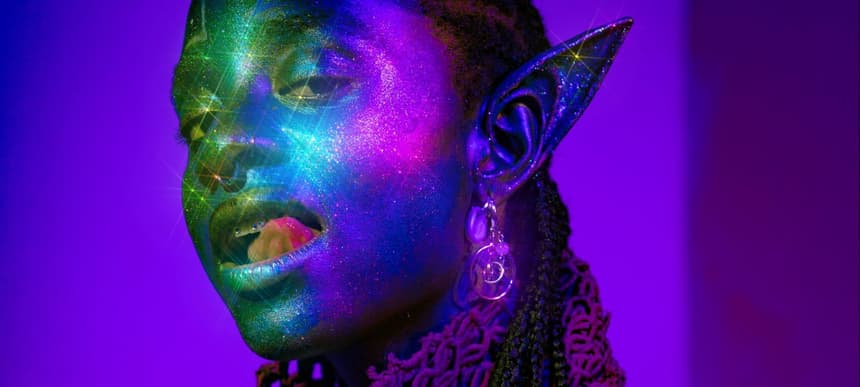 23.09.2021, Words by Maisie Goulsbra
The 10 Best Michael Jackson Tracks, according to Wavy The Creator
"I always dreamt about one day being able to make a video like this."
Multi-disciplinary artistic spectacle Wavy the Creator, the moniker of Jennifer Ejoke, was born in Lagos and grew up in the United States. Emerging into creativity as a photographer, fashion designer and film director, Wavy the Creator became the official photographer of rapper Olamide, eventually entering musical horizons with breakout track 'H.I.G.H (Her In Greater Heights)'. Her sound incorporates elements of hip-hop, Afrobeat and electronic dance music, and she has collaborated with Flohio, Töme, Tiwa Savage and Eugy amongst others.
'P.S. Thank You for Waiting' is her latest drop – a seven track project, that Wavy describes as, "an expression of myself and all the different types of love I have experienced over the years," adding, "I am opening up in ways I have never done before in the past. I speak about love, lust, infatuation, heartbreak and feeling like I've been omitted all in one body of work. It takes you on a whirlwind of emotions and love expressed in all forms."
Lead track 'Letter To Oxygen', produced by David 'Femi' Ojo includes the sensual vocals of Soulection affiliate and Wizkid collaborator Tay Iwar. 'Harmonies' is produced by Quesi and features Nigerian talent WurLD, dosing up fans with a modern twist on Afro-pop, the track sees the pair trade sensual, hushed vocals amidst delicate piano chords and vibrant percussion. Next up is Kuvie produced 'G.A.Y.S', a sensual track and an outlet for Wavy to express her sexuality. Also in the mix is Kuvie produced 'Stella Riddim', the sunkissed energy of 'F*ck Luv' featuring CKay and Efya, and wistful melodies of 'Time' with Genre Benders. Last track 'Situations', produced by Anthony Dircson, lands listeners with a slick club track.
With her revolutionary visual aesthetic and fresh take on music, there is no one more suited than Wavy the Creator to select 10 of the Best Michael Jackson tunes, which she's listed below.
1. 'Earth Song'
"Like most of Michael Jacksons records there's always a very strong message behind them
and this one really holds a powerful message about how we need to pay attention to how we are constantly destroying the Earth. This is one of my top 5 MJ records. The video was so powerful."
2. 'Heal The World'
"Heal the world is another record that always hits home when I listen to it. This song has inspired me to somehow make sure that whatever I create, I push what is betterment and add to the growth of the world. Michael Jackson had a very special way of doing this and every time I listened to this song it reminded why he was who he became."
3. 'Liberian Girl'
"One of my favourite MJ records, although, he never performed this song live which was so sad because I always loved to piece his live performances with each of his songs for the perfect balance. The official music video where he has different celebrities on a set singing the lyrics was pure genius."
4. 'Stranger In Moscow'
"I really love this record because MJ sings about him feeling pain and loneliness even with fame. He expresses how much pain he feels and how he is tired to leave everything just to find peace. The visuals were perfectly done to fit the mood of the song."
5. 'Thriller'
"Of course I had to add the song that changed everything, Thriller! A perfect song if you ask me and the music video is the most creative thing till date! This one song is a leading one for me because to
this date, every time I watch it I am highly motivated."
6. 'Scream'
"I know I said Thriller is the most creative video to date but this is Thriller's top competition. I always imagine that I was on that ship, dancing the choreography in the back with them! The synchronicity between Janet and Michael was epic! They moved and sang like one entity. I loved the message behind the song, literally screaming 'leave me alone!'"
7. 'Speechless'
"Speechless is such a romantic song, every time I listen to it I get goosebumps. It's a song I love to listen to on my own and fantasise about a perfect love… It's a song I love to listen to right before I close my eyes for bed."
8. 'You Are Not Alone'
"My favourite R&B ballad. This is the perfect song for me to listen to anytime I feel down. Every time I play it the tears roll down my cheeks, but at the same time, I feel comforted. It gives me some form of reassurance and the video was so simple yet captivating."
9. 'Dirty Diana'
"This record is genius! From the writing to the arrangement of the instrumentals – the build up on this song gives me a rush. Most especially, I love what the song is about. The video is something I would love to one day recreate. It shows an alter ego of Michael, which I love."
10. 'The Way You Make Me Feel'
"I remember when I was little and this video came up on the TV, I would pretend the living room was the street where Michael and his friends were chasing after this pretty girl and I was part of the gang. I always dreamt about one day being able to make a video like this."
Wavy The Creator's 'P.S. Thank You for Waiting' is out now and available to listen to on all services here.
Read next: The 10 Best singer/rapper Collaborations, according to MORGAN.