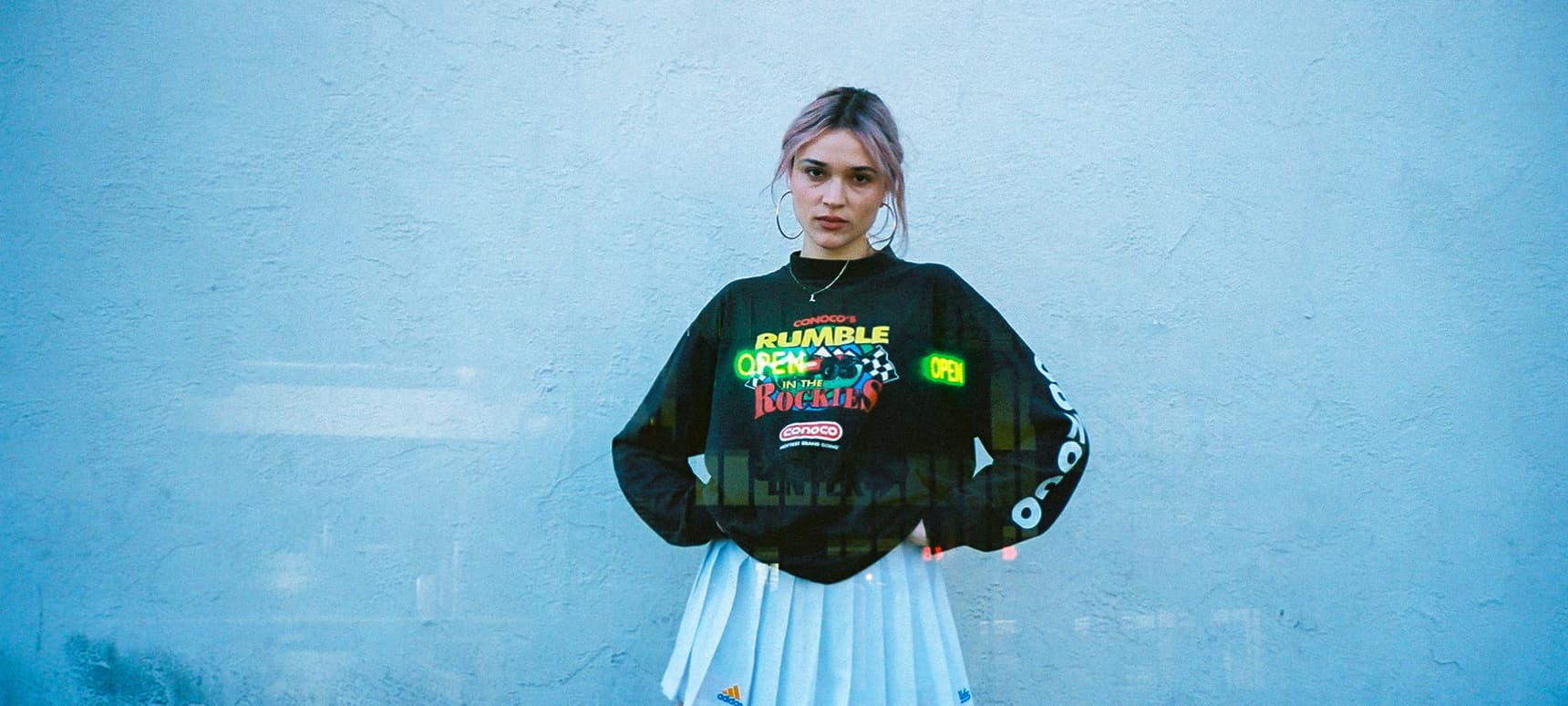 18.03.2019, Words by Felicity Martin
The 10 Best Paris-Inspired Tracks, according to Lolo Zouaï
From the French Mariah Carey to Yelle, these are the best artists inspired by the city of lights...
Born to French and Algerian parents in Paris, raised in San Francisco and now New York-based, Lolo Zouaï embodies qualities from all three of the cities she's spent her life in. Although she's very much a Brooklynite now, her French side refuses to quit – her wardrobe is firmly French, while 'High Highs to Low Lows' has a whole verse sung in her native tongue.
Where the aforementioned 2017 track put Zouaï on the map, she's followed it up with a string of glossy pop cuts with a kick that show off her silky yet powerful voice. She's recently been touring Europe (check out her tour diary here), and 2019 is looking like her breakout year, having already bagged a Blood Orange collaboration on her January release, 'Ocean Beach'.
Paris is typically a place that has inspired a wealth of literature, music and film, and the French-American singer below lists her favourite tracks that have been inspired by the city of lights.
1.Françoise Hardy – 'Tous Les Garcons'
"Françoise Hardy was the original Parisian It Girl. She's a big inspiration for me both lyrically and stylistically when I want to write in French. I love this song because she's talking about everyone around her being in a relationship as a young adult except for her."
2. Brigitte Bardot – 'Harley Davidson'
"Brigitte sings about how she doesn't need anyone else when she's driving on her motorcycle. It's empowering and badass especially considering when it first came out."
3. Edith Piaf – 'Sous le ciel de paris'
"This has to be one of my favourite melodies of all time. It's a classic love song. It makes you want to fall in love in Paris."
4. Henri Salvador – 'Jardin d'Hiver'
"This song reminds me of my childhood because my older sister and I used to dance around to it. Henri Salvador is one of the best musicians to listen to on a Sunday morning."
5. Claude François – 'Alexandrie Alexandra'
"My mom used to play this all the time so it's engrained in my brain. The video makes me laugh so much, though, with the choreography."
6. Vanessa Paradis – 'Joe Le Taxi'
"Her voice is very unique and childlike, even as an adult. Kinda enchanting and weird at the same time. People used to tell me that my voice sounded really young which bothered me but then I realised that sounding young meant I'd have some form of eternal youth, haha."
7. Moi c'est – 'camélia Jordana'
"I love her voice so much and remember hearing this song on the radio when I'd go to France as a kid every other summer. You don't even have to understand the words to feel this song."
8. Amel Bent – 'Ma Philosophie'
"Amel Bent was like the French Mariah Carey to me. As a kid I looked up to her (being a French-Algerian singer). The song is about being true to yourself, which stuck with me."
9. Diam's – 'DJ'
"Diam's was the only French female rapper I really knew. I wasn't in France that much growing up so I didn't have a ton of knowledge on popular music. But this song was always on the radio."
10. Yelle – 'Ba$$in'
"I started getting into Yelle when I was in high school. She has always been super experimental which I admire a LOT. I love her albums. 'Bassin' means bottom and there's the word ass in it so it's a play on both languages (something I like to do)."
Watch Lolo Zouaï's video for 'Lose Myself':
Related: Read 'The 10 Best Parisian Artists Pushing Pan-African Sounds, according to Poté'