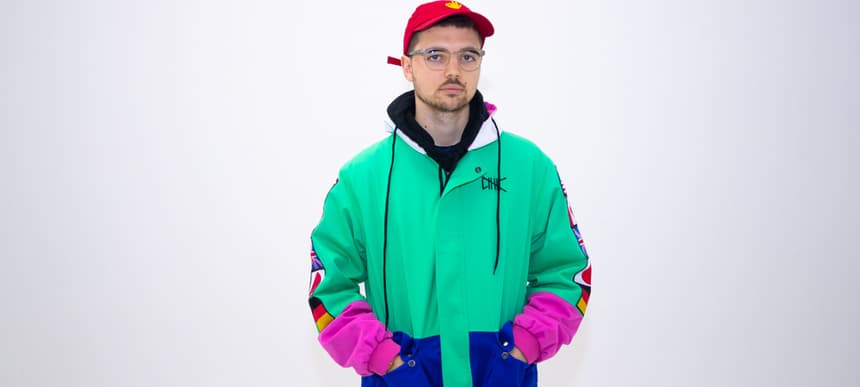 06.06.2019, Words by Felicity Martin
The 10 Best Portuguese Rap Tracks, according to Holly
"I still almost cry listening to this song..."
Lodged at the epicentre of Portugal's burgeoning hip-hop scene, producer/DJ Holly is one of a crop of rising stars pioneering individuality within a tight scene. Having scooped A-Trak's Goldie Award in 2017, Holly has been firing out releases at a rapid rate, while gaining support from a host of huge industry names in the process.
His latest four-tracked 'Avenal 2500' EP slots bumping hip-hop cuts (tapping up Portuguese rapper Slow J) next to textural club sounds, reflecting his Portuguese roots and home just north of Lisbon in the process. Below, he's run us through the ten Portuguese rap cuts that he won't hesitate to replay.
1. Allen Halloween – 'Dia de um dread de 16 anos'
"I love this song because it's scary, dark, real, and funny. It's a great song about how hard it is to live in the toughest areas of Portugal. I grew up in a very peaceful neighbourhood and my family always gave me everything I needed, so when I heard this track for the first time back in 2011, I was super shocked by some of the things that Allen discussed and by the way he portrayed his personal reality. We actually ended up working on a song together two years ago. It was such a special opportunity to me to be able to work with him, especially because of the impact that he had on my adolescence."
2. Orelha Negra – 'Solteiro feat Sam the Kid, Regula, Heber & Roulet Rmx'
"It's still hard for me to believe how futuristic and well-produced this song is (shout out Roulet!). STK and Regula have a great performance in this song too which is, in my opinion, one of the best rap duos in Portugal. This song discusses two different perspectives about being single and it was a total anthem when I was a teenager. I still listen to this sometimes and get goosebumps!"
3. Sam The Kid – 'Juventude é Mentalidade'
"I used to listen to this song every day when I was about 16/17. This was a time when I didn't know what I wanted to do with my life and I was very scared and confused about my future, so this song really helped put my mind in a better place and be optimistic about the future! It's an anthem to stay forever young and focus on making the best art you can."
4. Valete – 'Anti Herói'
"Valete is a legend in hip-hop tuga [Portuguese hip-hop] and he is the best one in the scene criticising the politics, government and the state of the country and keeping it funny at the same time. The first time I heard this song I was thirteen and it was very hard to understand the message but nowadays I find it genius. Another song from Valete that is super important for the culture in Portugal is 'Roleta Russa' but I believe 'Anti Herói' has a more important message for this article (people that know 'Roleta Russa' will understand, haha).
5. Mind da Gap – 'Todos Gordos'
"Mind da Gap were some of the best artists representing the North rap culture scene in Portugal and their production was always super fresh. I remember that this was one of the first rap songs from Portugal that I heard and I got obsessed with this beat. When I was younger, it was hard to understand some of the messages in hip-hop, but the beats and the instrumentals were always super interesting and fascinating to me. This was definitely one of those songs for me."
6. Dealema – 'Nada dura para sempre'
"Dealema is another legendary rap group from the north of Portugal and was also a great influence on me in my early days when I started getting into rap music. This music has been just a big reality check in my life. It talks about how things don't last forever and to enjoy every moment while we're here (carpe diem!) Sometimes we take things for granted, so this is a great song to listen to and feel blessed about everything we have in the present."
7. Vulkano – 'Almada Fiel Suel'
"I still almost cry listening to this song… I found it through the skate movie '3' made by Rui Serrão which is just one of the best skate videos ever made in Portugal. This song is super important to me because it was one of the first songs making the bridge between the skate scene and the rap scene in Portugal (at least for me). My love for rap music started basically from soundtracks of skate movies that I used to watch back in the day, and this one was super special for me."
8. Sam The Kid, Xeg, Regula & Valete – 'Mais Pesados da Capital'
"Legendary track. STK, Xeg, Regula and Valete are some of the best and most impactful rappers to ever exist in Portugal so it's crazy to see their energy together in a record like this. They all killed their verses here and I wish there were more collaborations like this in hip-hop tuga! I saw them performing this track live when I was 17 and it was a legendary moment."
9. Da Weasel – 'Mundos Mudos'
""Legendary track, legendary concept. Da Weasel is a group from Margem Sul and they played an extremely important in the story of rap in Portugal. I worked with Carlão (from Da Weasel) last year on his new album and it was a huge pleasure for me to work with someone that I used to look up to a lot when I was younger."
10. Black Company – 'Nao Sabe Nadar'
"One of the first rap songs ever made in Portugal! This song opened a lot of doors to the acceptance of rap music in Portugal and also for my generation to do what we do nowadays. I think it's super important to respect groups like Black Company and other rappers that brought hip-hop culture to Portugal because they are a big reason for things being so easy for my generation nowadays."
Listen to Holly's 'Avenal 2500' EP now:
Follow Dummy on Spotify, Soundcloud and Mixcloud to stay up to date with all the best new music.