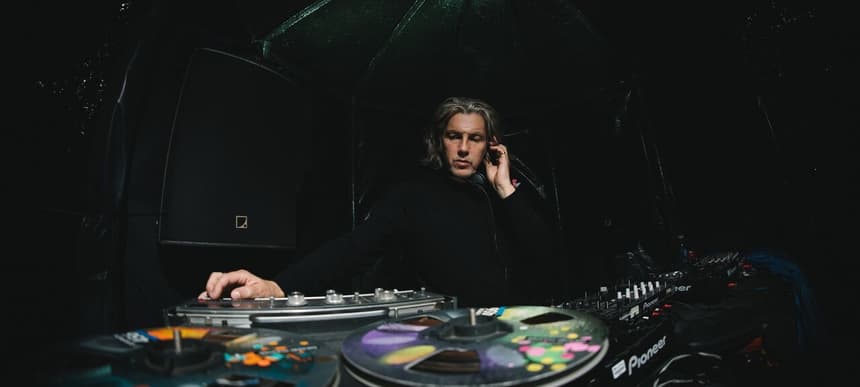 14.05.2019, Words by Felicity Martin
The 10 Best Reworks and Edits, according to Greg Wilson
"How do you add to such a seminal recording, you might ask?"
A hallowed figure in dance music, as well as being a legendary DJ and remixer, Greg Wilson has always been an advocate, and scholar, of the edit. The Merseyside-born DJ started out in 1975, DJing since the age of 15 before coming to be a resident at the famous Wigan Pier, before Manchester's Legend and, of course, the Haçienda.
Taking the idea of mixing two records across the Atlantic (and becoming the first-ever person to do it on live British TV), Wilson also ended up putting together the first UK re-edit, Paul Haig's 'Heaven Sent', in 1983. A pioneer of the re-editing movement, he's become known for his own chopping and splicing, while his famed 'Credit to the Edit' compilations had a huge impact on dance music, showcasing some of the finest edits in existence.
Wilson knows that the best edits and reworks respect the originals – it's not a one-up kind of situation, but instead an opportunity to adapt a stone-cold classic into a floor-filler and breathe life into an old banger. Ahead of the writer and dance music commentator showcasing some of the finest reworks and edits in his possession at Studio 338's Summer Opening Party this weekend, he's shared ten of his personal favourites.
1. Donna Summer – 'I Feel Love' (Patrick Cowley Mega Mix) [1982]
"Originally put together in 1978, this 15+ minute masterpiece would eventually make it to vinyl via an official 12" in 1982, the 'I Feel Love' Mega Mix. How do you add to such a seminal recording, you might ask? Buffalo-born San Franciscan Cowley, who'd score some major dance hits of his own with 'Menergy' and 'Megatron Man' in '81, as well as collaborating with Sylvester, brought his psychedelic synth and some extra percussion to the party, spectacularly overdubbing."
2. MFSB – 'Love Is The Message' (Mr. K Edit) [1987]
"Issued on the T.D. cut-ups/bootleg label, this pretty much set the standard for re-edits, New York's Danny Krivit, a DJ since the days before disco was at its height, re-imagining what was very much an NYC '70s club classic by combining 'Love Is The Message' (1973) by MFSB, the Philadelphia International house musicians, with a later derivative, 1983's 'Ooh I Love It (Love Break)' by The Salsoul Orchestra (the link between the two tracks being arranger/producer Vincent Montana, Jr.), stripping out the original vocals and placing its emphasis fully on that sublime groove."
3. The Originals 'Down To Love Town' (Dimitri From Paris Re-Edit) [2000]
"First appearing on Dimitri's 'A Night At The Playboy Mansion' compilation, which marked a major escalation in his popularity, 'Down To Love Town', originally released in 1976, was a personal favourite from the time, an early 12" on the famous Motown label, albeit DJ promo only, topping the Billboard Disco chart that year. Dimitri goes for full grandeur, which I utilised to full effect when opening my Essential Mix for Radio 1 in 2009."
4. Beach Boys – 'God Only Knows' (Michael Cook Edit) [2006]
"Issued by Heavy Disco as 'Know Thy God (L.A. Trip Edit)', Michael Cook, a Manchester-born DJ who'd moved to the US West Coast, helping incubate the underground dance scene there, was the guy behind this truly tripped-out take on one of the most celebrated Beach Boys recordings, 1966's 'God Only Knows', raiding the outtakes to create a uniquely spaced-out version of this timeless song."
5. Paul Simon – 'Diamonds On The Soles Of Her Shoes' (Todd Terje Edit) [2006]
"Norwegian DJ/producer Todd Terje first made his name as a leading light of the re-edits movement in the '00s, before going on to a successful career recording his own originals. 'Diamonds Dub', as he called it, revolutionised this 1986 Paul Simon recording, which features South African group Ladysmith Black Mambazo, adding a ridiculous bass that takes your breath away when it enters, whilst dubbing things up quite magnificently."
6. Harold Melvin & the Blue Notes – 'Don't Leave Me This Way' (Prince Language Edit) [2007]
"Originally released in the pre-12" days of 1975, the full six-minute version of 'Don't Leave Me This Way' could only be heard on the album. Then, two years later, an epic 11-minute mix was included on the 'Philadelphia Classics' album, and it's with the second half of this version that NYC's Prince Language weaves his magic, concentrating on Teddy Pendergrass's essential ad-libs rather than the main body of the song for a whole new take on this wonderful track."
7. Chic – 'Dance, Dance, Dance (Yowsah, Yowsah, Yowsah)' (In Flagranti Rework) [2008]
"Courtesy of the Swiss duo In Flagranti and issued as 'A Brag Mount'. I love the way this begins (and later closes) with the opening lyrics of the Doors' 'Light My Fire' (the 1979 Amii Stewart version sped up), bringing a real sense of tripped-out ethereal drama before that unmistakable Chic groove drops, unveiling their breakthrough hit of 1977."
8. Joubert Singers – 'Stand On The Word' (Hot Coins Remix) [2009]
"Originally recorded in 1982 for a gospel album by the Celestial Choir, this was later remixed in 1985 by Tony Humphries, re-credited to the Joubert Singers. However, its more recent cult status was the result of a supposed Larry Levan remix, subsequently discredited, that appeared on a bootleg 12" in 2003. The Hot Coins (aka Nottingham's Danny Berman/Red Rack'em) version, released by Tirk, brings in a killer bass that gives the track a whole new depth and dubwise sensibility."
9. Sister Sledge – 'Thinking Of You' (Norington Remix) [2012]
"I picked this up from a DJ in Australia, a one-off rework by the mysterious Norington. Produced, of course, by Nile Rodgers & Bernard Edwards of the Chic Organization, Norington takes this into uncharted territory, employing a monster bass to give the track a heavier/dubbier flavour than the 1979 original, whilst constructing a new hook out of the line 'just keep on doing what you're doing to me, oh, it's ecstasy,' the rework retitled 'Living Ecstasy'."
10. Double Exposure – 'Everyman (Has To Carry His Own Weight)' (Late Nite Tuff Guy Rework) [2017]
"Originally released on one of the great disco labels, Salsoul, in 1976, just after Double Exposure had issued the very first commercially available 12", 'Ten Percent'. Italo-Australian Late Nite Tuff Guy gives the track a contemporary makeover, building a relentless groove over which the vocal thrives. 'Everyman' also, of course, the source of the 2001 UK dance hit 'Salsoul Nugget (If U Wanna)' by The Girl Next Door."
Greg Wilson plays Studio 338's Lost Island Opening Party this Saturday 18th May alongside Maya Jane Coles, Mood II Swing and more – tickets can be found here.
Related: The 10 Best Original Disco Remixes, according to Joey Negro