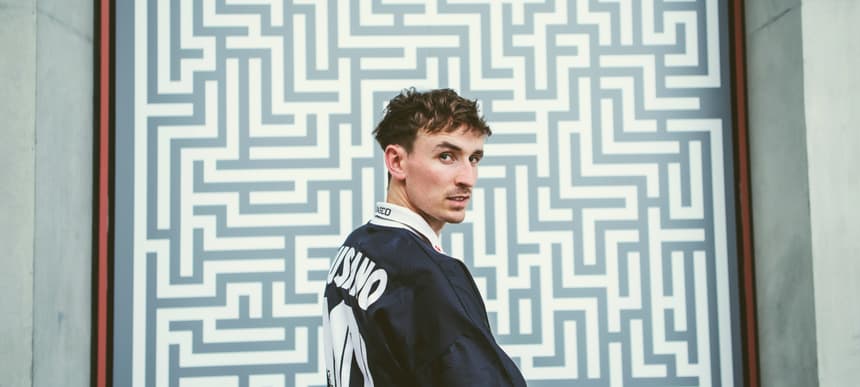 27.09.2019, Words by Felicity Martin
The 10 Best Sci-Fi Movie Soundtracks, according to Ross From Friends
"This song just sums up everything that was great about the '90s - breakbeats and mad simulated kung fu battles."
Though Felix Clary Weatherall, aka Ross From Friends, is very much at home in the club (he recently announced a Phonox residency where on one of the dates, apparently, he'll be DJing with his dad – and it's not Andrew Weatherall!), he's equally at home in front of the TV. The British DJ/producer is an unabashed fan of sci-fi movies, and it's a theme that has inevitably worked its way into his own productions.
His recent 'Epiphany' EP on Brainfeeder took inspiration from these scores. "I was watching a bunch of these films like The Thirteenth Floor, The Matrix (happy 20th anniversary) or Fifth Element, and I wanted the release to play on the idea of a desolate physical and social landscape becoming a utopia from a communal epiphany – or revolution," he said of the release. Below, Ross From Friends guides us through his favourite sci-fi flicks with masterful soundtracks.
1. Éric Serra – 'Leeloominai' (from The Fifth Element)
"The Fifth Element is such a classic sci-fi film, and one that's really known for its soundtrack. Éric Serra's a very close collaborator with the director Luc Besson, and he does such a good job of sculpting the film with his music. This song comes at the film's emotional peak, and is definitely one of my favourite film music moments for how it tugs at your heartstrings."
2. Jerry Goldsmith – 'The Mutant' (from Total Recall)
"Jerry Goldsmith was a legendary soundtrack composer for science fiction films, and his work on Total Recall is arguably some of his best. He's masterful at blending electronic and orchestral elements to create a sound that's really futuristic but also intensely classical and familiar. This track just encapsulates what the wonder of seeing space for the first time must feel like."
3. Lunatic Calm – 'Leave You Far Behind (Lunatics RollercoasterMix)' (from The Matrix)
"I don't think anyone could talk about sci-fi soundtracks without talking about The Matrix. When I first watched it, I remember being amazed by the scene where Neo fights Morpheus in the sparring programme. Who wouldn't want to suddenly know kung fu without having to train years for it? This song just sums up everything that was great about the '90s – breakbeats and mad simulated kung fu battles."
4. Public Image LTD – 'The Order Of Death' (from Hardware)
"PiL's booming soundscapes were just crying out to be used in a sci-fi film, and honestly 'The Order Of Death' and Hardware is the perfect pairing. John Lydon's desolate repetition of "this is what you want, this is what you get" is a fatalism that chimes so well with the film's killer robot apocalypse storyline, and it's definitely one of my favourite moments in sci-fi film soundtracks."
5. The Cure – 'Dredd Song' (from Judge Dredd)
"The pure over-the-top ridiculousness of Judge Dredd pairs perfectly with this orchestral '90s madness from The Cure. The story goes that Sly Stallone asked Robert Smith to write the theme for Judge Dredd after he heard that Smith had been inspired to write the single 'Catch' by Rocky 2. This apparently inspired an unlikely friendship between the two, which only makes me love this track even more."
6. Orbital – 'Sad But True' (from Johnny Mnemonic)
"I love seeing what they thought the future would look like back in 1995. Set in 2021, Johnny Mnemonic is a glorious cyberpunk mess of special effects, AI and Keanu Reeves. Literally what could be better to soundtrack that than Orbital? 'Sad But True' in particular is such a trancey breakbeat sci fi dream; it just works so well with this film that I couldn't not include it."
7. Ben Salisbury & Geoff Barrow – 'The Alien/The Bear' (from Annihilation)
"Annihilation was one of the best films of 2018, hands down, and it had one of the best soundtracks to accompany it. Ben Salisbury and Geoff Barrow have a glowing CV when it comes to scoring films, having done both Ex Machina before this. As a result, 'The Alien/The Bear' is a blistering 16-minute track that works beautifully in the film, but is actually just a masterpiece to listen to on its own."
8. John Murphy – 'In The House, In A Heartbeat' (from 28 Days Later)
"The theme from 'In The House, In A Heartbeat' is one of the more recognisable motifs in sci-fi soundtracks. So simple, yet so effective. The build-up is so subtle and then comes crashing right down around your ears with strings, heavy drums and searing guitar before pulling it all back in with near-silence. Perfect tension building for a film that will have you sat on the edge of your seat throughout."
9. Yoko Kanno – 'Virtual Crime' (from Ghost In The Shell)
"The original 1995 Ghost In The Shell has to be one of the most iconic sci-fi films ever, both for its subject matter and visual aesthetics. The soundtrack itself deserves special mention: 'Virtual Crime' is a standout track for me just because of its seamless transition from dark ambience into soft folky guitar at the end, showing how this film has the capacity to surprise at every turn."
10. Alain Goraguer – 'Deshominsation' (from La Planète Sauvage)
"La Planète Sauvage is one of the most weirdly wonderful films; it's sometimes credited as being an allegory for animal rights, sometimes for civil rights – either way, it's a treat to watch. Its soundtrack is more Pink Floyd than synths, creating a chilled-out accompaniment to soothe the senses."
Watch the video for Ross From Friends' 'Epiphany':
Ross From Friends plays Saturday September 29th at San Diego's CRSSD Festival